Best Camping Upstate Ny internationalwomenstravelcenter Camping in Upstate NY offers an incredible outdoor experience amidst stunning natural beauty and abundant recreational opportunities.
Whether you're a seasoned camper or a beginner looking to embark on an adventure, Upstate NY has a myriad of camping destinations to suit every preference.
From the picturesque Adirondacks to the serene Finger Lakes region and the captivating Catskill Mountains, this article will guide you through the best camping spots in Upstate NY.
Discover breathtaking landscapes, embark on thrilling hikes, indulge in campfire cooking, and create unforgettable memories in this outdoor enthusiast's paradise. So grab your camping gear and get ready to explore the wonders of Upstate NY!
Best Camping Upstate NY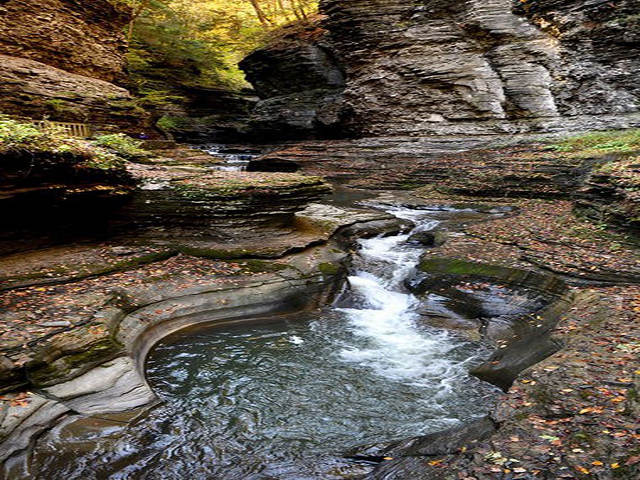 Adirondack Park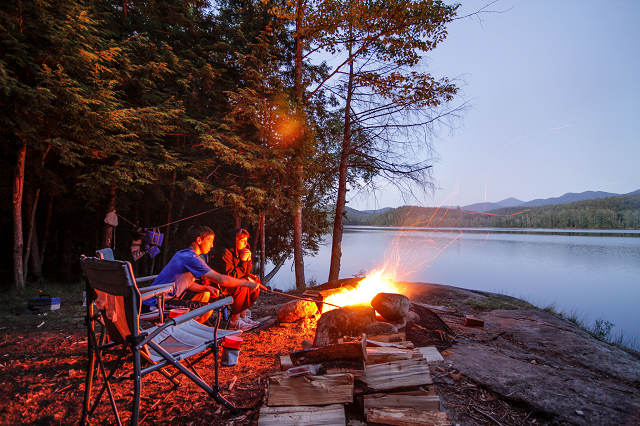 Spanning over six million acres, Adirondack Park offers an abundance of camping opportunities. With numerous campgrounds, hiking trails, and picturesque lakes, you can enjoy a variety of outdoor activities such as fishing, kayaking, and hiking.
Letchworth State Park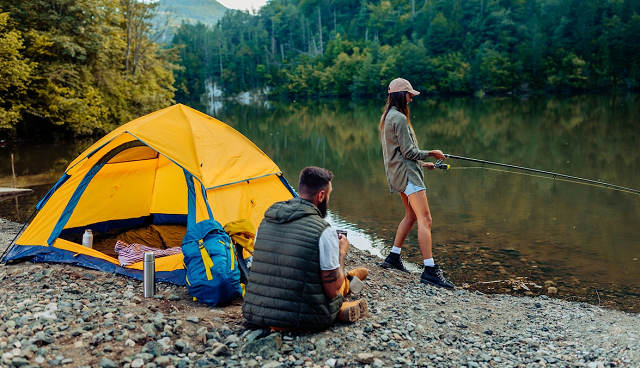 Known as the "Grand Canyon of the East," Letchworth State Park features stunning views, majestic waterfalls, and deep gorges. The park offers campsites with modern facilities, hiking trails, and opportunities for hot air ballooning, whitewater rafting, and horseback riding.
Watkins Glen State Park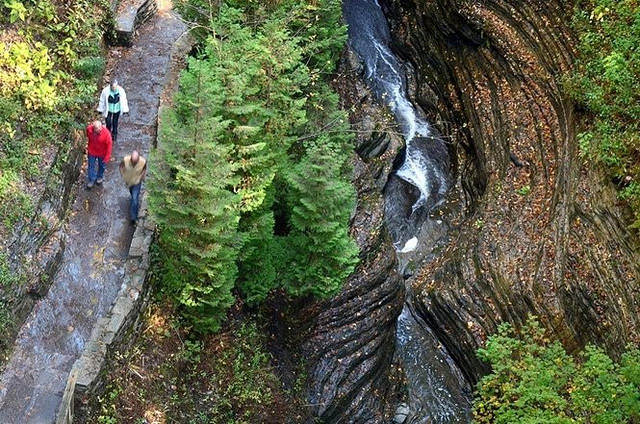 Located in the Finger Lakes region, Watkins Glen State Park is famous for its scenic beauty. The park features a breathtaking gorge with 19 waterfalls, numerous hiking trails, and spacious campsites. Don't miss the popular Gorge Trail that takes you alongside the cascading waterfalls.
Allegany State Park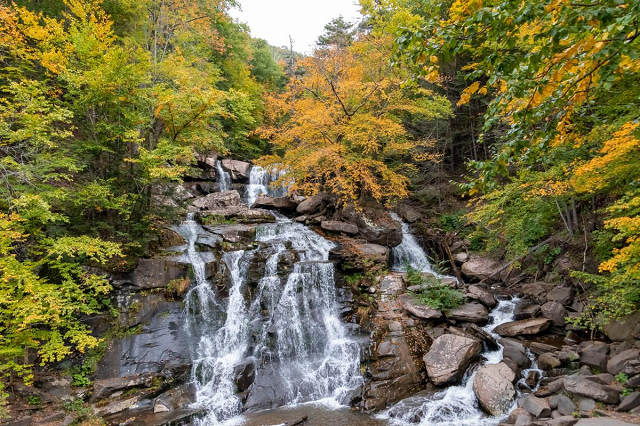 Situated in southwestern New York, Allegany State Park is the largest state park in the region. It offers a range of camping options, from rustic tent sites to fully equipped cabins. The park provides opportunities for hiking, biking, fishing, and boating on its two lakes.
Lake George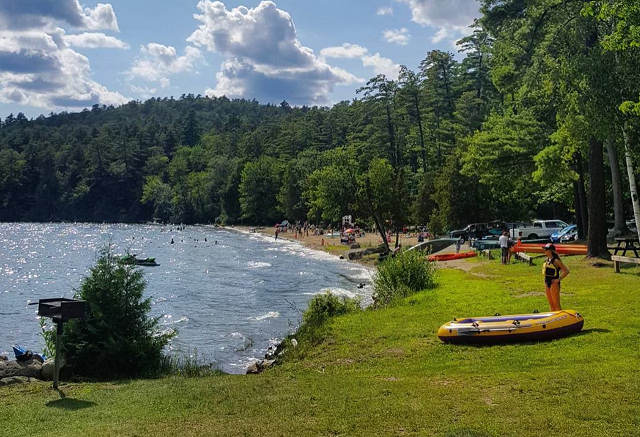 Known as the "Queen of American Lakes," Lake George offers a picturesque setting for camping. You can find numerous private and public campgrounds along its shores, providing access to swimming, boating, fishing, and hiking. The area also offers attractions like historic sites, amusement parks, and boat cruises.
Catskill Mountains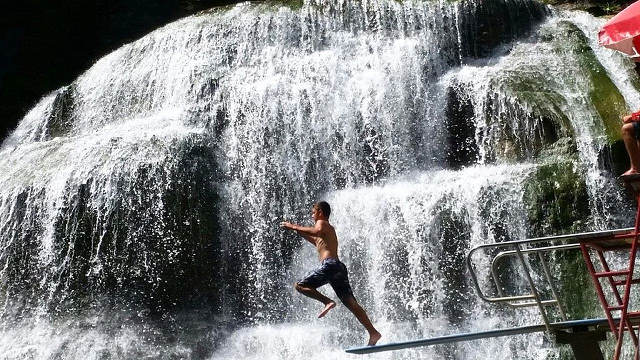 The Catskills provide a scenic backdrop for camping enthusiasts. There are several campgrounds nestled amidst the mountains, offering opportunities for hiking, fishing, and wildlife viewing. Popular spots include North-South Lake Campground and Mongaup Pond Campground.
Remember to check the availability of campsites, make reservations in advance if required, and adhere to any rules or regulations set by the respective parks. Enjoy your camping adventure in Upstate New York!
Getting to Know Upstate NY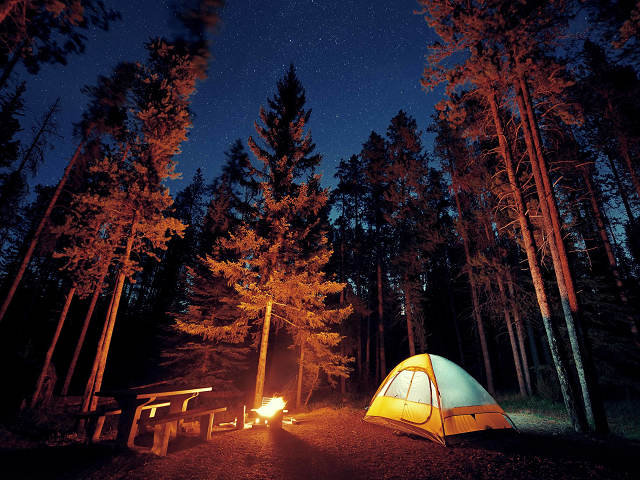 Upstate NY, also known as Upstate New York, is a region in the northeastern part of the state. While the exact boundaries of Upstate NY may vary, it generally refers to the area north of New York City and its surrounding suburbs.
This region is characterized by its diverse landscapes, including rolling hills, majestic mountains, sparkling lakes, and lush forests. The climate in Upstate NY is typically influenced by its proximity to the Great Lakes and the Atlantic Ocean, resulting in relatively cool summers and cold winters.
Upstate NY is home to numerous cities, towns, and charming rural communities. Some notable cities in the region include Albany, Rochester, Syracuse, and Buffalo. These urban centers offer a range of cultural attractions, dining options, and shopping opportunities.
In addition to its urban areas, Upstate NY is renowned for its vast wilderness areas and outdoor recreational activities. From hiking and camping to fishing and boating, outdoor enthusiasts will find plenty of opportunities to connect with nature.
Understanding the geography and climate of Upstate NY will help you plan your camping trip effectively and make the most of your time in this captivating region.
Planning Your Camping Trip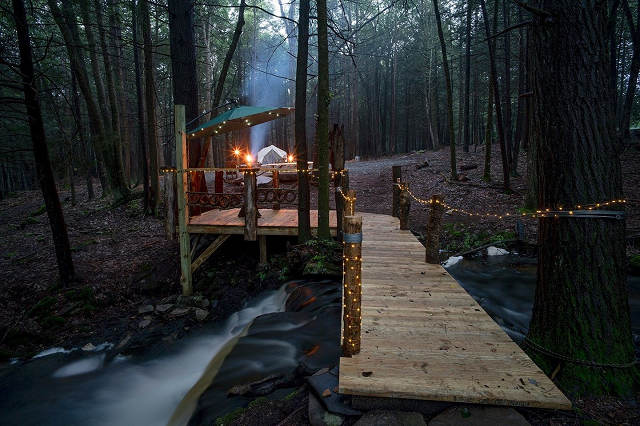 Planning a camping trip in Upstate NY requires careful consideration and preparation to ensure a smooth and enjoyable experience. Here are some key steps to help you plan your adventure:
Researching camping options in Upstate NY: Explore the various campgrounds, state parks, and recreational areas available in the region. Consider factors such as amenities, location, and the type of camping experience you desire, whether it's primitive camping, RV camping, or cabin rentals.
Choosing the best time to visit: Upstate NY experiences distinct seasons, each offering its own charm. Research the weather patterns and consider your preferences for outdoor activities. Spring and fall generally offer mild temperatures and vibrant foliage, while summer provides warmer weather for water-based activities. Winter camping is also an option for those who enjoy snow sports and a cozy campfire.
Reserving campsites in advance: Popular camping areas in Upstate NY tend to fill up quickly, especially during weekends and holidays. Make reservations well in advance to secure your preferred campsite. Check with the specific campground or park for reservation options and any specific requirements.
Checking campground regulations: Familiarize yourself with the rules and regulations of the campgrounds you plan to visit. Some may have restrictions on pets, campfire usage, noise levels, and other guidelines to ensure a harmonious camping experience for all visitors.
Creating an itinerary: Once you have chosen your camping location and secured your reservation, plan your activities and sightseeing opportunities. Research nearby hiking trails, scenic spots, and attractions that align with your interests. Keep in mind travel distances and allocate enough time for each activity.
Packing essentials: Prepare a comprehensive camping checklist that includes camping gear (tent, sleeping bags, camping stove, etc.), clothing suitable for the season, personal items, food supplies, water, and any specific gear required for your planned activities. Don't forget essentials like insect repellent, sunscreen, and a first aid kit.
Familiarizing yourself with safety measures: Prioritize safety during your camping trip. Learn about wildlife encounters in the area and how to handle them responsibly. Be aware of any potential weather hazards and plan accordingly. Follow campfire safety guidelines and adhere to "Leave No Trace" principles to minimize your impact on the environment.
By following these planning steps, you'll be well-prepared to embark on a memorable camping adventure in Upstate NY. Enjoy the beauty of nature, embrace outdoor activities, and create lasting memories in this remarkable region.
Types of Camping Accommodations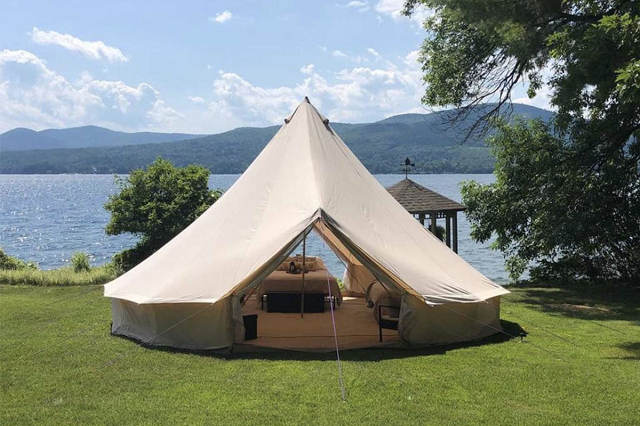 When it comes to camping in Upstate NY, there are various types of accommodations available to suit different preferences and levels of comfort. Here are three popular options:
Tent Camping: For those seeking an authentic outdoor experience, tent camping is the way to go. Pitching a tent allows you to immerse yourself fully in nature. Many campgrounds provide designated campsites with level ground, fire pits, and access to restroom facilities. Bring your own tent, sleeping bags, and camping gear to enjoy a rustic and closer-to-nature camping adventure.
RV Camping: If you prefer a more comfortable and convenient camping experience, RV camping might be ideal. Recreational vehicles (RVs) provide a home-away-from-home on wheels. RV campgrounds in Upstate NY offer amenities such as electrical hookups, water, and sewage connections, allowing you to enjoy the comforts of a kitchen, bathroom, and sleeping quarters while still being surrounded by nature.
Cabin Rentals: For those who want a blend of nature and comfort, cabin rentals are a popular choice. Upstate NY offers a range of cabins nestled in scenic locations, from basic rustic cabins to fully equipped cottages. Cabin rentals often feature amenities such as beds, kitchenettes or full kitchens, bathrooms, and heating/cooling systems. It's a great option for families or individuals who want a cozy and sheltered camping experience.
Each type of camping accommodation has its own advantages, so choose the one that best fits your preferences and needs. Whether you opt for tent camping, RV camping, or cabin rentals, Upstate NY provides beautiful natural surroundings and a wealth of outdoor activities to enhance your camping experience.
Exploring the Adirondacks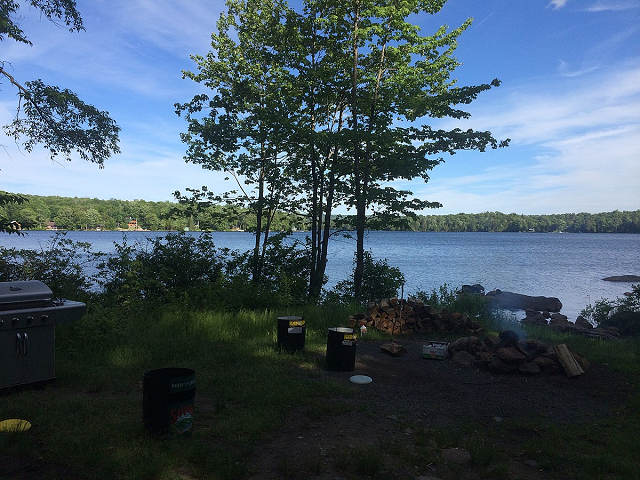 The Adirondacks, located in Upstate NY, is a vast and breathtakingly beautiful region renowned for its pristine wilderness, majestic mountains, and crystal-clear lakes. Here are some top camping spots to explore in the Adirondacks:
High Peaks Wilderness Area: As the name suggests, this area is famous for its high peaks and challenging hiking trails. Camping in the High Peaks Wilderness Area offers opportunities for stunning mountain vistas, remote wilderness experiences, and the chance to conquer popular peaks like Mount Marcy, the highest peak in New York State.
Lake Placid: Nestled amidst the Adirondack Mountains, Lake Placid is a popular destination for camping and outdoor adventures. Enjoy camping near the picturesque lake, go fishing, paddleboarding, or kayaking, and explore the charming town with its quaint shops and restaurants.
Saranac Lake: Surrounded by a chain of lakes, Saranac Lake is a haven for outdoor enthusiasts. Camp along the shores, swim in the clear waters, and indulge in activities like boating, fishing, and hiking. Don't miss the opportunity to hike the nearby Saranac 6, a collection of six mountains that offer stunning views.
Old Forge: Situated in the southwestern part of the Adirondacks, Old Forge is a popular camping destination with a charming small-town atmosphere. Campgrounds near Old Forge provide easy access to attractions like Enchanted Forest Water Safari, McCauley Mountain Scenic Chairlift, and the Fulton Chain of Lakes.
The Adirondacks offer countless opportunities for hiking, fishing, kayaking, wildlife spotting, and scenic drives. Immerse yourself in the tranquil beauty of nature, explore the well-maintained trails, and experience the wilderness firsthand. Whether you choose to camp in the High Peaks Wilderness Area, near Lake Placid, Saranac Lake, or Old Forge, the Adirondacks will undoubtedly captivate you with its natural wonders.
Discovering the Finger Lakes Region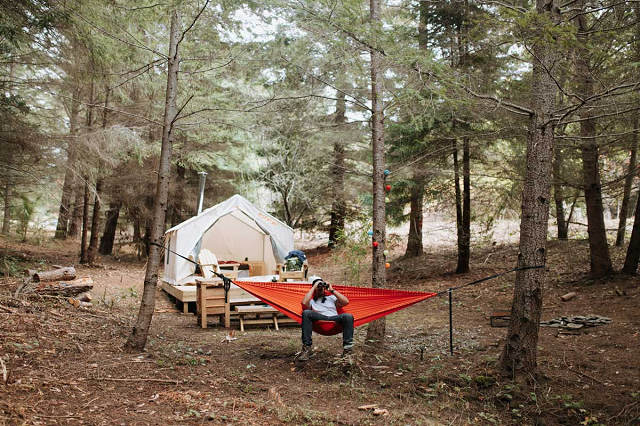 The Finger Lakes region in Upstate NY is renowned for its stunning landscapes, picturesque lakes, and world-class wineries. Here are some notable camping destinations to explore in this captivating region:
Watkins Glen State Park: Famous for its breathtaking gorge and waterfalls, Watkins Glen State Park offers a remarkable camping experience. Campers can enjoy hiking the scenic trails, marvel at the 19 waterfalls along the Gorge Trail, and even swim in the park's Olympic-sized swimming pool.
Taughannock Falls State Park: Home to one of the tallest waterfalls east of the Mississippi River, Taughannock Falls State Park is a must-visit destination for nature lovers. Set up camp near Cayuga Lake and hike to witness the awe-inspiring 215-foot waterfall or take a refreshing swim in the lake.
Buttermilk Falls State Park: With its cascading waterfalls, lush greenery, and natural swimming pools, Buttermilk Falls State Park is an ideal camping spot for those seeking tranquility and natural beauty. Explore the park's trails, cool off in the crystal-clear pools, and enjoy a peaceful picnic amidst the scenic surroundings.
Letchworth State Park: Known as the "Grand Canyon of the East," Letchworth State Park offers magnificent views of the Genesee River Gorge and three majestic waterfalls. Campers can hike the park's extensive trail system, enjoy picnicking, fishing, and even hot air balloon rides to appreciate the park's vast beauty.
The Finger Lakes region is also famous for its wineries, where visitors can indulge in wine tastings and vineyard tours. Additionally, the area offers opportunities for boating, fishing, birdwatching, and exploring charming towns with unique shops and restaurants.
Immerse yourself in the natural wonders of the Finger Lakes region, camp near the serene lakeshores, and embark on unforgettable adventures in Watkins Glen State Park, Taughannock Falls State Park, Buttermilk Falls State Park, and Letchworth State Park.
The Charm of the Catskills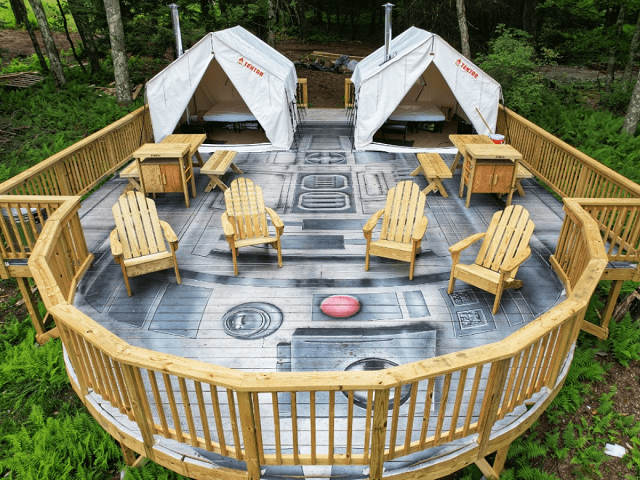 The Catskill Mountains in Upstate NY exude a timeless charm, with their rugged beauty, enchanting forests, and abundant outdoor activities. Here are some popular camping areas in the Catskills:
North-South Lake Campground: Situated within the Catskill Forest Preserve, North-South Lake Campground offers stunning views of North and South Lakes. Campers can enjoy swimming, fishing, boating, and hiking. Don't miss the opportunity to hike to the top of North Point for panoramic vistas of the surrounding mountains.
Devil's Tombstone Campground: Nestled in the heart of the Catskill Mountains, Devil's Tombstone Campground is a serene and picturesque camping destination. It provides access to the Devil's Path, a challenging hiking trail that rewards hikers with breathtaking views. Campers can also enjoy fishing in the nearby Schoharie Creek.
Mongaup Pond Campground: Located near the Mongaup Pond, this campground offers a tranquil setting surrounded by lush forests. Campers can enjoy swimming, canoeing, and fishing in the pond. Hiking enthusiasts can explore nearby trails, such as the Mongaup Pond Loop Trail.
Woodland Valley Campground: Tucked away in a secluded valley, Woodland Valley Campground provides a peaceful camping experience. It serves as a gateway to numerous hiking trails, including the popular Slide Mountain Trail, which leads to the highest peak in the Catskills. Campers can also relax by the pristine Woodland Valley Creek.
The Catskills also offer opportunities for rock climbing, birdwatching, wildlife spotting, and scenic drives along winding mountain roads. Additionally, the region is known for its arts and culture scene, with galleries, theaters, and music festivals throughout the year.
Immerse yourself in the rustic charm of the Catskills, set up camp in North-South Lake Campground, Devil's Tombstone Campground, Mongaup Pond Campground, or Woodland Valley Campground, and explore the breathtaking landscapes and outdoor adventures this region has to offer.
Off the Beaten Path: Lesser-Known Gems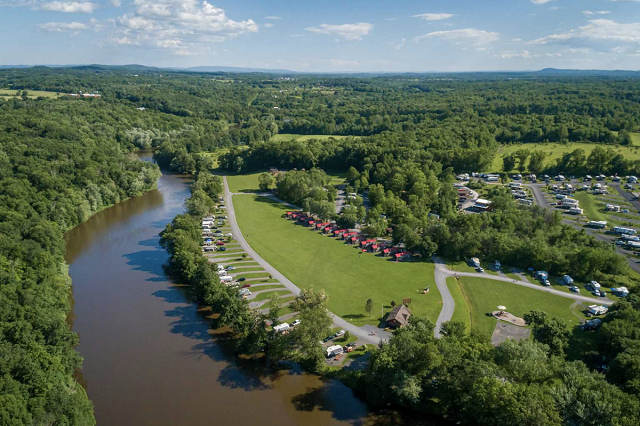 While Upstate NY is known for its popular camping destinations, there are also hidden gems that offer unique and off-the-beaten-path experiences. Here are a few lesser-known camping spots worth exploring:
Allegheny National Forest: Located in western New York, Allegheny National Forest offers a secluded and tranquil camping experience. With its vast woodlands, scenic trails, and pristine streams, it's an ideal destination for hiking, fishing, wildlife watching, and stargazing.
Chimney Bluffs State Park: Situated along Lake Ontario, Chimney Bluffs State Park showcases extraordinary geological formations. The towering clay bluffs, carved by wind and water, create a dramatic landscape. Campers can hike along the trails, enjoy panoramic lake views, and marvel at the unique natural beauty.
Thousand Islands Region: Spanning the St. Lawrence River and Lake Ontario, the Thousand Islands Region is a hidden gem for camping and outdoor enthusiasts. Explore the countless islands, enjoy boating, kayaking, and fishing, or simply relax on secluded sandy beaches. With its stunning sunsets and abundant wildlife, this region offers a serene escape.
Taconic Mountains: Stretching across eastern New York and western Vermont, the Taconic Mountains provide a serene camping experience away from the crowds. Discover hidden waterfalls, hike scenic trails, and enjoy the tranquility of this lesser-explored mountain range.
These lesser-known gems in Upstate NY offer a chance to connect with nature in a more secluded setting. With their unique landscapes, outdoor activities, and peaceful surroundings, Allegheny National Forest, Chimney Bluffs State Park, the Thousand Islands Region, and the Taconic Mountains provide memorable camping experiences for those seeking something off the beaten path.
Activities and Attractions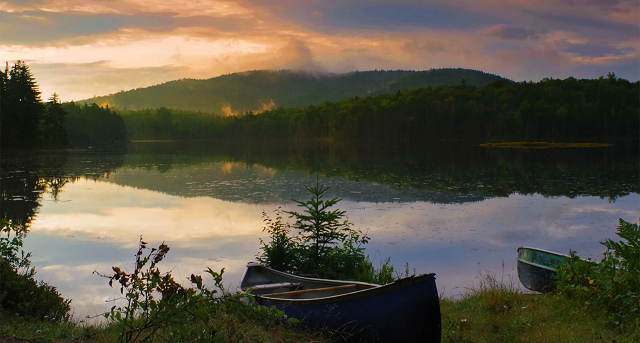 Camping in Upstate NY not only offers beautiful natural surroundings but also a plethora of activities and attractions to enhance your outdoor experience. Here are some activities and attractions to consider during your camping trip:
Hiking and Nature Trails: Lace up your hiking boots and explore the numerous hiking trails scattered throughout Upstate NY. From scenic mountain hikes in the Adirondacks and Catskills to picturesque trails in the Finger Lakes region, there are options for hikers of all skill levels. Immerse yourself in the beauty of nature and discover hidden waterfalls, breathtaking vistas, and diverse ecosystems along the way.
Water Activities: With its abundance of lakes, rivers, and waterways, Upstate NY offers endless opportunities for water-based activities. Enjoy swimming, kayaking, canoeing, or paddleboarding in the pristine waters of the Finger Lakes, go fishing for trout or bass in scenic streams, or embark on a leisurely boat ride to explore the Thousand Islands region.
Wine and Brewery Tours: Upstate NY is renowned for its wine and craft beer scene. Take a leisurely tour of the vineyards in the Finger Lakes or explore the wineries along the Shawangunk Wine Trail. For beer enthusiasts, visit the breweries in the Hudson Valley or the beer trail in the Adirondacks to sample a wide range of locally brewed beers.
Scenic Drives: Upstate NY boasts stunning scenic drives that showcase its natural beauty. Take a drive along the picturesque Route 100 through the Catskills, cruise along the shores of Lake Champlain, or journey through the scenic Hudson Valley. Stop at charming towns, admire the changing foliage in the fall, and soak in the awe-inspiring vistas along the way.
Historical Sites and Museums: Immerse yourself in the rich history of Upstate NY by visiting its historical sites and museums. Explore the Revolutionary War history at Saratoga National Historical Park, delve into the Erie Canal's legacy at the Erie Canal Museum in Syracuse, or learn about the region's industrial past at the Corning Museum of Glass.
Wildlife Watching: Upstate NY is home to a diverse array of wildlife. Keep an eye out for bald eagles soaring above the Adirondack peaks, spot white-tailed deer in the Finger Lakes region, or catch a glimpse of playful river otters along the waterways. Bring your binoculars and enjoy the thrill of wildlife observation.
Local Cuisine: Indulge in the local cuisine and savor the flavors of Upstate NY. From farm-to-table restaurants serving fresh produce to local delicacies like Buffalo wings, apple cider donuts, and grape pies, there is a wide range of culinary delights to satisfy your taste buds.
These are just a few of the many activities and attractions that Upstate NY has to offer. Whether you're seeking outdoor adventures, cultural experiences, or culinary delights, there is something for everyone to enjoy during their camping trip in this remarkable region.
Campfire Cooking and Outdoor Recipes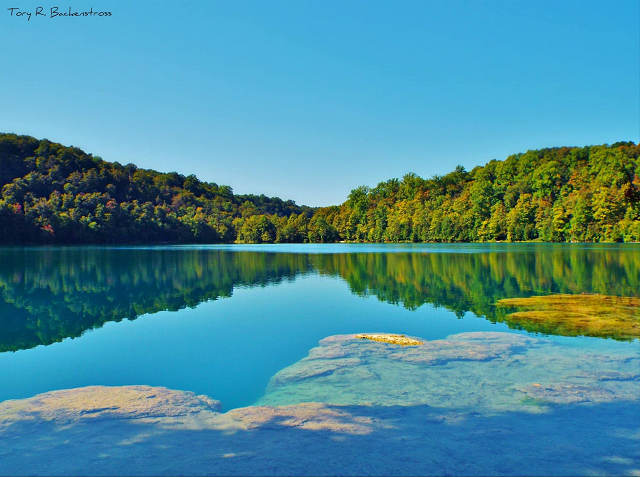 One of the joys of camping is cooking delicious meals over a campfire. Here are some campfire cooking tips and outdoor recipes to enhance your culinary adventures:
Campfire Cooking Tips:

Start with a clean and well-maintained fire pit or designated cooking area.
Use dry firewood or charcoal for a steady and consistent heat source.
Pack essential cooking tools such as a cast-iron skillet, aluminum foil, tongs, and a grill grate.
Plan and prepare meals ahead of time to make cooking at the campsite easier and more enjoyable.
Practice food safety by keeping perishable items chilled in a cooler and ensuring meats are cooked to the proper internal temperature.

Foil Packet Meals:

Foil packet meals are a convenient and delicious option for campfire cooking. Simply wrap your choice of protein (such as chicken, fish, or beef), along with vegetables and seasonings, in aluminum foil and cook it directly on the coals or on a grill grate. Experiment with different flavor combinations like lemon herb chicken with potatoes, or salmon with dill and asparagus.

Campfire Skillet Recipes:

Bring a cast-iron skillet to cook a variety of meals over the campfire. Try classics like campfire chili, where you can brown ground beef, onions, and garlic in the skillet before adding beans, tomatoes, and spices. Another option is a hearty breakfast skillet with scrambled eggs, bacon or sausage, diced potatoes, and cheese, all cooked together for a satisfying morning meal.

Grilled Delights:

Take advantage of the campfire grill grate to prepare mouthwatering grilled dishes. Marinate chicken, steak, or vegetables in your favorite seasonings, then grill them to perfection over the open flame. Serve with a side of grilled corn on the cob or foil-wrapped potatoes for a complete outdoor feast.

Campfire Desserts:

Don't forget about indulgent campfire desserts. Create gooey s'mores by roasting marshmallows over the fire and sandwiching them between graham crackers and chocolate. For a twist, try making campfire banana boats by slicing open a banana, filling it with chocolate chips and mini marshmallows, wrapping it in foil, and cooking it until melted and gooey.
Remember to always exercise caution when cooking over an open flame and follow any fire safety guidelines provided by the campground. Campfire cooking is not only a practical way to prepare meals while camping but also adds to the overall outdoor experience and creates lasting memories around the fire.
Is a Solo Trip A Good Idea For A Girl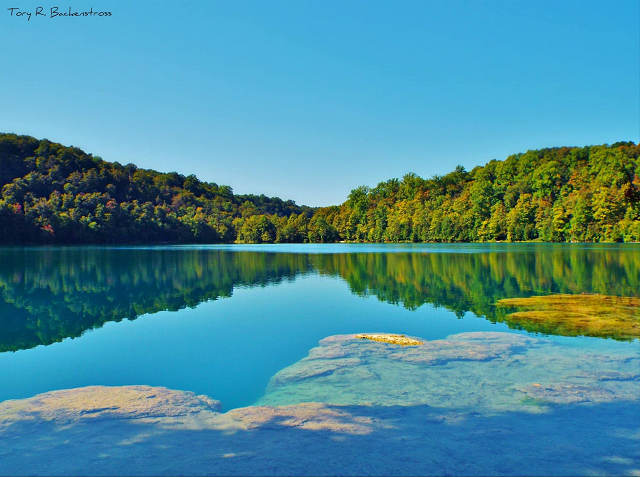 Taking a solo trip can be a wonderful and empowering experience for anyone, including girls. However, it's important to consider certain factors and take precautions to ensure a safe and enjoyable journey. Here are some tips to help you make the most of your solo trip as a girl:
Research your destination: Before you embark on your trip, research the place you plan to visit. Familiarize yourself with local customs, traditions, and any safety concerns specific to that area.
Choose a safe destination: Opt for destinations that are known to be safe for solo travelers, especially for women. Consider countries or cities with low crime rates, a friendly reputation towards tourists, and well-developed infrastructure for travelers.
Share your itinerary: Inform a trusted friend or family member about your travel plans. Share your itinerary, including details of accommodation, transportation, and contact information. Regularly check in with them during your trip to keep them updated on your whereabouts.
Stay connected: Carry a fully charged mobile phone with you at all times. Make sure you have access to local emergency numbers and important contacts. Consider getting a local SIM card or activating international roaming to stay connected.
Trust your instincts: Trust your gut feelings and intuition while traveling. If a situation or person feels unsafe or uncomfortable, remove yourself from it. Your safety should always be your top priority.
Stay in well-reviewed accommodations: Choose accommodations that have good reviews and are known for their safety and security measures. Consider staying in reputable hotels or guesthouses with 24-hour front desks and surveillance systems.
Be cautious with strangers: While it's great to meet new people during your travels, exercise caution when interacting with strangers. Be mindful of sharing personal information and avoid disclosing too many details about your solo status or itinerary.
Blend in with the locals: Try to blend in with the local culture and dress appropriately to respect local customs. This can help you avoid unwanted attention and make you less of a target for potential scams or harassment.
Use reliable transportation: Opt for reputable transportation options, such as licensed taxis or rideshare services, especially during late hours. Avoid hitchhiking or accepting rides from strangers.
Stay aware of your surroundings: Stay vigilant and aware of your surroundings at all times. Avoid walking alone in isolated or poorly lit areas, particularly at night. Trust your instincts and take precautions to ensure your safety.
Remember, while solo travel can be a rewarding experience, it's important to prioritize your safety and make informed decisions. By being prepared, staying cautious, and trusting your instincts, you can have a memorable and enjoyable solo trip as a girl.
How To Do Solo Travel As A Woman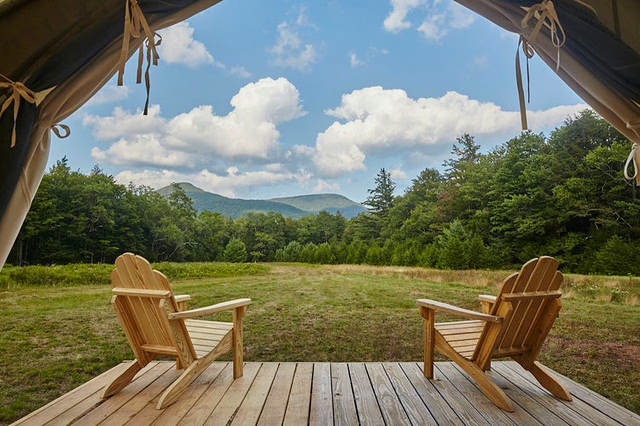 Solo travel can be a rewarding and empowering experience for women. While it's essential to prioritize your safety and well-being, it's important not to let fear hold you back from exploring the world. Here are some tips to help you plan and enjoy your solo travels as a woman:
Research your destination: Before you travel, gather information about your chosen destination. Understand its culture, customs, local laws, and any specific safety concerns for women. Research the areas you plan to visit and learn about transportation options.
Plan your accommodation wisely: Opt for reputable and safe accommodations such as hotels or guesthouses with good reviews. Read about the safety features of the property and choose well-populated areas rather than secluded locations.
Share your itinerary: Let someone you trust know your travel plans, including your accommodation details, transportation arrangements, and any activities you plan to undertake. Regularly update them on your whereabouts and check-in with them.
Pack smart: Travel light and avoid drawing unnecessary attention to yourself. Dress appropriately for the local culture, which may require modest clothing in some places. Pack a small, portable safety kit including a whistle, flashlight, and a basic first-aid kit.
Stay connected: Carry a fully charged mobile phone with local emergency numbers pre-programmed. Consider purchasing a local SIM card or activating an international roaming plan. Familiarize yourself with the local emergency services.
Trust your instincts: Always listen to your gut feelings and trust your intuition. If a situation or person feels uncomfortable, remove yourself from it. Don't be afraid to say no or assert your boundaries.
Blend in with the locals: Try to blend in with the local crowd to avoid standing out as a tourist. Observe how local women dress and behave and follow suit. This can help you feel more integrated into the local culture and attract less attention.
Be cautious with strangers: While it's great to meet new people during your travels, be cautious when interacting with strangers. Use your judgment to assess their intentions, and don't reveal personal information or your accommodation details to someone you've just met.
Use reliable transportation: Prioritize reputable transportation options, especially during nighttime or in unfamiliar areas. Research safe transportation choices like licensed taxis or ride-sharing services, and avoid hitchhiking.
Confidence and assertiveness: Project confidence and be assertive in your interactions. Hold your head high, walk with purpose, and maintain a strong demeanor. This can deter unwanted attention and give you a sense of control over your surroundings.
Learn basic self-defense: Consider learning basic self-defense techniques before your trip. These skills can help you feel more confident and capable of protecting yourself if the need arises.
Connect with other travelers: Consider staying in hostels or joining group tours to meet fellow travelers, both male and female. Having a travel buddy can provide additional safety and companionship.
Remember, while it's important to be cautious and prepared, don't let fear prevent you from experiencing the world. Solo travel can be an incredibly enriching and transformative experience. Embrace the adventure and enjoy the journey!
Which Place Is Safe For Solo Female Travellers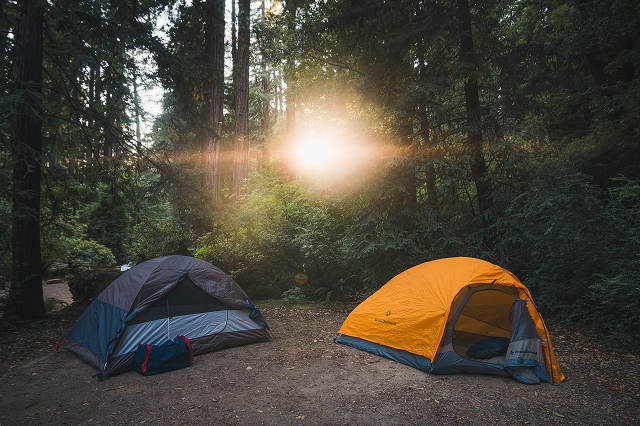 There are several destinations that are considered safe for solo female travelers. Here are some popular options:
Iceland: Iceland consistently ranks high in safety for solo travelers, and it's known for its stunning landscapes, friendly locals, and low crime rates.
New Zealand: New Zealand is known for its breathtaking scenery and welcoming atmosphere. It has a well-developed tourism infrastructure and is considered safe for solo travelers.
Canada: Canada is known for its diverse landscapes, friendly people, and overall safety. It offers a wide range of activities and attractions for solo travelers.
Japan: Japan is renowned for its safety, cleanliness, and efficient public transportation system. It's a great destination for solo female travelers due to its low crime rates and respectful culture.
Denmark: Denmark consistently ranks among the safest countries in the world. It's a beautiful destination with a high standard of living, well-preserved historic sites, and a welcoming atmosphere.
Singapore: Singapore is a small city-state known for its cleanliness, efficiency, and safety. It offers a mix of cultural experiences, delicious food, and modern attractions.
Switzerland: Switzerland is known for its stunning alpine landscapes, efficient transportation system, and low crime rates. It's a safe and beautiful country to explore alone.
Australia: Australia is a popular destination for solo travelers, with its diverse landscapes, vibrant cities, and friendly locals. It offers a wide range of experiences and has a relatively low crime rate.
It's important to note that while these destinations are generally considered safe, it's always advisable to take precautions and be aware of your surroundings regardless of the location you choose to visit. Researching local customs, following common-sense safety practices, and staying in well-populated areas can help ensure a safe and enjoyable solo travel experience.
What Is The Best Vacation For A Single Person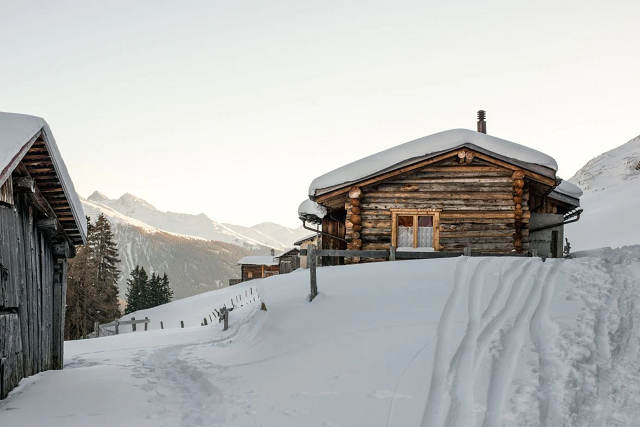 The best vacation for a single person depends on personal preferences and interests. Here are some ideas for solo travelers looking to have an enjoyable vacation:
City exploration: Choose a vibrant city known for its culture, history, and entertainment options. Cities like Paris, Tokyo, New York City, or Barcelona offer a plethora of attractions, museums, nightlife, and opportunities to meet other travelers.
Beach getaway: Relax and unwind on a beautiful beach destination. Whether it's a tropical paradise like Bali, the Maldives, or the Caribbean, or a coastal retreat in places like Hawaii, Goa, or Costa Rica, beaches provide a tranquil setting for solo relaxation and water activities.
Adventure travel: Embark on an adrenaline-filled adventure. Consider activities like hiking in the mountains, zip-lining through forests, scuba diving, or surfing. Destinations such as New Zealand, Nepal, Costa Rica, or South Africa offer thrilling experiences for adventurous souls.
Wellness retreat: Treat yourself to a rejuvenating wellness retreat. Look for destinations with renowned spas, yoga retreats, and wellness centers. Bali, Thailand, India, and Costa Rica are popular choices for solo travelers seeking relaxation and self-care.
Cultural immersion: Immerse yourself in a different culture and gain new perspectives. Explore destinations with rich history, traditions, and local experiences. Places like Rome, Kyoto, Marrakech, or Istanbul offer a unique blend of history, architecture, and cultural encounters.
Volunteer travel: Engage in meaningful travel by volunteering abroad. You can contribute to various causes like wildlife conservation, community development, or teaching programs. Organizations like Workaway, WWOOF, or Habitat for Humanity provide opportunities for solo travelers to make a positive impact while exploring a new destination.
Solo cruise or group tour: Join a solo-friendly cruise or a group tour designed for single travelers. These options provide opportunities to meet like-minded individuals while exploring multiple destinations. Check for companies that specialize in solo travel or offer single-friendly options.
Road trip: Embark on a solo road trip and discover hidden gems along the way. Plan a route that encompasses scenic drives, national parks, charming towns, and natural wonders. Road trips provide flexibility and the chance to explore at your own pace.
Food and wine exploration: Delight your taste buds on a culinary adventure. Choose destinations renowned for their cuisine and wine, such as Italy, France, Thailand, or Argentina. Join food tours, cooking classes, or wine tastings to fully immerse yourself in the local gastronomy.
Retreat in nature: Seek tranquility in nature's embrace. Find destinations with serene landscapes, such as national parks, mountains, or countryside retreats. Disconnect from the hustle and bustle and enjoy activities like hiking, camping, or wildlife spotting.
Ultimately, the best vacation for a single person is one that aligns with their interests, preferences, and desired experiences. Consider what excites you the most and tailor your trip accordingly. Solo travel allows you the freedom to design a vacation that perfectly suits your desires.
Is It A Good Idea To Travel Alone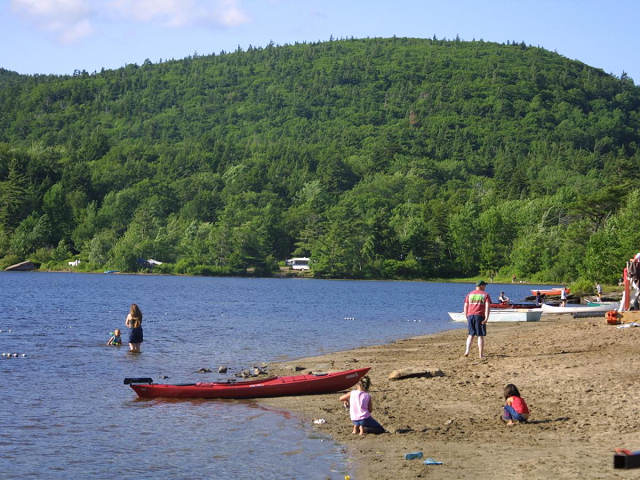 Traveling alone can be a highly rewarding and transformative experience for many individuals. Here are some factors to consider when deciding if solo travel is a good idea for you:
Independence and Freedom: Traveling alone allows you the freedom to set your own itinerary, make spontaneous decisions, and explore at your own pace. It can be a liberating experience that promotes personal growth and self-discovery.
Self-Reflection and Empowerment: Being alone in a new environment provides an opportunity for self-reflection, introspection, and increased self-confidence. It can help you become more self-reliant and adaptable, as you navigate unfamiliar situations on your own.
Flexibility and Personal Preferences: Solo travel allows you to prioritize your own interests and preferences without having to compromise with others. You can design your trip based on your specific desires, whether it's focusing on cultural immersion, adventure activities, or relaxation.
Meeting New People: Traveling alone can make you more approachable to locals and fellow travelers, leading to meaningful interactions and new friendships. It encourages you to step out of your comfort zone and engage with people from different backgrounds and cultures.
Challenges and Personal Development: Traveling alone may present challenges, such as language barriers or navigating unfamiliar places. However, overcoming these challenges can boost your problem-solving skills, resilience, and independence.
While solo travel offers many benefits, it's important to assess your own comfort level and take precautions to ensure your safety. Research your destination, inform loved ones of your travel plans, stay aware of your surroundings, and follow local customs and regulations.
Ultimately, whether solo travel is a good idea depends on your personal preferences, comfort level, and readiness to embrace the unknown. It can be an incredibly enriching experience, but it's important to make an informed decision that aligns with your individual circumstances and interests.
How can I Travel And Have Fun Alone?
Traveling alone can be a fantastic opportunity for self-discovery, personal growth, and having fun on your own terms. Here are some tips to help you make the most of your solo travel adventure and have a great time:
Embrace the freedom: Solo travel gives you the freedom to do whatever you want, whenever you want. Embrace this freedom and take advantage of the flexibility to create your own itinerary and pursue activities that genuinely interest you.
Set realistic expectations: Understand that solo travel might have its ups and downs. There may be moments of loneliness or challenges, but also incredible moments of joy and self-discovery. Be open to embracing the entire spectrum of experiences that come with traveling alone.
Engage with locals: Interacting with locals can greatly enhance your travel experience. Strike up conversations, learn about their culture, ask for recommendations, and participate in local activities. This can lead to meaningful connections and a deeper understanding of your destination.
Try new things: Step out of your comfort zone and try activities you've never done before. Whether it's trying local cuisine, taking a dance class, or engaging in adventure sports, solo travel allows you to push your boundaries and discover new passions.
Join group activities or tours: Participate in group activities or join guided tours. This can be a great way to meet other travelers, share experiences, and have companionship during certain parts of your journey. Look for tours specifically designed for solo travelers or activities that encourage group interaction.
Stay in social accommodations: Choose accommodations that foster social interaction, such as hostels, guesthouses, or boutique hotels with communal areas. These places often organize social events, making it easier to meet fellow travelers and make new friends.
Capture memories: Take plenty of photos, keep a travel journal, or start a travel blog to document your experiences. Not only will this help you remember your adventures, but it can also serve as a creative outlet and a way to share your journey with others.
Stay open-minded: Approach your solo travel experience with an open mind and a willingness to embrace the unexpected. Be open to new perspectives, cultures, and ways of life. The more open-minded you are, the richer and more fulfilling your travel experience will be.
Practice self-care: Take care of yourself physically and emotionally during your solo travels. Prioritize rest, eat well, stay hydrated, and listen to your body's needs. Engage in activities that bring you joy and allow yourself downtime to relax and recharge.
Trust your instincts: Trust your instincts and prioritize your safety. While it's great to be open to new experiences, always listen to your gut feelings and make decisions that align with your comfort level. If a situation doesn't feel right, remove yourself from it.
Remember, solo travel is a unique opportunity for self-discovery and personal growth. Embrace the journey with an open heart and a sense of adventure, and you'll have a fantastic time exploring the world on your own terms.
Is It Awkward To Travel Alone?
Traveling alone can feel awkward at times, especially in the beginning, but it's important to remember that many people embark on solo travel adventures and have incredible experiences. While there may be moments of self-consciousness or uncertainty, the benefits and rewards of traveling alone far outweigh any initial awkwardness. Here's why:
Freedom and flexibility: Traveling alone allows you to be in complete control of your itinerary. You can go wherever you want, change plans on a whim, and adapt your travel experience to suit your preferences. Embracing this freedom often outweighs any initial awkwardness.
Self-discovery and personal growth: Solo travel provides an opportunity for self-reflection and personal growth. Being alone in a new environment can lead to self-discovery, increased self-confidence, and a greater understanding of yourself. Embrace the journey as a chance for personal exploration and growth.
Meeting new people: One of the beautiful aspects of traveling alone is the opportunity to meet new people from all walks of life. Without the presence of a travel companion, you may find yourself more open to engaging with locals, fellow travelers, and forming connections that can greatly enrich your travel experience.
Empowerment and independence: Traveling alone can empower you and boost your independence. As you navigate new places, make decisions, and handle challenges on your own, you'll gain a sense of confidence and self-reliance that can carry over into other aspects of your life.
Pushing your comfort zone: Traveling alone often pushes you out of your comfort zone, but that's where personal growth happens. Embracing the unknown, trying new activities, and immersing yourself in different cultures can be intimidating at first, but it can lead to incredible experiences and a broader perspective on life.
Self-care and introspection: Traveling alone provides ample opportunity for self-care and introspection. You can focus on your own needs, desires, and well-being without compromise. Take the time to relax, recharge, and reflect on your journey.
Building confidence and resilience: Overcoming challenges and navigating unfamiliar environments on your own can significantly boost your confidence and resilience. As you successfully handle various situations, you'll become more adept at problem-solving and adapting to new circumstances.
Creating your own narrative: Solo travel allows you to create your own narrative and explore destinations at your own pace. You're not bound by anyone else's preferences or compromises, enabling you to curate a travel experience that aligns perfectly with your interests and desires.
While it's natural to feel a bit awkward or unsure at times, remember that many people have embarked on solo adventures and found them to be incredibly rewarding. Embrace the unique experience, be open to new connections, and relish in the freedom that comes with traveling alone. You'll likely find that any initial awkwardness fades away as you immerse yourself in the journey.
How can an introvert travel alone?
Traveling alone as an introvert can be a fulfilling experience that caters to your unique preferences and personality traits. Here are some tips to make solo travel more enjoyable for introverts:
Plan Ahead: Research and plan your itinerary in advance. Having a well-structured plan can alleviate anxiety and provide a sense of control, allowing you to fully enjoy the experience.
Choose Quiet and Introspective Destinations: Consider destinations that align with your preferences as an introvert. Opt for serene natural landscapes, peaceful retreats, or cultural sites that allow for solitude and reflection.
Seek Accommodations that Suit Your Needs: Look for accommodations that provide a peaceful and comfortable environment. Consider staying in private rooms, boutique hotels, or guesthouses that offer a quiet atmosphere conducive to relaxation and introspection.
Embrace Slow Travel: Instead of rushing from one destination to another, embrace a slower pace of travel. Spend more time in each location, allowing yourself to immerse in the local culture, explore at your own pace, and recharge when needed.
Enjoy Solo Activities: Engage in activities that you find enjoyable and fulfilling. Whether it's reading a book in a cozy café, visiting museums and art galleries, or taking leisurely walks in nature, prioritize activities that resonate with your introverted nature.
Find Tranquil Spaces: Seek out quiet spots such as parks, gardens, or scenic viewpoints where you can relax, unwind, and enjoy your own company. These serene environments can be a haven for introverts seeking solitude.
Connect with Locals in Small Settings: Engaging with locals can offer enriching experiences. Look for opportunities to interact with locals in small-group settings, such as joining local tours, attending workshops, or visiting community events. These settings often provide a more intimate and less overwhelming social experience.
Document Your Journey: If you enjoy creative outlets, consider documenting your travel experiences through journaling, photography, or sketching. These activities can serve as a form of self-expression and allow you to capture your memories in a way that suits your introverted nature.
Remember that solo travel is about embracing your own journey and finding what brings you joy and fulfillment. Give yourself permission to prioritize self-care, personal space, and the activities that resonate with you as an introvert. By honoring your own needs and preferences, you can create a rewarding and enjoyable solo travel experience.
How can I enjoy a trip without friends?
Enjoying a trip without friends is absolutely possible and can offer unique opportunities for self-discovery and personal growth. Here are some tips to help you make the most of your solo adventure:
Embrace your independence: Embrace the freedom that comes with traveling alone. You have the flexibility to do whatever you want, whenever you want, without having to consider others' preferences. Embrace this opportunity to prioritize activities and experiences that truly interest you.
Connect with locals and fellow travelers: Engage with locals and other travelers you encounter during your trip. Strike up conversations, join group activities, or participate in organized tours. Sharing experiences and stories with others can enhance your journey and provide a sense of connection.
Be open to new experiences: Use this opportunity to step out of your comfort zone and try new things. Be open to activities, cuisines, and adventures that you may not have considered before. Embracing the unknown can lead to unexpected joys and personal growth.
Immerse yourself in the local culture: Embrace the local culture and immerse yourself in the destination you're visiting. Try local foods, explore historical sites, visit museums, and attend cultural events or festivals. Engaging with the local culture can offer a deeper understanding and appreciation of the place you're visiting.
Engage in self-care: Use your solo trip as an opportunity to prioritize self-care. Take the time to relax, rejuvenate, and focus on your well-being. Whether it's indulging in spa treatments, practicing yoga, or simply enjoying quiet moments in nature, prioritize activities that bring you joy and help you recharge.
Enjoy your own company: Learn to enjoy your own company and embrace solitude. Take moments to reflect, journal, or simply be present in the moment. Solo travel allows for self-reflection and introspection, and you may discover newfound appreciation for your own thoughts and experiences.
Take photos and document your journey: Capture your memories through photography or by keeping a travel journal. These mementos can serve as a way to reminisce about your experiences and share them with others when you return home.
Stay safe and be prepared: Prioritize your safety and well-being throughout your trip. Research safety tips for your destination, trust your instincts, and take necessary precautions. Inform trusted individuals of your itinerary and regularly check in with them.
Be open to spontaneous adventures: Solo travel allows for flexibility, so be open to spontaneous adventures and opportunities that may arise during your trip. Embrace the freedom to change plans, explore off-the-beaten-path destinations, or embark on impromptu day trips.
Embrace the journey: Lastly, embrace the journey itself. Solo travel can be a transformative experience that allows you to learn more about yourself, gain confidence, and discover new passions. Embrace the challenges, the moments of solitude, and the joy that comes from navigating a new place on your own terms.
Remember, traveling alone can be a liberating and fulfilling experience. Embrace the opportunities for self-discovery, engage with the world around you, and enjoy the journey of exploring new destinations on your own.
Read Also: