The bike is part of the lifestyle of modern people, so bike storage is also a necessity. With thousands of different bikes on the market, finding bike storage that fits your homes will be a challenge.
In choosing a bike storage solution, we must pay attention to safety and practical aspects. Apart from preventing our bicycles from being stolen, they need to be fast and easily accessible. And most importantly the existence of bicycle storage should not damage the comfort of our homes.
This job will be a little difficult because you have to balance the two aspects above. The good news is we'll help you choose a bike storage solution that's available today.
You should take a little time to read this article to the end. We'll cover all of them here.
Types of Bike Storage Racks
The first thing you should know is about the type of bicycle storage. There are currently five main types of bicycle storage, they are:
Floor bike racks
Ceiling bike racks
Vertical on the wall racks
Horizontal on the wall racks
Freestanding racks
We hope you read all of them because there may be something you didn't know before. Hopefully, you find something that works perfectly for your home.
Floor Bike Storage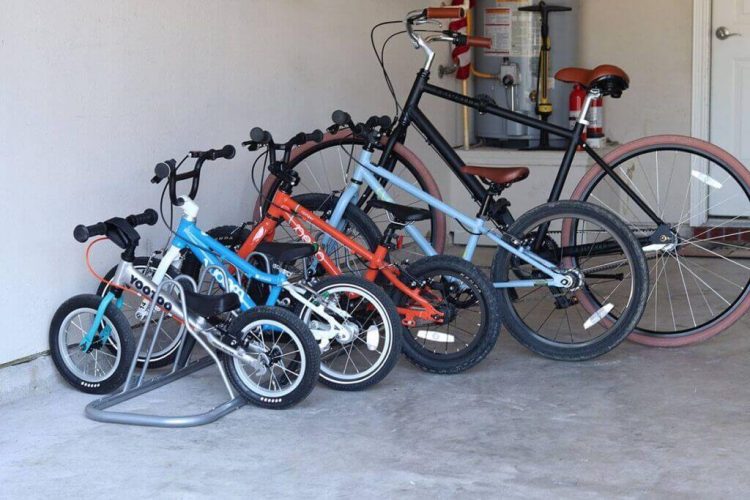 A floor bike storage rack is the most basic type of bicycle storage. This bicycle storage area is best used for homes with lots of rooms, where floor space is not an issue. They are perfect for families with children and bikes that are used daily.
Advantages:
There's nothing to install and easy to move to a new room if you wish.
Easy to use and quickly accessible for everyone, even children will have no trouble.
Drawbacks:
They take up floor space, only more suitable for large rooms or places with lots of room.
Often unstable, some of which are not compatible with bikes with smaller wheels (<20 ") or bikes with disc brakes.
The following is an example of the floor bike storage rack product that you can consider.
Simple Houseware 5 Bike Floor Storage Stand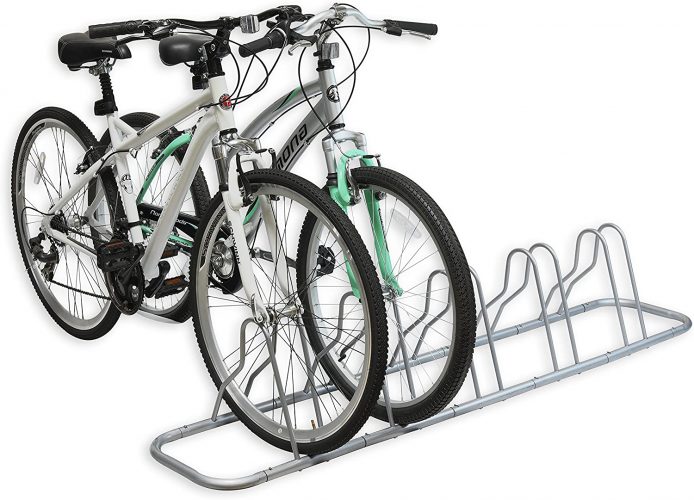 This product comes to the low end of the price range, it is cheap and functional. This floor rack can hold up to 5 bikes and compatible with all sizes of the wheel (12" to 26" bikes).
Unfortunately, the wheel supports are not too tall so it is unstable and not suitable for windy outdoor areas. In addition, this bicycle rack will only fit with 5 bikes if you combining adult and child bikes.
Finally, if you want this product, it is sold in the marketplace with the latest price tag of about $43,87.
Ceiling Bike Storage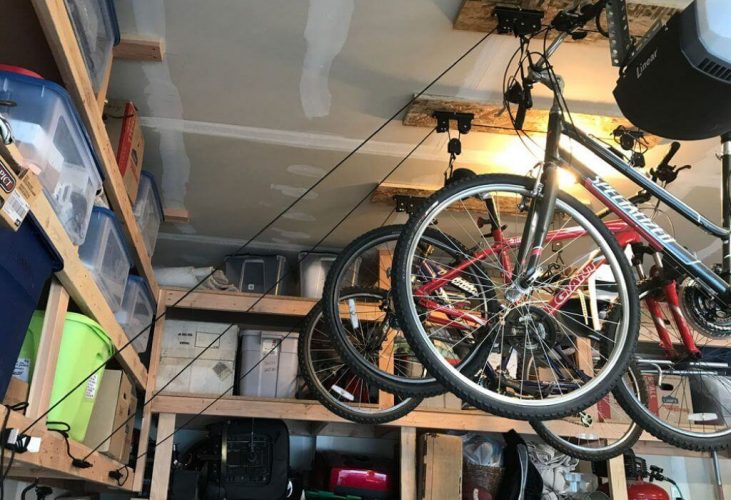 If you only have a very tight space where there is no other choice then a bike storage rack on the ceiling is the answer. This rack allows you to store your bicycle above your head, precisely on the ceiling of your room. Usually, it has a pulley system to lift your bike, attached to the handlebar and the seat.
Advantages:
Suitable for small spaces because your bike will not take up floor or wall space at all.
The pulley system will save you energy, it doesn't take much effort to lift your bike.
Compatible with many different types and sizes of bikes.
Drawbacks:
Mounting the shelf to the ceiling will definitely be more difficult than it is to the wall.
Getting the bike up and down takes a little longer.
Not easily accessible to children.
More suitable for bicycles that are not used regularly.
The following is an example of a ceiling bike storage rack product that you can consider.
Saris Glide Bike Storage Ceiling Rack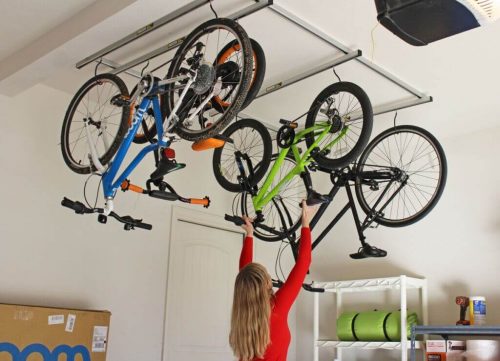 Saris make a ceiling-mounted indoor bike storage rack that allows you to hang multiple bikes. It can hold up to four bikes or even six with an add-on kit (sold separately).
Saris Cycle Glide built with non-rusting materials and has a one-year warranty. This is is the ultimate choice for flexibility, since it has sliding rails and sliding hooks.
This rack can accommodate any size bike easily. You can change the bike you store just by sliding the hooks adjust to the bicycle wheelbase.
This product sold in the marketplace with a $249 price tag and the add-on kit is sold separately with a $99 price tag.
Vertical Bike Storage on the Wall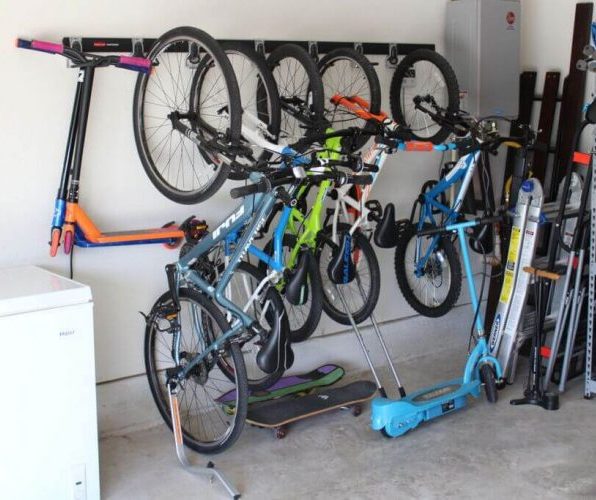 Vertical storage racks seem to be more suitable for storing larger quantities of bikes. They are probably the most space-efficient way because they take up less of your wall space.
You can lift and hang the front wheel of your bike so that the bicycle sticks out into the room. Then you are free to place a few bikes next to it.
Advantages:
Can also be installed in smaller wall spaces as they take up less wall space.
Is a space-saving solution for storing a larger number of bicycles.
Easy to access, operate, and compatible with various wheel sizes.
Drawbacks:
Tend to take up more room space, because the bike will stick out into the room.
Not suitable for children, because it will be difficult when having to lift the front wheel against the wall.
Often the rear wheels will stick to the floor.
It would probably be more correct to say that a vertical bike rack is a bike storage solution for a larger number of bikes in a larger space.
The following are examples of vertical bike storage rack on the wall products that you can consider.
Omni Bike Rack for Garage Wall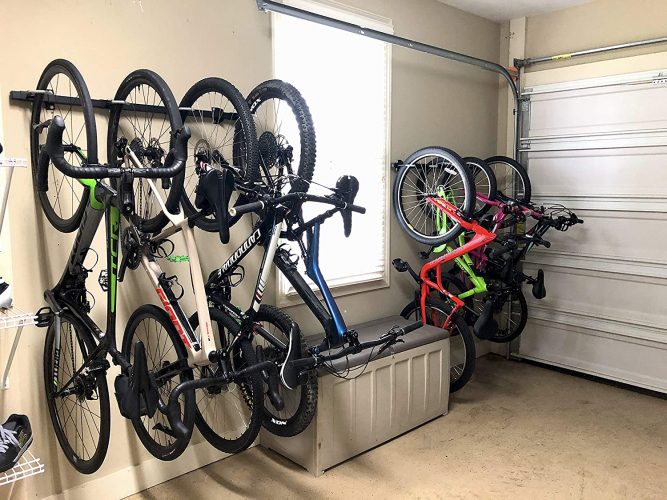 This vertical bike storage rack product is great for simplicity, it is easy to install and easy to use. With solid metal material, it belongs to a heavy-duty bike rack that can hold up to 5 bikes.
With adjustable hanging hooks this rack works well with road bikes, mountain bikes, hybrid bikes, commuter bikes, and kids bikes. Overall, with a $69.99 price tag on the marketplace, this is a solid choice that budget-friendly.
Horizontal Bike Storage on the Wall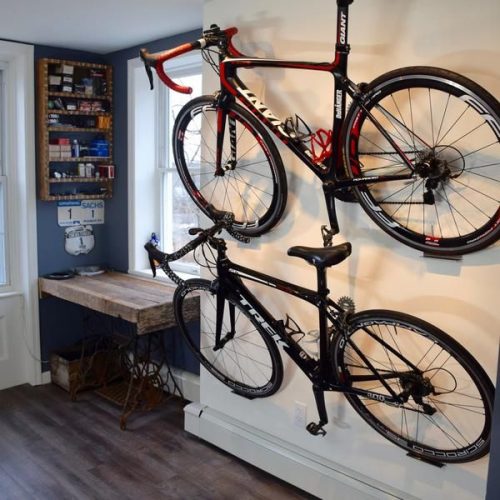 If you have a lot of free space on the wall even with a small space then a horizontal bicycle storage rack on the wall is for you. You can store and organize your bike parallel to the floor by hanging it along the wall.
Advantages:
It won't take up much room because the bike doesn't stick too far into the room.
You don't need to do a lot of maneuvering to store your bike, just push and lift it a little to put it on the rack.
Some of your bikes can fit on a rack without touching the floor, and some just need to lean against the wall.
Can be an alternative to showing off your bike like a work of art.
Drawbacks:
Obviously, they take up a lot of wall space, as much as the bike you put on them.
Walling a bicycle can be tricky sometimes, especially for children.
It would be ideal to store a bicycle or two.
The following are examples of horizontal bike storage rack on the wall products that you can consider.
Delta Cycle Michelangelo Gravity Stand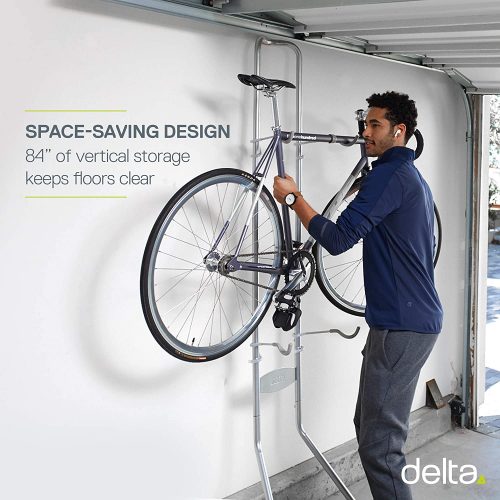 This is the most popular horizontal bike stand that also known as 'no installation bike storage'. Yes, right! you just need to lean it against the wall.
Made of Industrial-grade powder-coated steel & custom molded arm covers that Easy to assemble with a regular screwdriver. The arms are fully adjustable, it can accommodate any bike geometry. Since. Overall it's great who those don't want to damage their walls.
If you are interested, you can get it at affordable prices in the marketplace, which is around the $58 price tag.
Freestanding Bike Racks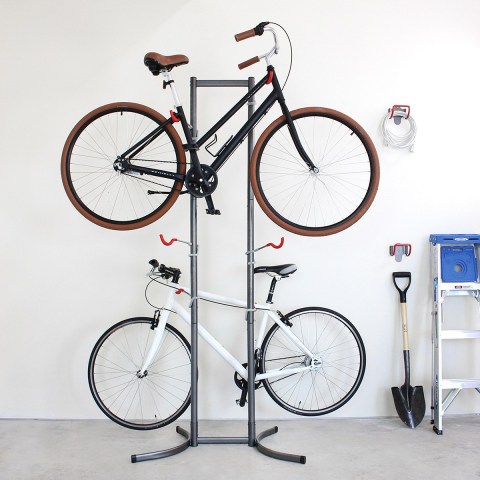 A freestanding bicycle rack is bike storage that does not use a wall as a support. It works the same as a bicycle hanging horizontally on a wall.
Advantage:
They don't depend on the wall, perfect for those of you who don't have wall space or don't want to damage the wall.
Easy to install and easy to move to new spaces such as floor storage.
Drawbacks:
This storage rack may not be suitable for children, especially if you want to put the bike on top.
A freestanding bicycle rack is best used for one or two bikes only.
The following is an example of a freestanding bike storage rack on the wall product that you can consider.
Feedback Sports Velo Column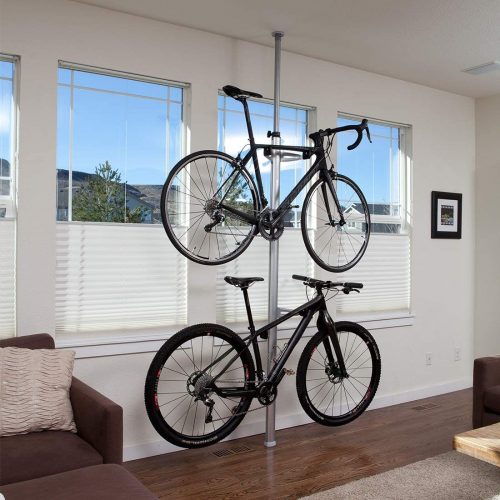 This floor to ceiling column free standing rack is the most common type people use. Feedback Sports made of a spring-loaded aluminum tubing system that wedges between the ceiling and the floor. So that it creates completely stable bike storage that supports up to four bikes.
This rack has soft rubber contact points at both ends of the column and it is adjustable to fit ceilings height from 7'-10' (2.1 – 3.0 m). This product sold in the marketplace with a $251 price tag excludes the shipping.
How Safe Is Your Bike Storage Space?
Maybe getting an idea of ​​how you will store your bike at home is quite a challenge. But figuring out how safe a place to store your bike is a crucial issue.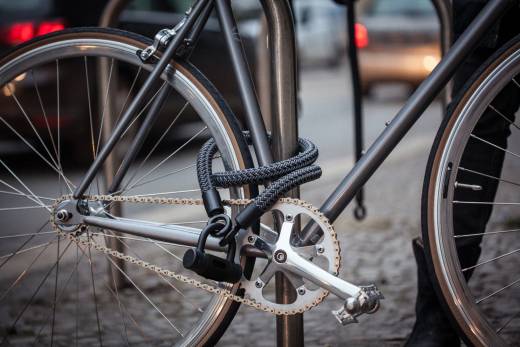 Bicycles stored at home have a higher chance of being stolen than on the highway. In fact, statistics show that more than 50% of bicycle theft cases are taken from the owner's house. What a surprise!
In general, we've researched the safest places to store a bicycle at home. The safest one is of course in the house. Your garage and warehouse is ranked the next safest place.
The most unsafe places are communal spaces such as front or rear gardens. A space that can be accessed by people (even in the house) apart from your home carries a much higher risk.
The use of a padlock provides added security. A bicycle that is unlocked in your garage is probably no safer than a bicycle that is locked in your backyard.