If you're looking for the best pools in NYC, you've come to the right place. Whether you want to take a dip in a small, shallow pool or you want a larger, more expansive option, you've come to the right place.
Read on to learn about some of the best places to swim in New York City. The best time to go: Summer! When visiting the city, don't forget to bring your swimsuit and towel.
Best Pools in NYC – Unique Pools
Somewhere Nowhere, Chelsea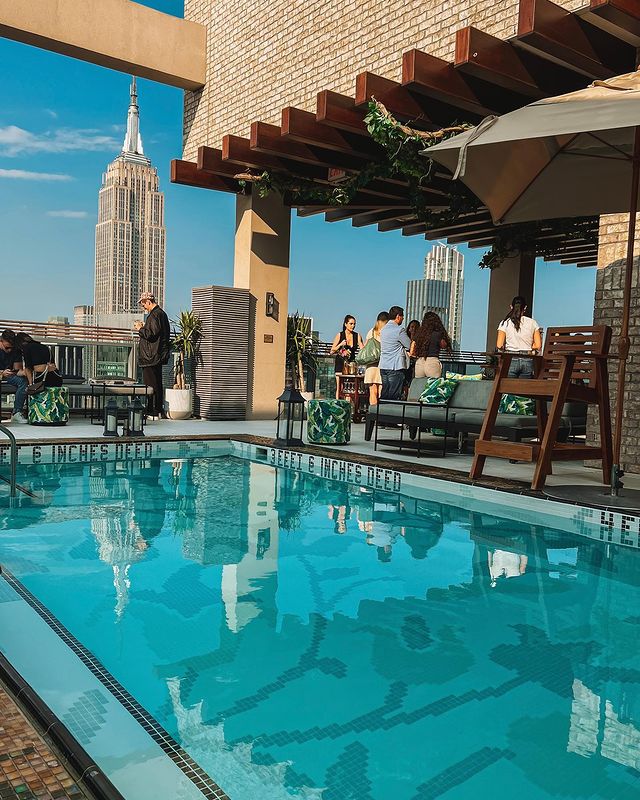 Located on the 38th and 39th floors of the Renaissance New York Chelsea Hotel, the rooftop pool and lounge Somewhere Nowhere NYC provides a truly unique experience.
Designed in a magical fantasy world, this luxurious venue is filled with enchanting decor, progressive lighting and sound technology, and the perfect mix of nightlife and daytime activities.
Guests of the luxury hotel can also relax in the pool area during the winter months and can enjoy live music and dancing until dawn. This pool is one of the best pools in NYC.
The Somewhere Nowhere NYC Rooftop Pool and Lounge are open to hotel guests and the general public each day. To access the rooftop pool, guests must present valid identification.
While no mask is required, it's a great idea to wear one if you're going swimming during the colder months. Hours: Open 11 a.m. to 4 a.m. weekdays and until midnight on weekends.
The pool is closed during inclement weather but is open for everyone else.
Location: 112 West 25th Street, New York, NY 10001
Phone: 212-404-7969
Visit Website
---
Sentry NYC Murray Hill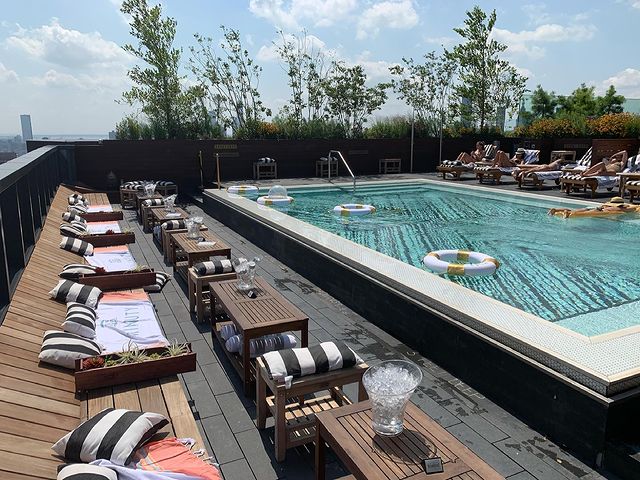 The rooftop pool in The Sentry is the latest addition to New York City's skyline. This 42nd-floor swimming pool is located on the top level of one of the most famous skyscrapers in the city, the American Copper Buildings.
These buildings, designed by SHoP Architects, stand over the FDR and look like two-leaning buildings. They also boast the city's tallest sky bridge. Members can enjoy the pool in the evenings and on weekends.
The pool is open daily from 12 p.m. to 7 p.m., and you can even get a free ticket on the Sentry NYC Murray Hill website! There are plenty of reasons to visit this rooftop pool in Murray Hill.
Among them are the panoramic views of Manhattan and the Manhattan skyline. The pool is large enough for private parties, and you can enjoy the view in the privacy of your own apartment. The Sentry is also home to a restaurant and bar.
Located in the American Copper Buildings, The Sentry offers exclusive member benefits and amenities. Its pool is surrounded by lounge chairs and day beds, and the view of Manhattan is simply spectacular. This pool is one of the best pools in NYC.
Members can enjoy a range of activities and experiences at the Sentry, including yoga classes in the morning and casual live music at night. The Sentry is a welcome addition to the NYC membership club scene. It offers a luxurious setting for events and offers guests the opportunity to mingle with fellow members.
Location:  435 E 35th St, New York, NY 10016
Visit Website
---
Manhattan Park Pool Club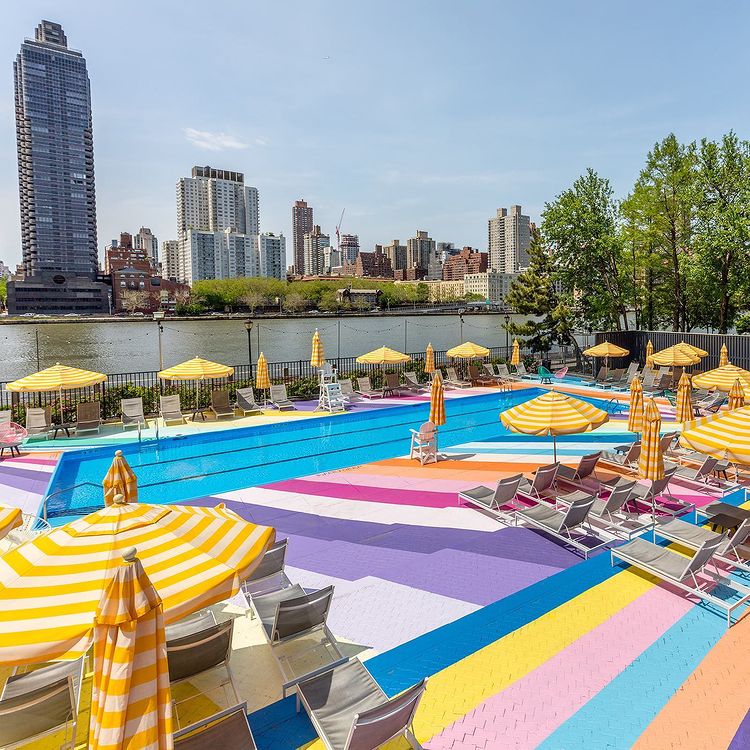 A visit to the Manhattan Park Pool Club is a must for any New York City resident, whether it is for a quick swim on a hot summer day or a long weekend dip. With an 8,000-square-foot pool and views of the East River, the club is a summer favorite.
Members can purchase monthly or yearly passes, or reserve a day for a nominal fee. After a full tour of the facilities, you'll know why the Manhattan Park pool is one of the city's most popular attractions.
The Manhattan Park Pool Club is located in the waterfront rental community on Roosevelt Island. Residents can enjoy a dip in the heated outdoor pool while taking in the East River views.
The pool is available for season memberships and offers a summer reading list. While it is not always open to the public, Manhattan Park residents can purchase a temporary membership to the pool club to enjoy the pool year-round.
Location: 36 River Rd, New York, NY 10044
Phone: 212-308-6472
Visit Website
---
Summer Club, LIC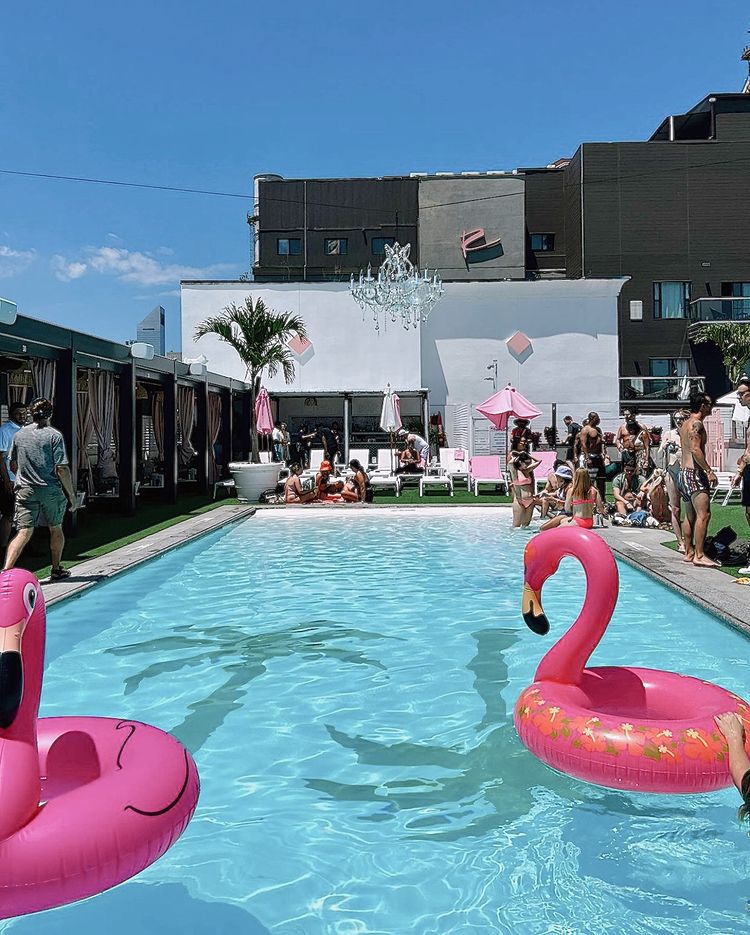 The Ravel Hotel, located in Queens Plaza South, is home to The Summer Club, a new reservations-only day club that aims to cater to a certain subset of New Yorkers. The pool deck of this private club is perfect for lounging around and soaking up the city's sun.
The pool boasts a deep four-foot-deep pool and an impressive selection of specialty frozen drinks. This pool is one of the best pools in NYC. You can even enjoy a live show while sipping on a cool drink.
If you're looking for a more private pool experience, consider reserving a cabana. For about $75, you can enjoy a day pass with a lounge chair and towel.
For an additional $50, you can book a private table service for a private party or event. Guests can also reserve a VIP table with waiter service and enjoy a full day of poolside food and drinks.
Location: 8-08 Queens Plaza S, Queens, NY 11101
Phone: 646-942-6807
Visit Website
---
QC NY Spa Pool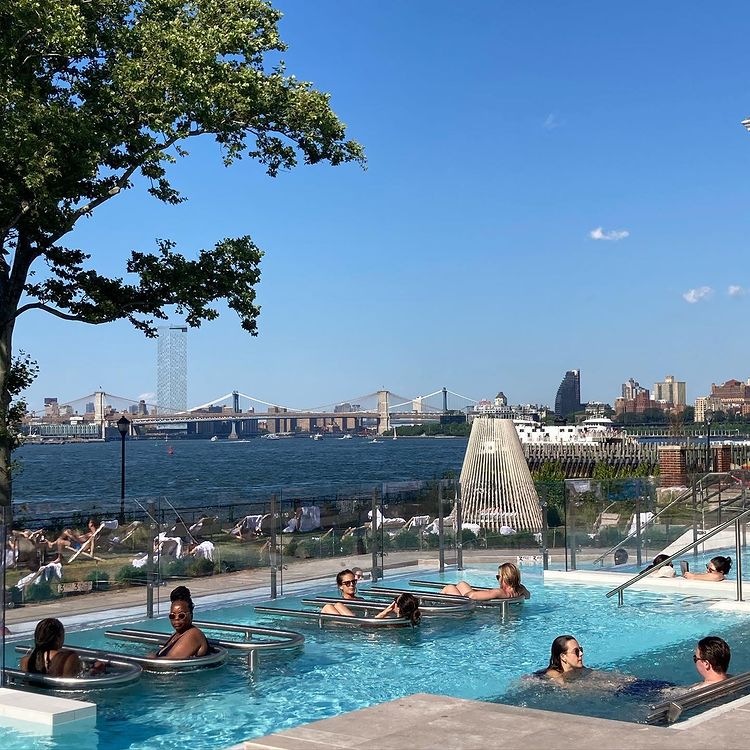 The QC NY spa, located on Long Island, offers an indoor and outdoor pool, sauna, and steam rooms. The spa will eventually span three restored army barrack buildings, including the one in the center of the spa. In the meantime, guests can enjoy the spa's pool and relax. The spa is designed to be a luxury getaway.
The QC NY will feature 20 water-focused wellness experiences, including a Vichy shower and a panoramic pool. There will also be steam baths and saunas, and a wellness cafe.
The spa is part of a decade-long plan to turn Governors Island into a year-round community. Guests will be able to enjoy a variety of wellness experiences, including the two infinity pools overlooking Manhattan.
The QC NY is open to guests 21 and older 365 days a year. A day pass will set you back $88 for access to the pool and spa, as well as round-trip ferry service. However, you may opt to spend more money on massages and food and beverage options.
Just be sure to wear comfortable clothing and bring your ID. You'll be glad you did. We're talking about QC NY, and they're making it a destination for New Yorkers and tourists alike.
Location: Governors Island, 112 Andes Rd, New York, NY 10004
Phone: 646-402-9647
Visit Website
---
TWA Rooftop Pool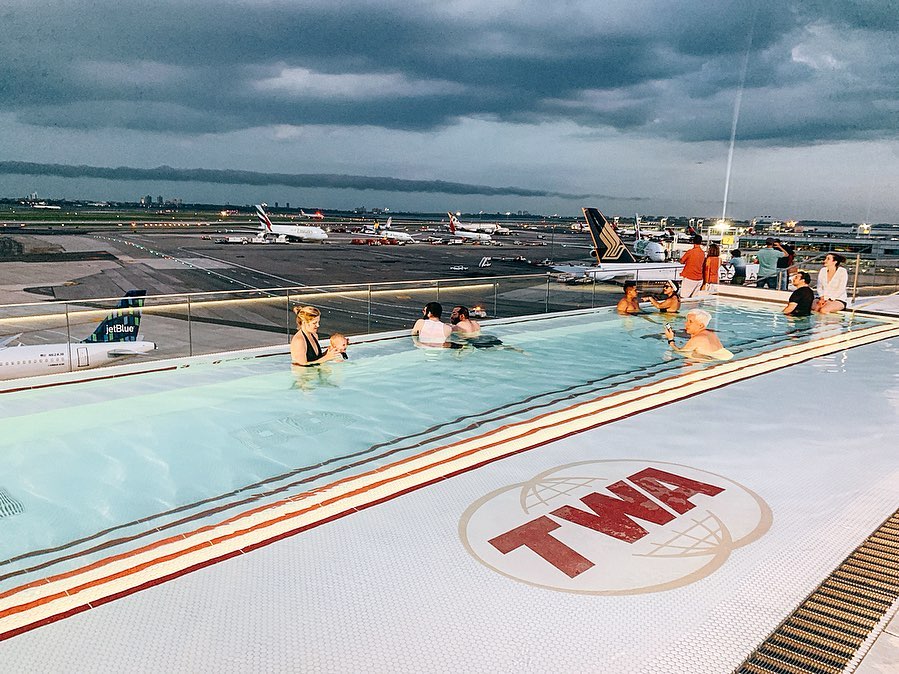 The TWA Rooftop Pool is one of the city's newest attractions and is sure to get the attention of many visitors. Located on the sixth floor of the south tower, the pool offers views of both the JetBlue Terminal 5 and the Emirate's Airbus 380.
The heated pool is regularly purified and heated to 95 degrees. Its location is also impressive, providing views of Manhattan and Jamaica Bay. This pool is one of the best pools in NYC.
The pool is open year-round and is an unusual combination of retro design and high-tech elements of the airport. The TWA logo is prominently displayed in the center of the pool. While reservations are necessary, walk-ins are also welcome during peak hours.
Reservations are recommended because occupancy may be reduced. Guests should also bring a valid identification card and a photo ID, as there are strict guidelines. The price range for pool access is $50 per person, including a 20% gratuity.
Guests can expect to pay around $50 per person to access the pool, which is also home to an observation deck. The TWA Rooftop Pool is located on the hotel's rooftop. During the summer months, the pool is free to all guests.
During winter months, the hotel has converted its poolside bar into a 1960s apres-ski hideaway called the Runway Chalet. The Runway Chalet is heated and tented, and it offers views of the Manhattan skyline from above.
Location: TWA Hotel One Idlewild Drive JFK Airport, Jamaica, NY 11430
Phone: 212-806-9000
Visit Website
---
Best Pools In NYC – Public Pools
Hamilton Fish Pool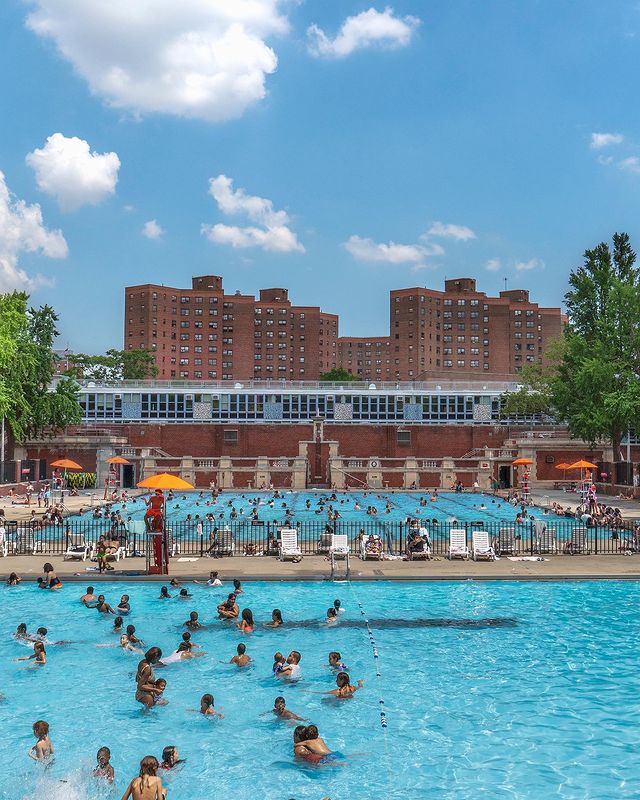 The Hamilton Fish Swimming Pool is located on the Lower East Side of Manhattan. It was the first of the city's ten new swimming pools to open. This large, ten-lane pool features a semi-circular dive for advanced swimmers and a wading pool for small children.
The Hamilton Fish Pool can accommodate approximately 1700 people at a time. Despite the fact that it's a busy place, it's worth a trip. This pool is one of the best pools in NYC.
The Hamilton Fish Park is a neighborhood gem. Located near basketball courts and a mini-pool for children, the Hamilton Fish Pool is a great place for a family outing.
The pool is open from 11 a.m. to 7 p.m. every day of the summer except Sundays, when it is closed for cleaning. The Hamilton Fish Pool will begin having early and late lap swims in a few weeks. Until then, public swimming will be restricted to a couple of hours every day.
Location: Houston and Pitt Street Hamilton Fish Park, E Houston St, New York, NY 10002
Phone: 212-387-7691
Visit Website
---
Sunset Pool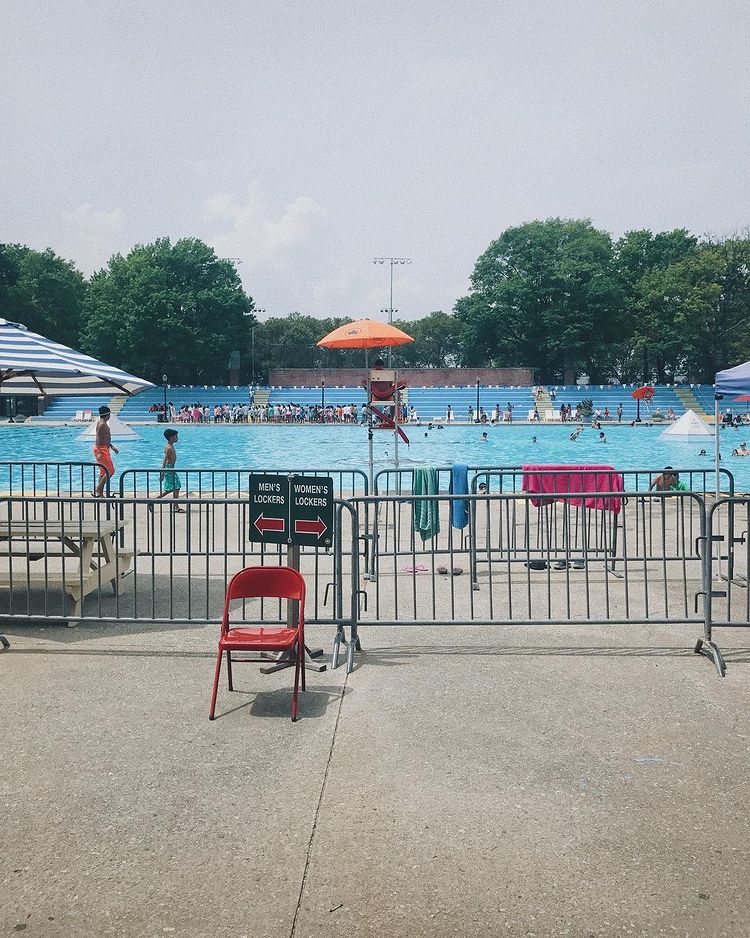 With Olympic-sized outdoor pools open throughout the summer and lockers that allow you to lock up your belongings, Sunset Park has become one of the most popular swimming spots in New York.
The Sunset Park swimming pool has a variety of options for both swimmers and non-swimmers, making it easy for all to find a place to cool off during the summer months.
The outdoor pool at Sunset Park is open to the public from June through August and can accommodate up to 200 swimmers.
With Olympic-sized pools, this Manhattan pool is the perfect place to enjoy a refreshing dip or run laps. You can take in beautiful views of Manhattan, Brooklyn, and even the Statue of Liberty.
The Sunset Pool is safe and regulated and offers free entry to swimmers all summer long. It is open every day, so you can enjoy yourself while getting a bit of a workout in.
Location: 7th Ave, Brooklyn, NY 11232
Phone: 718-972-2180
Visit Website
---
Crotona Pool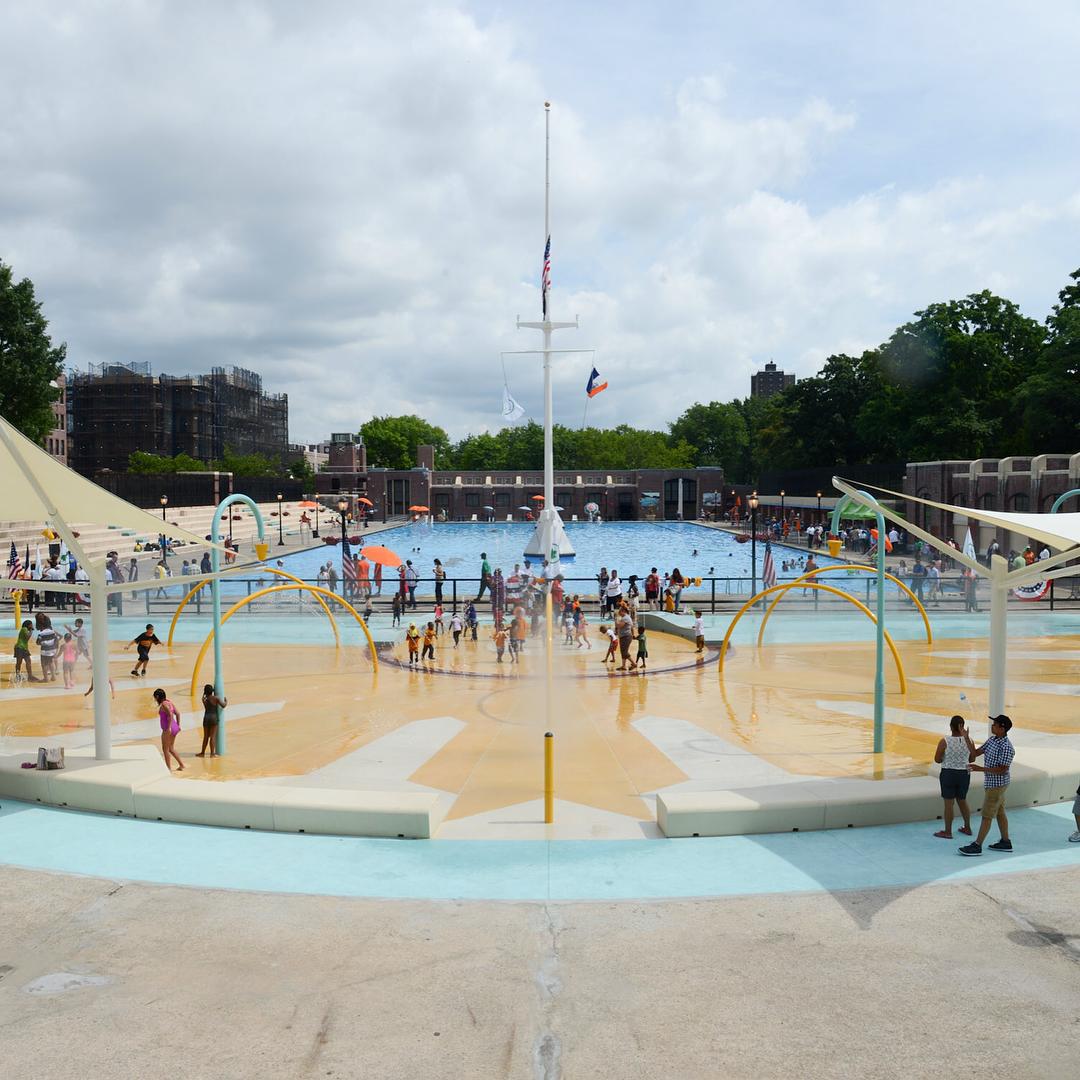 If you're looking for a free outdoor public swimming pool in New York City, Crotona Pool is a great choice. This incredibly popular New York City pool is open to the public for everyone to enjoy, with a BYO lock policy. This is a great option if you have kids in tow or are just looking for a fun place to cool off.
Thousands of visitors flock to Crotona Park pool every year. The swimming facility is known for its cool blue water, which is approximately 300 feet deep and contains over 925,000 gallons of water.
The Crotona Park swimming pool is also the largest pool in the Bronx, despite being surrounded by a large park with 20 tennis courts and an art deco bathhouse. The park surrounding the Crotona Pool is also worth a visit.
The Crotona Park swimming pool was built between 1934 and 1936 with WPA funds. It has a huge J-shaped concrete grandstand that overlooks the pool. This pool is one of the best pools in NYC.
The pool is surrounded by a bathhouse, which was designed by renowned architect Aymar Embury II. Located in the South Bronx, it is one of the largest green spaces in the city.
Whether you're a water sports enthusiast, a history buff, or a family looking to spend some time outdoors, Crotona Park is a must-see.
Location: 1700 Fulton Ave, The Bronx, NY 10457
Phone: 646-581-7535
Visit Website
---
Astoria Pool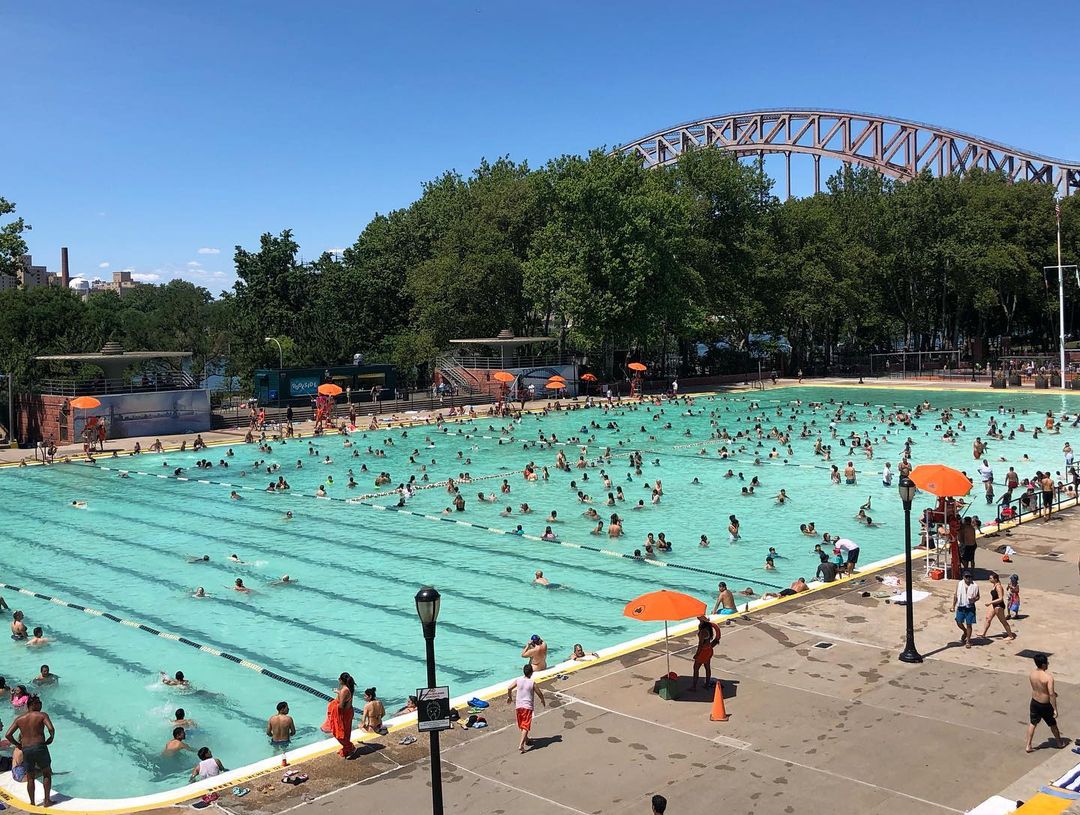 The Astoria Pool is one of the most famous pools in New York. This historic location was one of 11 outdoor public pools that opened during the Great Depression.
In addition to its spectacular swimming pool, this location is also home to the American Diving Team and the Olympic Trials. This pool is one of the best pools in NYC.
As of 2006, it is a registered New York City landmark. A visit to the Astoria Pool is guaranteed to give you a sense of what life was like in Astoria when it was first built.
The Astoria Park pool opened in 1936. It was the largest of the eleven pools built by the Works Progress Administration (WPA). The Astoria Pool hosted the swimming, diving, and track trials for the 1936 Olympics.
The public swimming pool was opened after the Department of Parks took over control of the city bathhouses. With this, the city harnessed the labor of the Works Progress Administration to build outdoor swimming pools. However, it has some peculiar rules.
Location: 19th Street & 23rd Drive, NY 11105
Phone: 718-626-8620
Visit Website
---
McCarren Park Pool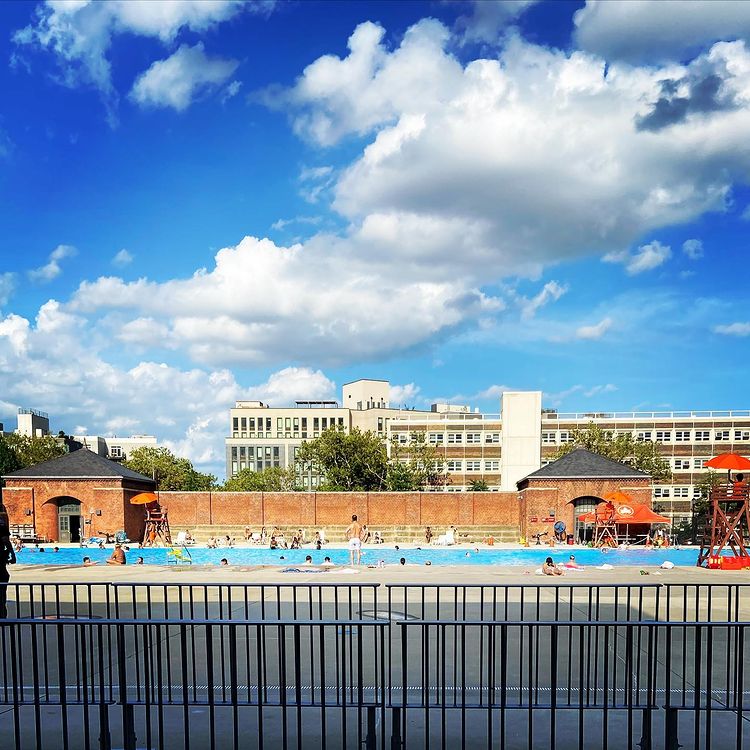 Known as one of the most beautiful parks in the city, McCarren Park features an expansive outdoor pool with lap lanes and swimming programs. The expansive outdoor pool is open from June to early September and offers a variety of swimming events and programs.
The park also offers a variety of summer events, like a free movie series at the park's theater. In addition to the pool, the park is home to several other great pools in the area.
For those of you who enjoy swimming, McCarren Park Pool is one of the best NYC pools. Located in Brooklyn's northern neighborhoods, the outdoor pool is close to Greenpoint and Williamsburg.
The pool is open daily from 11 am to 7 pm and has plenty of room to spread out poolside. The pool is heated and features a water slide. Guests can enjoy swimming in this heated pool while sipping on craft cocktails and snacking on delicious snacks.
Location: 776 Lorimer St, Brooklyn, NY 11222
Phone: 718-218-2380
Visit Website
---
Liberty Pool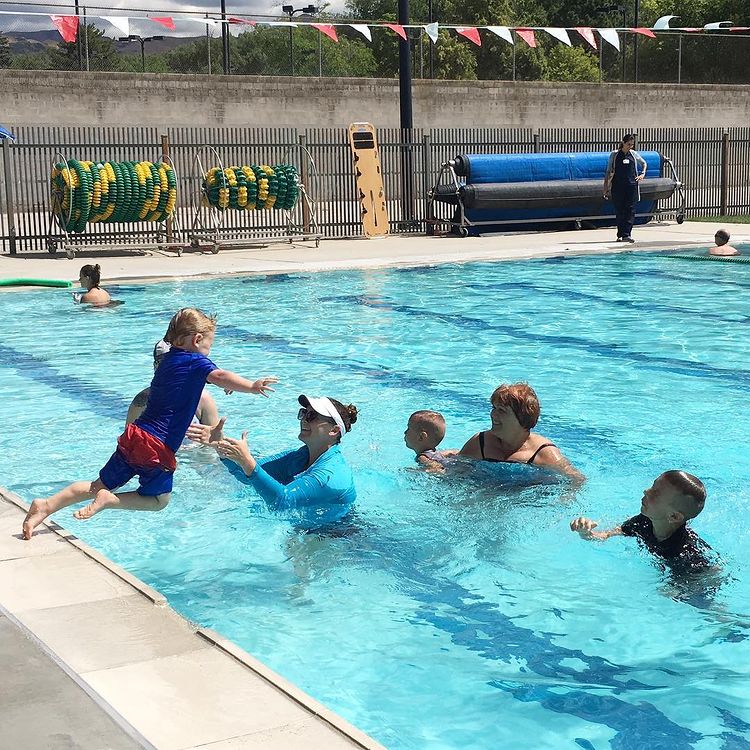 Located between the Robert F. Kennedy Bridge and the Hell Gate Bridge, Liberty Pool is a 145-foot swimming oasis that New Yorkers can enjoy during the summer. This Liberty Pool is one of the best pools in NYC.
This pool is accessible to those on the Upper East Side, where it is located next to the famous Uva restaurant. The pool can get very busy on weekends, so it is best to go early or late.
Adult lap swimming takes place from 7:00 AM to 8:00 PM, and there is ample room to sunbathe. The swimming area is also home to a Keith Haring mural on the side wall.
This 1936 Olympic-sized pool offers a relaxing atmosphere. Built with the help of locals, the pool has an art deco design. It is part of a citywide effort to improve recreational facilities.
Its large tree-lined deck provides plenty of shade. Whether you plan on tanning or reading a book, this pool is a must-visit. You won't regret it.
Location: 105-31 172nd St, Queens, NY 11433
Phone: 718-657-4995
Visit Website
---
Kosciuszko Pool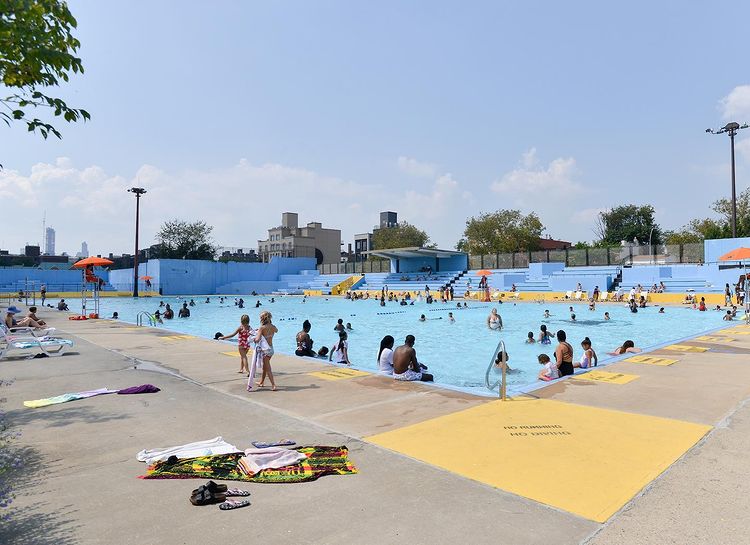 When it comes to swimming in NYC, nothing beats Kosciuszko Pool. This pool is one of the best pools in NYC. This seasonal complex boasts 2 pools, an Olympic-size and a wading pool. It also has lockers for guests to use.
Both pools are open to the public during the summer. Whether you're looking to spend the day in the pool or a whole afternoon in the water, you'll find everything you need to make your visit a success.
If you're staying in Brooklyn, you'll want to check out Kosciuszko Pool. Located just a mile away from Manhattan, this water park features an Olympic-sized pool, a wading pool, and learn-to-swim programs.
There's also a swim team and a senior exercise program. Though small in comparison to some of the larger pools in NYC, Kosciuszko Pool is an excellent option for a family outing with kids.
Although there are fewer risks of coronavirus infection outdoors, New Yorkers remain wary, despite research showing the virus is less likely to spread indoors. With the recent surge in cases, New Yorkers are increasingly cautious about public swimming.
To help curb these fears, the Parks Department has accelerated the reopening process and has instituted several social-distancing ambassadors to promote safe swimming. As of summertime, selected recreation centers are operating at about 70 percent capacity. Visitors are encouraged to use paper wristbands.
Location: 670 Marcy Ave, Brooklyn, NY 11216
Phone: 718-622-5271
Visit Website
---
Betsy Head Pool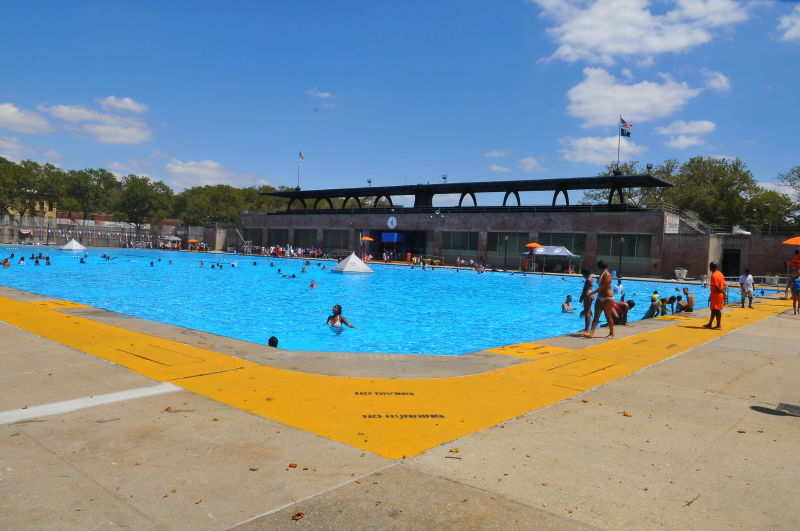 The Betsy Head Play Center is one of eleven enormous outdoor swimming pools in New York City. It opened in 1936 under the leadership of Mayor Fiorello LaGuardia and Park Commissioner Robert Moses. This pool is one of the best pools in NYC.
Constructed with WPA funding, the complex used a mix of low-cost building materials and an Art Moderne style to design its facilities. The complex featured separate swimming pools with separate locker rooms and a massive bath house. It doubled as a gymnasium during non-swimmer months.
The Betsy Head Pool is 330 feet long and 165 feet wide and can hold 1,200 swimmers. The pool house was designed by John Matthews Hatton, a noted architect who incorporated liberal glass blocks and a parasol roof.
The Betsy Head Pool was one of eleven constructed during the summer of 1936 by the Works Progress Administration. The pool opened to the public on August 6, 1936. In 2008, it was designated an official landmark by the city.
Location: 694 Thomas S Boyland St, Brooklyn, NY 11212
Phone: 718-257-1635
Visit Website