Are you looking for the best brunch in NYC? There are many good brunches in NYC, but which one is the best? Here are some recommendations. These places are all worthy of a try.
Brunch is an occasion for socializing, so make sure you get there early to enjoy the food. You'll be glad you did when you come home and remember the great times you had at those places!
There is no better way to start your day than with a delicious brunch. This time frame allows for multiple meals to be eaten in one sitting, and there is something for everyone at brunch.
And, if you can find one in the city, even better. Read on to learn more about the best brunch spots in New York City. And don't forget to bring your friends! There are plenty of places for people to gather over brunch in New York City.
Best Brunch In NYC
Balthazar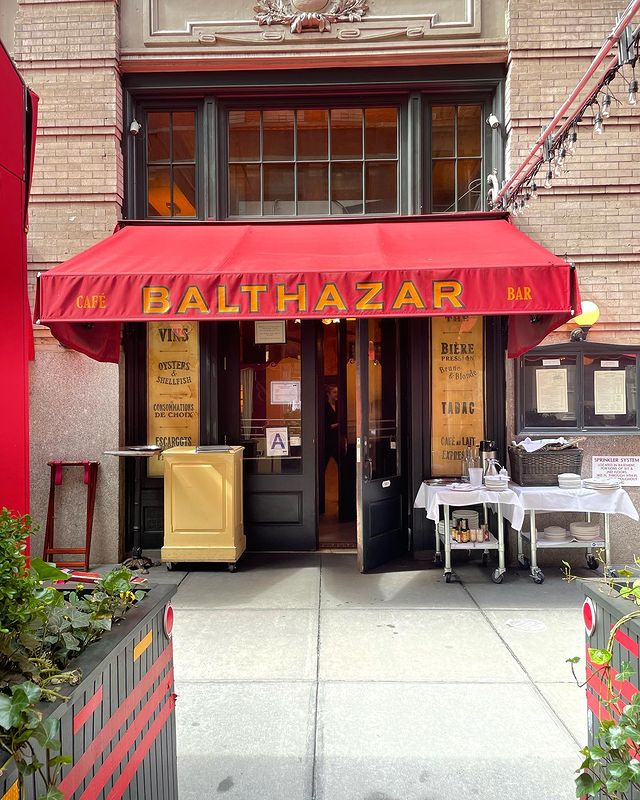 The casual French restaurant has become the gold standard in NYC, and for good reason. The casual elegance of downtown meets the upmarket cuisine of French bistros in this modern space. This restaurant is one of the best brunch spots in NYC.
Its huge, mirror-clad walls reflect the glimmering crowd and its upscale, French-influenced dishes have been praised by critics, and many New Yorkers and international foodies have tried its escargot.
The French cuisine paired with the city's iconic style makes for a wonderful brunch. In addition to its French cuisine, there are many options for brunch in New York. One of the best is Balthazar, which also has a bakery next door.
If you're visiting NYC on a weekend, make sure to make a reservation and be prepared to wait for hours. In addition to its great food, the restaurant's high-quality service and ambiance make it an ideal spot for a romantic date or a celebration with friends.
Location: 80 Spring St, New York, NY 10012
Phone: 212-965-1414
Visit Website
---
Clinton St. Baking Company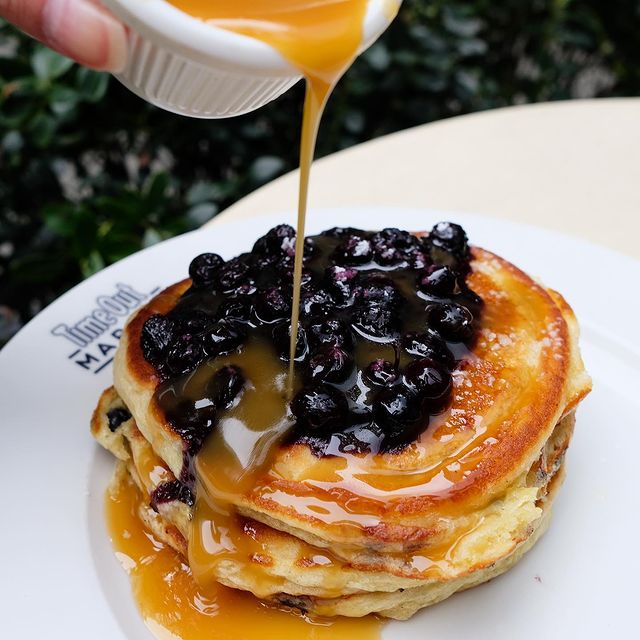 With a menu featuring all-day breakfast favorites, the brunch menu at Clinton Street Baking Company is sure to please any palate. While brunch is known for its long weekend lines, the entire menu is available for lunch and dinner. This restaurant is one of the best brunch spots in NYC.
The restaurant's buttermilk fried chicken is one of the restaurant's most popular dishes. To ensure the best possible experience, reservations are required. Brunch seating is limited, and tables are usually filled quickly.
The popular blueberry pancakes at Clinton St. are worth the wait, especially on weekends. The restaurant also serves other favorites like banana walnut and chocolate chunk pancakes.
The pancakes are so good that you may want to stay for dinner, as this New York institution has become popular with locals and tourists alike. If you want a taste of New York at its best, try brunch at Clinton St., and don't forget to bring your camera.
Location: 4 Clinton St, New York, NY 10002
Phone: 646-602-6263
Visit Website
---
Jack's Wife Freda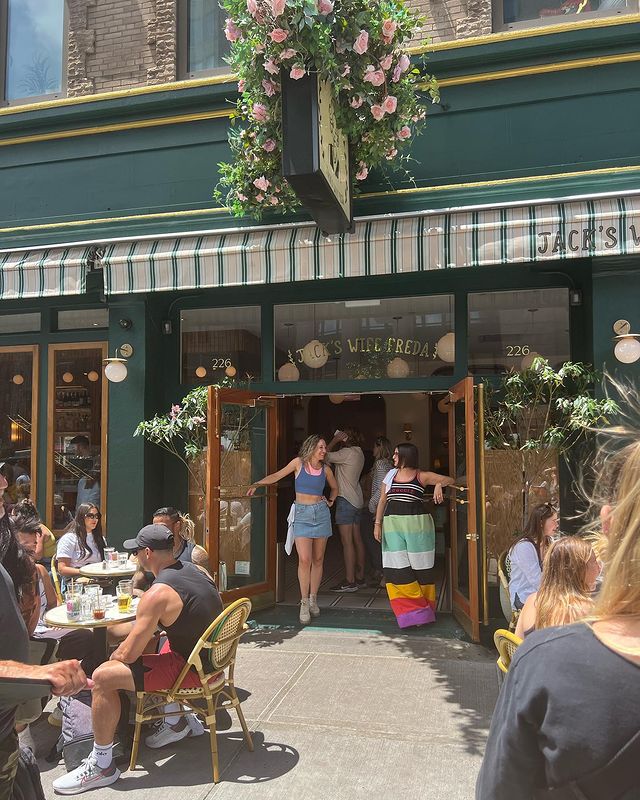 A beloved NYC brunch spot, Jack's Wife Freda is a wildly popular destination. The popular brunch spot is often listed in "best of NYC" lists, and for good reason. This cozy restaurant features a diverse menu that's made to satisfy even the pickiest eater.
It's a favorite among both locals and tourists alike. The menu includes dishes like green shakshuka, which is an egg dish baked in a spicy sauce. The menu is also decorated with whimsical hand-drawn illustrations. The doodles, which are meant to soothe the mind, are a delightful touch.
While brunch isn't the only option for dining in NYC, this SoHo spot offers a varied menu throughout the day. A menu featuring all-day fare is available, and highlights include dishes that feature New York favorites and house specialties. This restaurant is one of the best brunch spots in NYC.
You can also indulge in a decadent dessert, courtesy of the restaurant's extensive dessert menu. All three locations are open seven days a week, and walk-ins are welcome.
Location: Multiple Locations
Visit Website
---
Penelope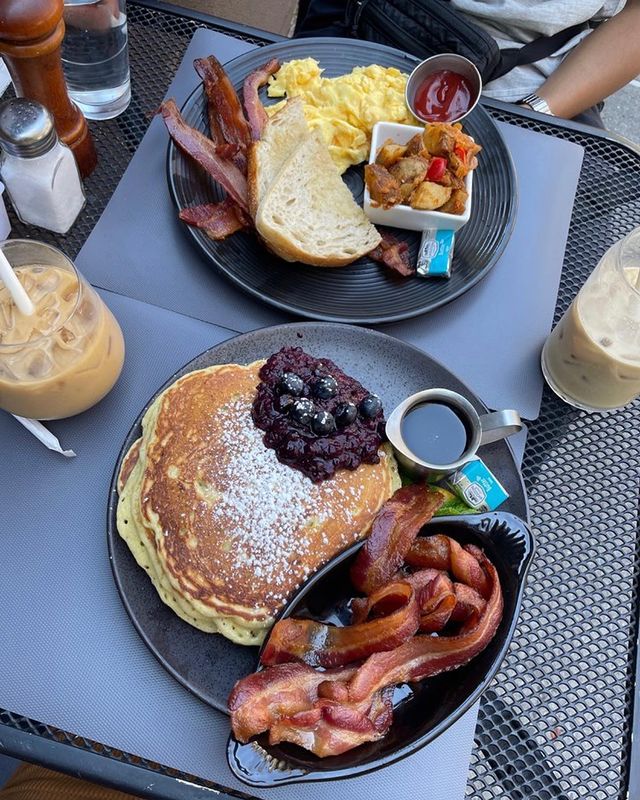 For brunch in NYC, try Penelope's brunch. This restaurant is one of the best brunch spots in NYC. The Penelope menu includes a savory breakfast of brioche French toast, a burger, fish & chips, and blueberry pancakes.
Breakfast favorites like Mimosas, cold-brew coffee, and fresh juices complete the meal. If you're in the mood for a gourmet meal in a relaxed atmosphere, head to Penelope's.
Location: 159 Lexington Ave, New York, NY 10016
Phone: 212-481-3800
Visit Website
---
Sadelle's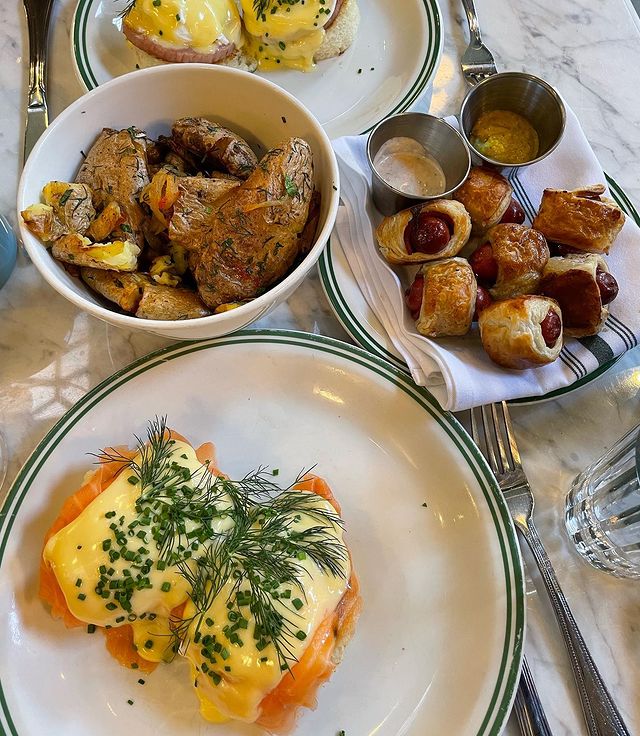 If you're in the mood for a Sunday morning meal, Sadelle's is a great place to go. In a cozy, Jewish-inspired space, you can choose your own adventure with their brunch menu. This restaurant is one of the best brunch spots in NYC.
From $15 pigs in a blanket to $100 lox plateaus, this upscale brunch spot offers it all. Other specialties include omelets, latkes, and beautifully arranged salads.
A staple of New York brunches, Sadelle's offers some of the best bagels in town and other classic New York dishes. You can choose from sturgeon and salmon sliced to order, chopped salads, and more.
This restaurant offers a unique experience and is not on the OpenTable reservation network, so you should plan ahead to avoid disappointment. However, if you're looking for a special meal, make sure you reserve a table at Sadelle's so you can have an early brunch.
Location: 463 W Broadway, New York, NY 10012
Phone: 212-254-3000
Visit Website
---
Buvette New York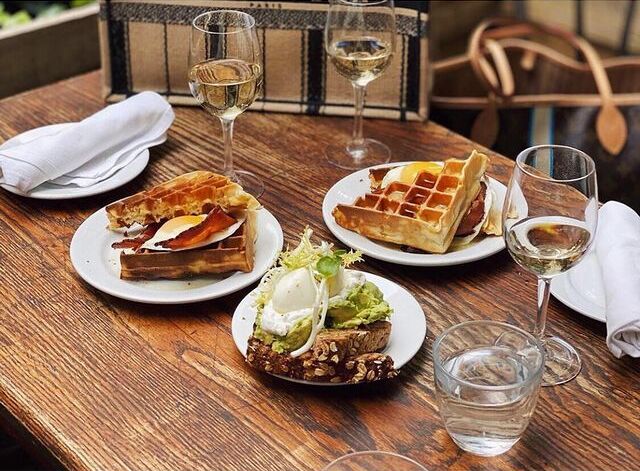 If you love eating in the heart of Manhattan, you'll love Buvette New York brunch. This 18-hour restaurant is delightfully charming and a self-proclaimed "gastrotheque."
You'll find a range of meals to suit every appetite, from simple to rich, and a wide variety of sides to complete your meal. The extensive menu is arranged by course, and you can even opt for a lighter, salad-based option to cut down on the calories.
Located in the West Village, Buvette is an intimate, vintage-themed restaurant that serves both a full meal and brunch. It's cramped and aggressively quaint, but the food here is well worth the effort. Buvette New York brunch is a great place to impress a date. If you're dining with a partner, it's best to get drinks elsewhere and share small plates to keep your meal together.
The ambiance is warm and romantic, with exposed brick walls and mirrored menus. You can dine in the dining room, or sit outside under the parasols. An outdoor patio is a wonderful option during the warmer months, as it's a perfect spot for brunch.
The ambiance is truly enchanting, and the brunch menu is as impressive as the food. If you can make your reservation, you'll be able to savor the entire experience.
Location: 42 Grove St, New York, NY 10014
Visit Website
---
Bubby's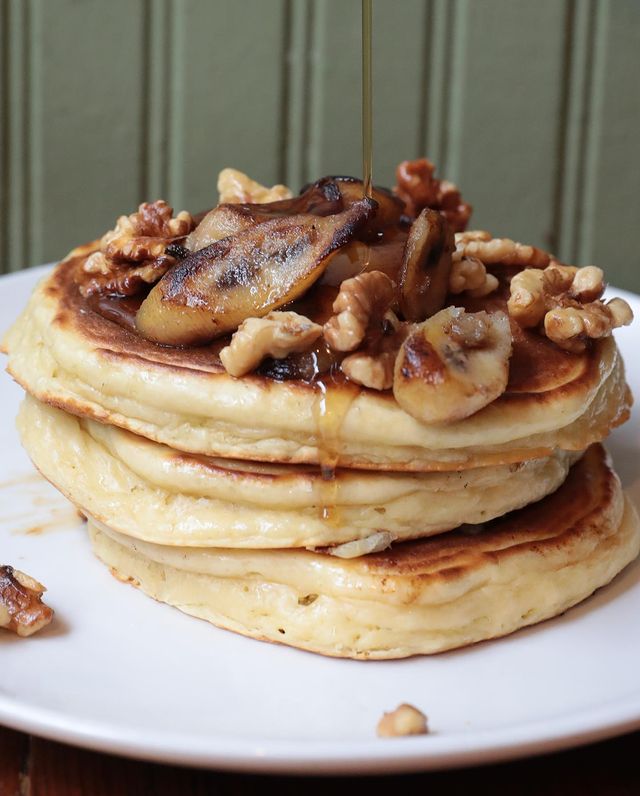 Bubby's is a New York City institution for weekend brunch, serving homestyle American eats and a menu that's largely local. Weekend brunch guests can expect a wide variety of American-inspired dishes, including omelets, pancakes, and fried chicken. Local ingredients are utilized to the fullest extent possible. Bubby's uses local produce and meats whenever possible.
While the price for Bubby's brunch is higher than some other New York City restaurants, you are getting top-of-the-line food and service. You'll be able to choose from an apple pie, a savory chicken dish, and a fruit smoothie, and then order a to-go cocktail to go. The restaurant is open 24 hours a day, so you can try the brunch menu and grab a drink on the go.
Though Bubby's was originally a pie shop, it has since expanded into a brunch hotspot and draws celebrity patrons. The restaurant's pancakes, named after a famous pastry chef, have garnered praise from food critics and high-profile New Yorkers. It's possible to order them for takeout, but you'll want to eat at the restaurant. If you're in a hurry, Bubby's also offers delivery and takeout.
Location: 120 Hudson St, New York, NY 10013
Phone: 212-219-0666
Visit Website
---
Freemans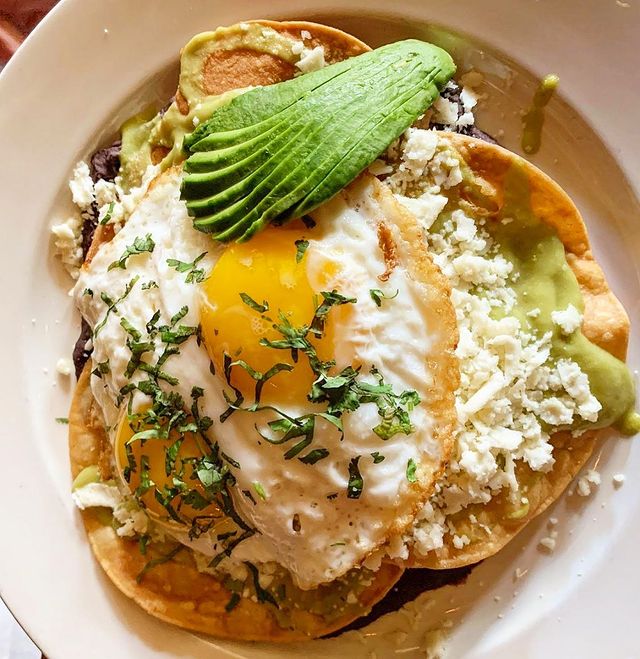 Located on the Lower East Side of Manhattan, Freemans is a hidden gem. This tavern is hard to find, but once you do, you'll be amazed at the decor and food. With dark wood accents and mounted antlers on the walls, this place is both cozy and hip. The menu changes seasonally, and dishes are often paired with cocktails from the extensive list of classics.
Freemans is one of many speak-easy in the city, and its unassuming location makes it easy to miss. Located between the Bowery and Chrystie streets, the restaurant is framed by blue double doors and white string lights. This restaurant is one of the best brunch spots in NYC.
Its rustic decor and upscale service make it an ideal spot for anniversary celebrations, and the decor and service are both upscale and trendy. A visit to Freemans is a great way to experience New York city's brunch scene and enjoy good food, drinks, and company in a secluded setting.
Reservations are not available online for Freeman's brunch, but you can call ahead to make sure you get a table. Unlike many restaurants in the city, Freemans does not accept reservations.
However, you can place your name on a list and return during the brunch to get a table. The restaurant has an upstairs area and is not part of the OpenTable reservation system. The wait time is around one hour, so be sure to book a reservation.
Location: Freeman Alley, New York, NY 10002
Phone: 212-420-0012
Visit Website
---
Russ & Daughters Cafe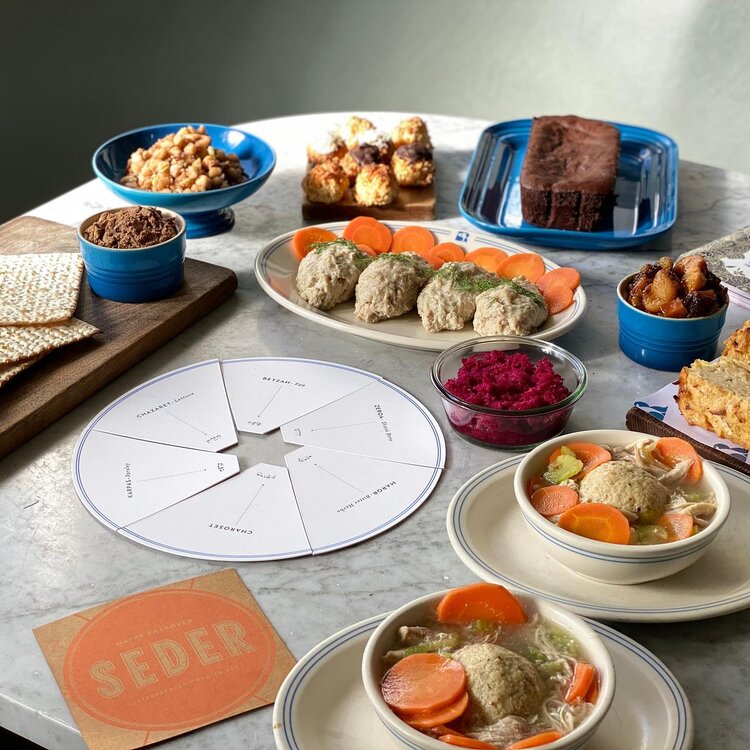 Originally a deli on Houston Street, the Russ & Daughters Cafe has recently expanded its menu to include breakfast all day. The retro-styled deli serves everything from caviar to bagels.
Known for its brunch dishes, the restaurant is popular with locals and tourists alike. Whether you're hungry for a quick bite or a filling meal, you'll love this Jewish eatery.
The menu has a retro soda shop feel, complete with sleek lines and backlit jars of pickled herring. The waitstaff is efficient and friendly, bringing a warm, welcoming atmosphere to this casual dining spot.
The smoked salmon and lox on the menu are a delicious way to start the day. The brunch is served all day and includes a selection of light lunches and suppers.
If you're looking for a brunch that's a little fancier, consider ordering the Anne. This plate can easily feed three or four people and includes great bread, as well as a crisp salad of thinly sliced potatoes with mustard and house cream cheese.
While the prices may seem high, they're worth it. The brunch menu is also reasonably priced. Russ & Daughters is a must-visit for brunch lovers in NYC.
Location: 127 Orchard St, New York, NY 10002
Phone: 212-475-4881
Visit Website
---
Cookshop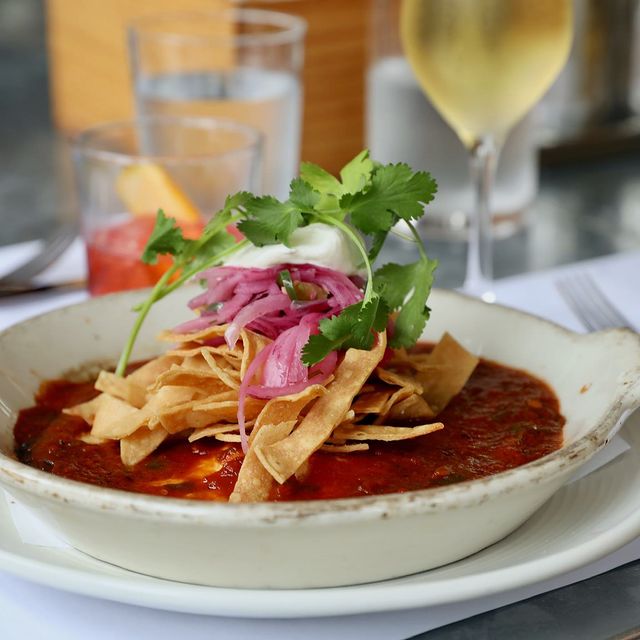 The buzz around the West Village's Cookshop brunch is well worth the wait, but it can get very crowded. Weekend brunches here can start as early as 10 a.m. and feature an enticing array of dishes, including one of the city's best.
Try the spicy green chermoula and fresh mint & cilantro grilled sandwich. It comes with housemade naan and a side of spicy harissa. The vibe is fun and the prices are reasonable.
Located at 156 Tenth Avenue and 20th Street in Chelsea, the Cookshop is a 10-minute walk from the 23rd Street/8th Avenue subway station. Owners Marc Meyer and Vicki Freeman, who also own Rosie's and Vic's, opened the restaurant 15 years ago.
Cookshop offers a casual, yet luxurious dining experience. Reservations are accepted through OpenTable or by calling the restaurant directly.
Location: 156 10th Ave, New York, NY 10011
Phone: 212-924-4440
Visit Website
---
The Smith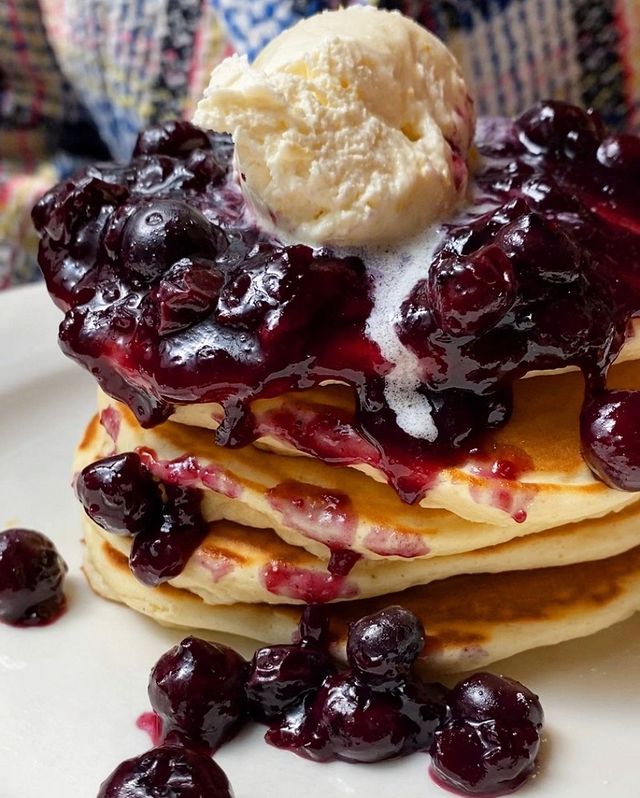 Like a spare tire in the trunk of a car, The Smith's brunch menu is versatile. You can substitute the steak for a medium-rare one if you wish. Or if you're feeling peckish, you can always order the medium-rare version. You won't be turned down. The Smith is a restaurant that's perfect for any situation, from a business lunch to a family brunch.
Served on weekends, The Smith's brunch features New York comfort food, such as Breakfast Pot Pie, Benedict Johnny, and Vanilla Bean French Toast. There are kid-friendly items on the menu as well, including a kid's menu. Guests can enjoy complimentary cocktails with their brunch.
Smith's Chinatown location is always bustling, and its DC location is equally popular. A reservation is necessary but worth the wait. And, while brunch is popular, be prepared to wait for a wait.
While the restaurant may have a quaint, old-fashioned vibe, it's worth noting that The Smith is part of a growing chain of Modern American restaurants. Despite its generic vibe, it's worth noting that there are several other outposts throughout New York.
The Smith is one of those places where you'll be pleasantly surprised by the food and drinks. The prices range from about two to three dollars. But if you're going to spend a few bucks for a brunch, don't hesitate.
Location: Multiple Locations
Visit Website
---
Mom's Kitchen and Bar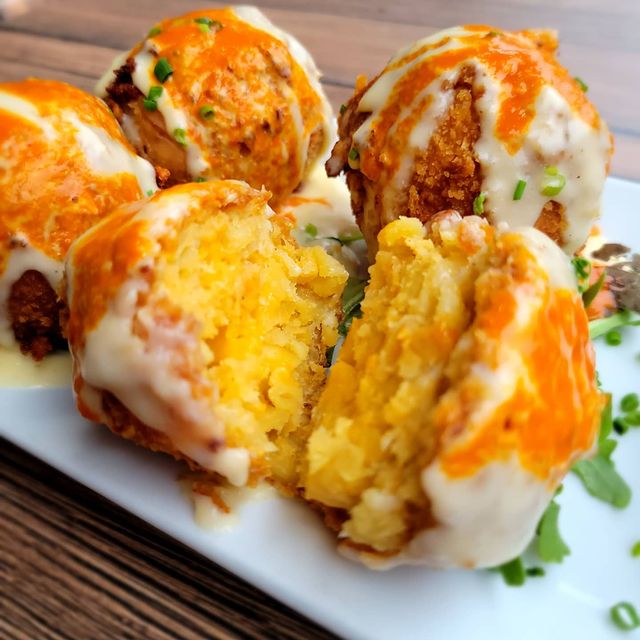 If you're planning a New York brunch, don't miss out on Mom's Kitchen and Bar. Located in the heart of Midtown, this popular brunch spot serves modern comfort food and delicious cocktails.
In addition to the breakfast favorites, the menu also offers an extensive list of adult beverages, including a world-famous Bigmouth Shake. The vibe here is relaxed and playful, and it's easy to see why the locals frequent it.
The restaurant's menu features fresh ingredients and seasonal specials, making it the perfect place to celebrate the occasion. The brunch menu includes boozy milkshakes, Mac and Cheese Pancakes, Shrimp and Cheddar Grits, and a Pancake Burrito.
The drinks list is also well-curated, and you can even order a specialty drink in an inflatable flamingo, complete with your name written on it.
Location: 701 9th Ave, New York, NY 10019
Phone: 646-657-0080
Visit Website
---
The Grey Dog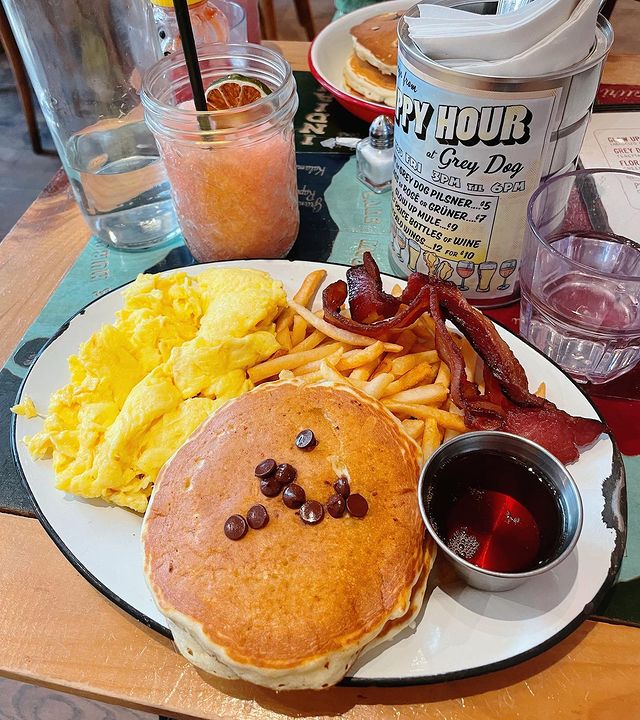 If you're in the mood for brunch in NYC, check out The Grey Dog. A beloved diner-meets-coffeehouse, The Grey Dog was opened by two brothers in 1996. The aptly-named brunch spot has a stellar menu and a stellar cocktail list. This restaurant is one of the best brunch spots in NYC.
With its cozy atmosphere and all-day menu, it's easy to see why brunch lovers flock here. But what makes it a favorite among diners? Here, you'll find a full list of brunch specialties, from classic French toast to breakfast quesadillas.
The menu at The Grey Dog includes breakfast, lunch, and dinner items from sustainable sources. The restaurant's food is sourced locally and ethically, and it partners with local businesses to provide a variety of dishes.
The menu includes Egg & Cheese Croissants, a Buttermilk Fried Chicken Sandwich, and Coney Island Pilsners. In addition to Coney Island lagers, it serves cocktails like the Scat Daddy, which is a spritz-style gin cocktail that uses Campari, kombucha, and kombucha. It also has an extensive cocktail list, including four beers and cocktails.
Location: Multiple Locations
Visit Website
---
Cafe Mogador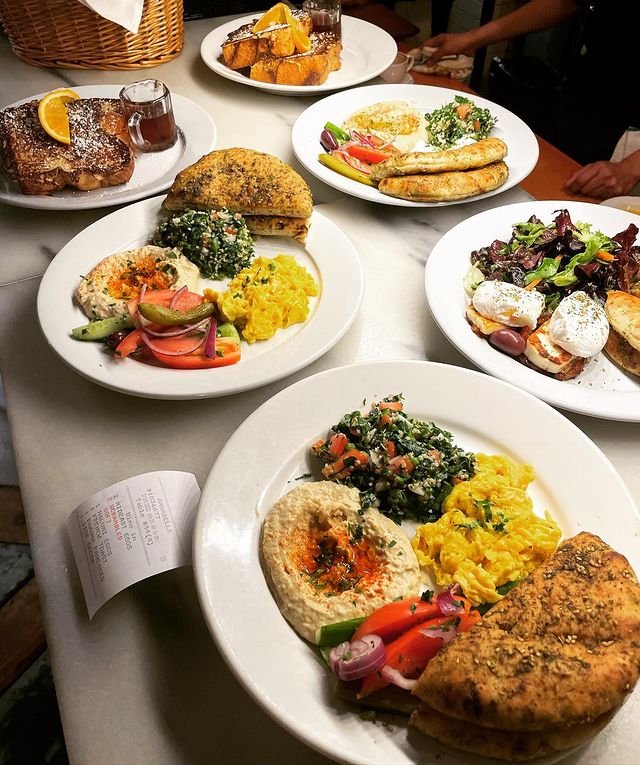 The bohemian crowds flock to the cozy Moroccan-style Café Mogador in New York City for brunch. Moroccan-style food combines classic Spanish and Moroccan spices for a truly unique experience.
This NYC neighborhood staple has been serving up delicious Moroccan food since 1981. Here's how you can try it for yourself. You'll love its traditional, colorful decor and mouth-watering food. Read on for some helpful hints.
The atmosphere is casual, which means you can sit outside on the patio and people-watch. If you're a fan of authentic, Middle Eastern flavors, you'll love the Bastilla, a classic Moroccan dish consisting of filo pastry layers filled with shredded chicken, lemon-flavored eggs, and almonds.
The dish is enhanced by a homemade Harissa sauce, a spicy blend of peppers, garlic, olive oil, and other spices. This restaurant is one of the best brunch spots in NYC.
The interior design at the East Village location is reminiscent of a Moroccan home. The Moroccan-style decor is soothing and inviting, with accents of spice. The waitstaff is friendly and attentive, and the food is excellent.
In New York, you can't go wrong with Mogadar for brunch. In addition to the interior design, the restaurant also features an outdoor seating area in the warmer months. Just be prepared for a long wait!
Location: 101 St Marks Pl, New York, NY 10009
Phone: 212-677-2226
Visit Website
---
Jacob's Pickles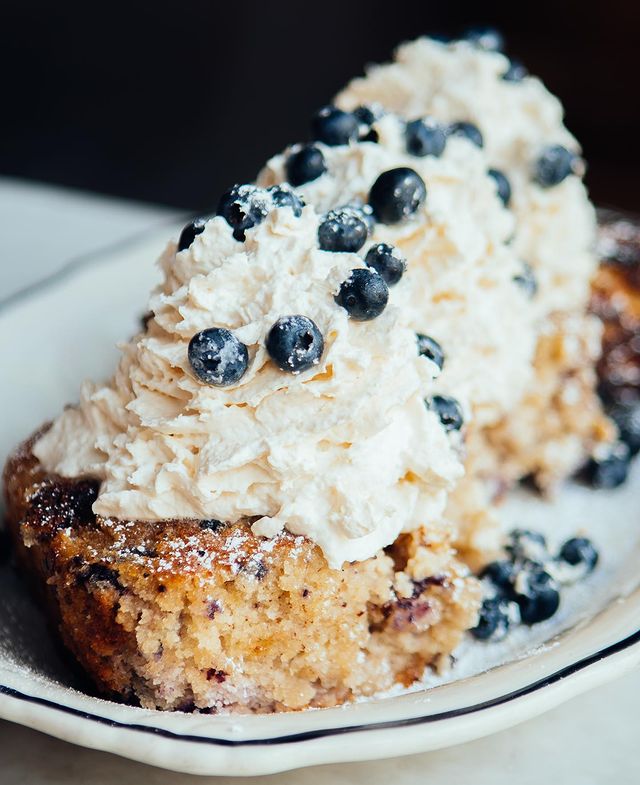 If you're looking for a spot for brunch in NYC that isn't on the usual tourist radar, try Jacob's Pickles on the Upper West Side. Owned by a Queens native and New Yorker, Jacob Hadjigeorgis serves southern comfort food that will make you smile. This restaurant is one of the best brunch spots in NYC.
The menu includes banana pudding stuffed pancakes, fried chicken, crispy bacon, candied pecans, and maple drizzle. The restaurant isn't on the OpenTable reservation network, so you should call and make a reservation for a table if you want to guarantee a seat.
A cult New York spot, Jacob's Pickles serves Southern comfort food with a twist. Whether it's ribs or catfish tacos, the food here is a combination of comfort and taste. And don't forget to try the biscuit sandwich, which is a huge pile of deliciousness.
While you're dining, you can enjoy a drink on the extensive beer list, featuring a Southern Tier Unearthly IPA with notes of pine and caramel.
Location: 509 Amsterdam Ave, New York, NY 10024
Phone: 212-470-5566
Visit Website
---
Conclusion
When you're in New York City, you'll be spoilt for choice when it comes to brunch spots. The city is home to an endless number of delicious places, but this brunch guide will give you a good idea of what to look for.
This meal is perfect for busy city workers, and it's an ideal option for those looking to enjoy a light, yet delicious meal. Usually, brunch includes a cup of coffee and a light meal. However, there are some places in the city that are not quite as traditional.
Brunch is a great way to spend a morning or afternoon, and New York City has some of the best spots around. In this blog post, we listed some of the best places in the city to do so.
So whether you're looking for a relaxing meal with friends or something more exciting (like endless mimosas), brunch is definitely worth checking out. Thanks for reading!
Read Also: