Looking for the best hot springs in New York state? We have information from trusted local guides who can easily help you find all the best natural hot springs in the state of New York.
A little historical fact that you may not know is that in the 1800s, New York was famous for its amazing hot springs hotels. More than 50 cities in New York attract visitors through spas, hotels and resorts to restore health and rejuvenate their minds.
These hotels and resorts draw mineral water from natural hot springs. This mineral water is famous for its healing properties and benefits, so many people are interested in trying it.
Unfortunately, after World War II, many of New York's best hot springs resorts saw a decline in visitors. So what if you wanted to visit NY now for some relaxation in hot springs?
The good news is, you still have a chance to enjoy it today. Because there are still several places in New York that provide baths with natural hot springs for you to soak.
Let's check out all the best hot springs in the state you can find today.
Saratoga Springs, New York
When we talk about natural hot springs in New York state, then we can't miss the springs that are located in upstate New York. Without these springs, there is a high chance that the city will never be as developed and famous as it was in the 1800s.
The city of Saratoga has the only naturally carbonated springs to the east of the Rocky Mountains. Before the resort's baths and spas were built in the city, the Mohawks called this area a sacred place "Serachtague," which translates to "place of rushing water."
In 1831 a railroad was built through the Saratoga Springs area, that was the start of Tourism in the city. Even Saratoga spent much of the 19th and 20th centuries as a wellness resort, until it became known as the "Queen of Spas".
People from all over from near and far come to this city. The goal is simply to drink and bathe in a spring known to cure disease and improve medical conditions.
Best Hot Springs in New York State
Here is a list of places that give you the best hot tub opportunities in New York.
1. The Gideon Putnam Resort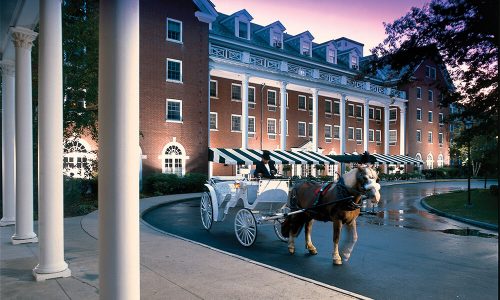 Gideon Putnam Resort is located within the Saratoga Spa State Park and offers luxury lodging options. Making it a relaxing escape in one of the best hot springs in the state of New York.
It is also the ideal place for you to explore New York's most famous hot springs. The resort has an upscale spa with a comprehensive list of wellness treatments.
However, this historic hotel provides an array of modern amenities that are sure to satisfy travelers. There is a salon, gym and on-site restaurant with an outdoor terrace that guests will love.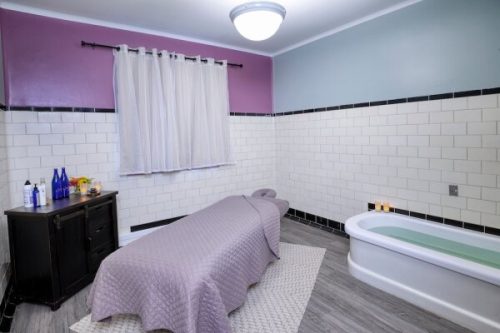 One of the biggest attractions of this spa is of course the luxurious mineral hot springs. You do not need to be a guest at the resort to use the facilities, but reservations are required in advance.
You can soak in it for 20 to 40 minutes before a spa treatment, of course with only one tub for your own use. If you are finally interested in enjoying all the other luxurious facilities, you can book a room here.
You will get various modern conveniences such as WiFi, private veranda, TV and in-room coffee maker during your stay. They also have 42 elegant treatment rooms for massages, facials, body treatments, baths, or even to schedule yoga classes or workshops.
Address: 24 Gideon Putnam Rd, Saratoga Springs, NY 12866, United States
Phone: +1 866-890-1171
Open hours: The spa is open daily from 9 a.m. to 5 p.m. daily.
Rates: Starts at $50 per person for a 40-minute soak in the mineral hot springs.
Website: gideonputnam.com
2. Roosevelt Baths and Spa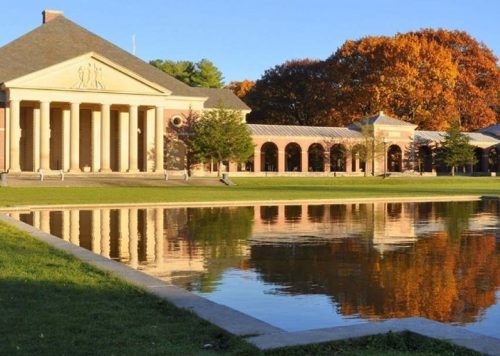 Roosevelt Baths & Spa is an integral part of Gideon Putnam Resort. The location is just a short walk across the park from The Gideon Putnam.
Or if you are a hotel guest, you will get a free shuttle facility. Guests take full advantage of the relaxation lounge, steam room and locker room facilities.
The name Roosevelt Baths and Spa at Saratoga Spa State Park is taken from the one and only, Franklin Delanore Roosevelt. It was built in 1935 to help preserve the Saratoga Springs area.
Until finally the place became a local hot spot where people can take a relaxing dip in natural mineral hot springs. The place has long been known to provide services to guests like they are a commander in chief.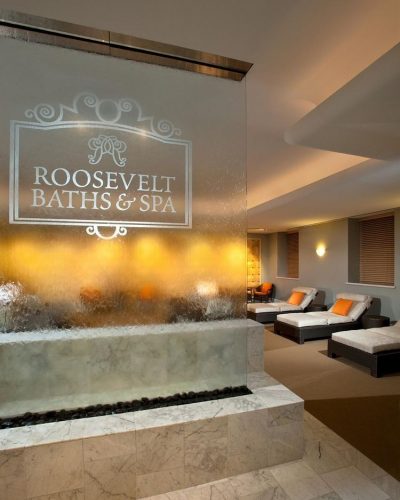 Then, uniquely, the water in the baths and Spa Roosevelt is known to have healing properties. Because it was considered special, the water was even bottled and sold with fresh water State Seal up until the 1970s.
Ultimately, if you want to spend a relaxing day at one of New York's best hot springs, this is the place you've been dreaming of. You can take advantage of a variety of services including the option to enhance your mineral hot springs with aromatherapy.
Address: 39 Roosevelt Dr, Saratoga Springs, NY 12866, United States
Phone: +1 800-452-7275
Open hours: Open daily from 9:00 am to 5:00 pm.
Rates: $35 for 20 minute bath and $50 for 40 minute bath.
3. Medbery Inn & Spa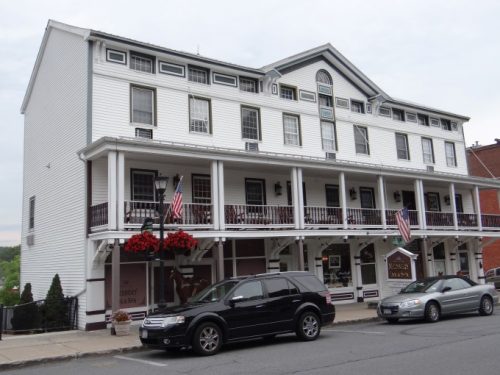 Medberry Inn & Spa is located just minutes from the charming downtown streets of Ballston Spa. And it's only seven miles south of Saratoga Springs, NY.
This resort is the only local building to have its own hot spring mineral source. Because it is located in the natural and historic mineral hot springs of San Sauci.
Their on-site spa offers a unique soaking experience. According to Medbery, water from its historic hot springs can improve blood circulation, relieve pain, and help heal skin problems.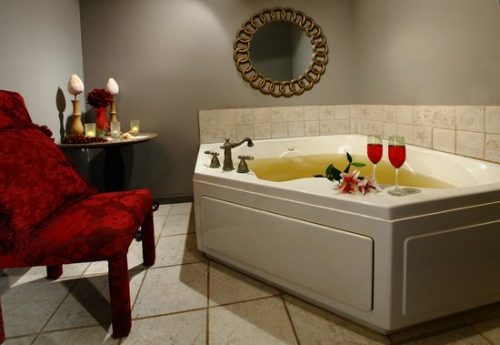 In fact, at the resort you can enhance your bathing experience with a rose petal bath and aromatherapy. And, as a small gift, each bathroom comes with a glass of wine and a little chocolate.
Apart from hot mineral baths, there are various other treatments such as foot baths, facials, and massages. Of course everything will be more complete if you choose to stay at a resort.
Medbery has comfortable and elegant rooms, which reflect the historic aesthetic of the inn. And they have some dining options and special spa day packages.
Address: 48 Front St, Ballston Spa, NY 12020, United States of America
Phone: +1 518-602-2804
Open hours: Open daily from 9:00 am to 7:00 pm.
Rates: $35 for the classic mineral water bath and $65 for the couples bath.
Website: medberyinnandspa.com
4. The Saratoga Day Spa
Saratoga day spa is one of the best spas in the Saratoga Springs area. They have proven themselves by consistently winning the best daily spa and massage awards in Saratoga since 2018.
Therefore, of course you know they have to do something right. The staff members really take the time to welcome you, making you feel right at home.
This place is one of the best hot springs options in upstate New York. You deserve to put it in your travel route when heading to this city.
Plus, they also have a variety of premium services to choose from. Facial treatments, massages, microdermabrasion, teeth whitening, waxing, microblading, botox, and energy healing are available.
Address: 376 Broadway #21, Saratoga Springs, NY 12866, United States
Phone: +1 518-321-4852
Open hours: Open daily from 9:00 am till close (different every day between 5 pm – 8 pm).
Rates: Start from $50 per person for 30 minutes treatment.
Website: thesaratogadayspa.com
5. The Springs Integrative Medicine Center & Spa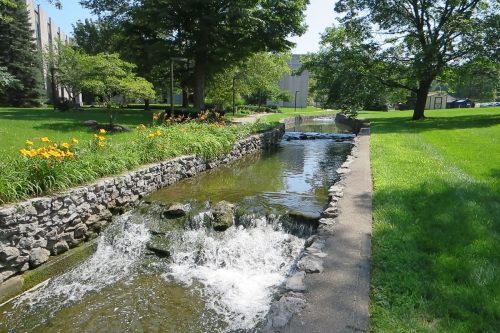 The Springs is a hot spring mineral spa operating in the Finger Lakes area of ​​western New York. Perhaps this is the only natural hot spring not located in Saratoga.
Springs Integrative Medicine Center & Spa is very unique. Because it is actually an integrative medical therapy center, not just an ordinary spa.
His inspiration was the historic Clifton Springs Hospital and Clinic. Both have been using mineral water therapy to treat patients since the 1850s.
Today, the Springs combines conventional Western medicine, with Eastern health traditions. They now offer acupuncture, mineral spring baths, massages, and naturopathic treatments.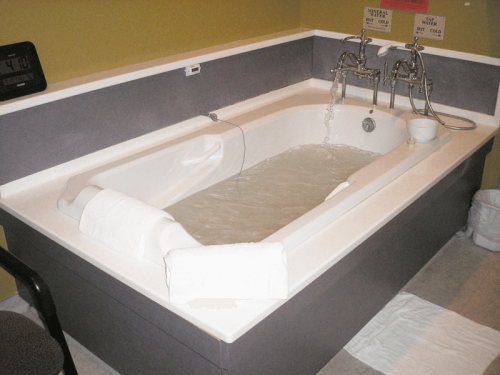 They have several choices of mineral hot springs that you can take. These include: classic baths, Himalayan minerals, soothing lavender, frankincense reflections, mooring peat, sinus reliever, and more.
The mineral springs here are rich in Magnesium and Calcium, which are beneficial for reducing pain and inflammation according to The Springs. Ultimately, it's an ideal destination for anyone seeking hot spring therapy treatment in New York.
Address: 1300 Wing 2, Coulter Rd, Clifton Springs, NY 14432, United States
Phone: +1 315-462-1350
Open hours: Open Monday through Friday with appointment only.
Rates: Start from $25 per person for a 20-minute soak.
Website: thespringsofclifton.com
6. Saratoga Turf and Spa Motel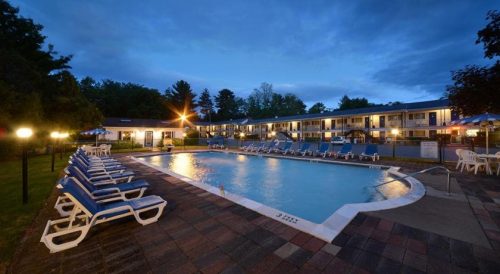 The Saratoga Turf and Spa is a family-run motel, established in 1955. While not a hotel, it has 43 comfortable and affordable accommodation options.
This motel is located just 1.6 km from the heart of Saratoga Springs. It has access to a hot mineral spa and heated outdoor pool, which is why this motel is on this list.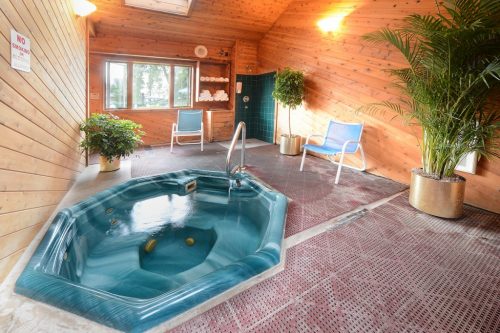 An indoor spa with two tubs provides plenty of hot bubbles that you can enjoy year-round. Meanwhile, the heated outdoor pool is only available from mid-May to mid-October.
When staying here, you will get modern facilities such as WiFi, TV with premium channels, and air conditioning even though the room rate is quite cheap. In fact, a free continental breakfast is included with your stay.
This relaxing retreat deserves to be your best bet when you're looking for a hot spring spot in New York.
Address: 176 Broadway, Saratoga Springs, NY 12866, United States
Phone: +1 518-584-2550
Open hours: Click here to check the room availability
Rates: Rooms start from $89 per night with a free mineral bath for guests.
Website: saratogaturfandspa.com
7. Saratoga Spa State Park at Saratoga Springs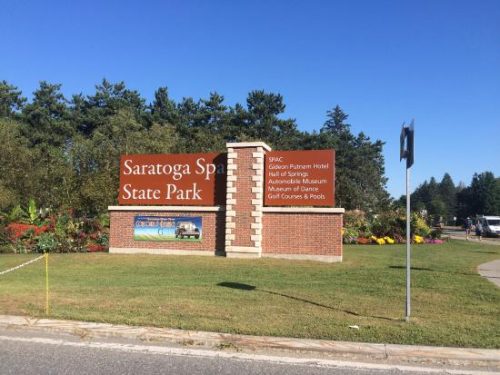 Saratoga Spa State Park is a National Historic Landmark and is renowned for its classical architecture. Located in Saratoga Springs, NY, this park features mineral hot springs with an outdoor pool.
This object is suitable for leisurely walks when the weather outside is not too scary. In this state park, there are two pools to choose from: the Peerless Mineral Pool and the Victoria Mineral Pool.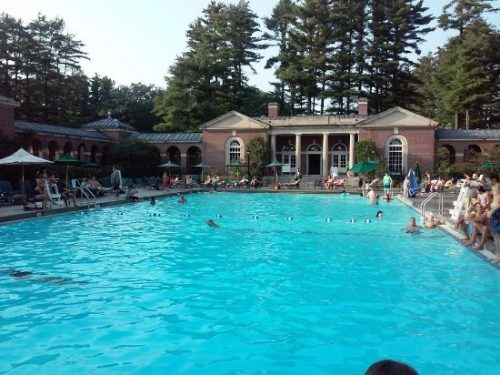 The Peerless Mineral Pool is the larger of the two pools, it has a 19′ double slide and a fun children's wading pool with a fountain. The Victoria Mineral Pool is a smaller pool and has a curved walkway around it.
Although this place is one of the best hot springs in New York, you will find many super interesting things during your visit. These include hiking trails, biking trails, golf courses, museums, places to eat, and more.
There are also some of the best hot springs park attractions in upstate New York. Among them:
Saratoga Performing Arts Center – A live performance venue that can accommodate more than 25,000 people .
Geyser Creek Trail – Home to the Orenda Springs and Island Spouter.
Mineral Springs – Some of the top springs include Ferndell Springs, Big Red Springs, and much more.
Resort Gideon Putnam – We've covered it above for more info.
Roosevelt Spa – We discussed it above for more info.
National Dance Museum and National Hall of Fame.
Saratoga Automotive Museum.
Golf Courses at Saratoga Spa.
Address: 19 Roosevelt Dr, Saratoga Springs, NY 12866, United States
Phone: +1 518-584-2535
Open hours: open daily from 8 am – 5 pm.
Rates: Free but admission to various attractions in the park varies in price.
You may also read: