California hot springs are a destination that attracts visitors from all over. Local tourists and even those from abroad come to rest and refresh themselves with the bubbling geothermal water.
For decades California has had several places for generations of Californians and health seekers alike to visit. So nowadays it is very easy to find restorative waters throughout the Golden State.
Beautiful natural hot springs can not only be a background for bragging on social media. Moreover, the sulfur content in hot springs has been shown to offer several healing benefits.
California Hot Springs Map
There are at least 65 hot springs scattered throughout the state of California. This shows that this country has extraordinary natural wealth, so we can enjoy it to this day.
The following is a list of natural hot springs, both commercial and public, located throughout the state of California. With this map you will more easily find the location of the hot springs you want to visit while in California.
Wilbur Hot Springs
Calistoga Spa Hot Springs
Roman Spa Resort
Sierra
Stewart Mineral Springs Resort
Orr Hot Springs Resort
Surprise Valley
Vichy Springs Resort
Avila
Benton
Esalen Institute
Glen Ivy Day Spa
Harbin
Mercey Hot Springs
Sycamore Mineral Springs
Delight's Hot Springs Resort
Tecopa Hot Springs Resort
Keough's Hot Springs
Bashford's Hot Mineral Spa
Two Bunch Palms Resort and Spa
Dr Wilkinson's Resort
Beverly
Desert Hot Springs Spa Hotel
Fountain of Youth Spa RV Resort
Sam's Family Spa & Resort
Miracle Springs Resort & Spa
The Fairmont Sonoma Mission Inn & Spa
The Spring Resort and Day Spa
Tassajara Zen Mountain Center
Roman Spa Hot Springs Resort
Franklin Hot Springs
El Morocco Inn and Hot Springs
Agua Soleil Hotel and Mineral Spa
Living Waters Spa
Mono Hot Springs Resort
Agua Caliente County Park
Shoshone
Glamis North Resort
Deep Creek
Wild Willy's
Sykes
Travertine
Remington
Keough
Hot Creek Geological Site
Gaviota Hot Springs Trailhead
Murrieta Hot Springs Christian Conference Center
Whitmore
Dirty Socks Spring
Pulky's Pool
Buckeye
Crab Cooker
Grover Hot Springs State Park
Saline Valley Warm Springs
Shepherd
The Rock Tub
Little Hot Creek
Ecotopia
Sespe
Hot Springs Canyon
River Oaks Hot Springs Spa
Iva Bell
Jordan
Hot Springs
Willett
Hot Springs in Southern California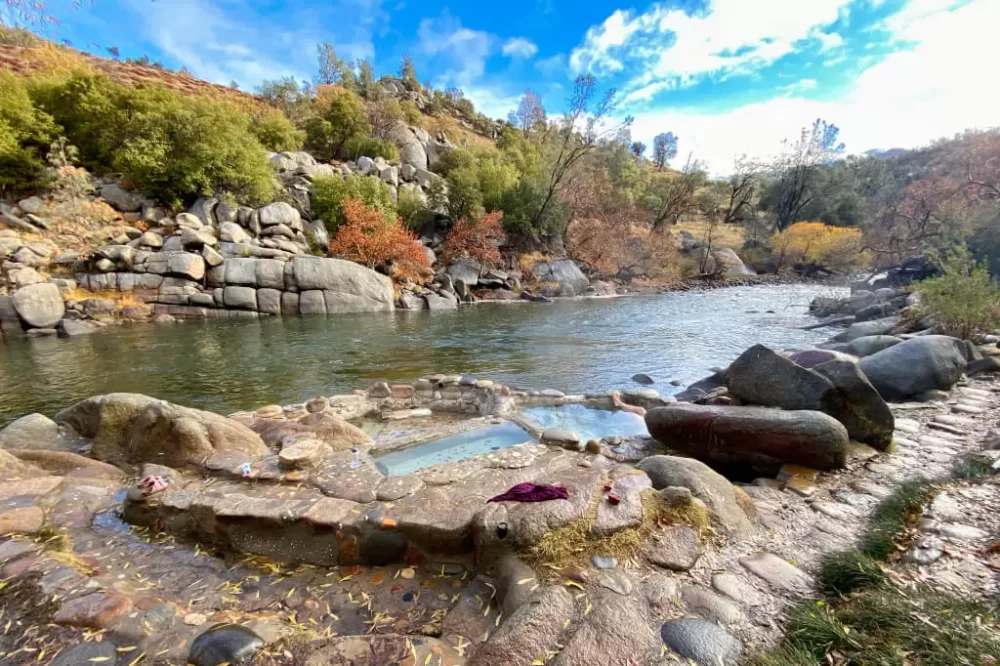 Southern California (commonly abbreviated as SoCal) is a geographic area that generally comprises the southern part of the state of California, USA. It includes ten of California's 58 counties including metropolitan Los Angeles, the second most populous city in the United States.
The ten counties are: Imperial, Kern, Los Angeles, Orange, Riverside, San Bernardino, San Diego, Santa Barbara, San Luis Obispo and Ventura counties. Southern California is home to the Sierra, Sequoia, Los Padres and San Bernadino National forests along with a smattering of wilderness and nature reserves.
Read also:
Wild Willy's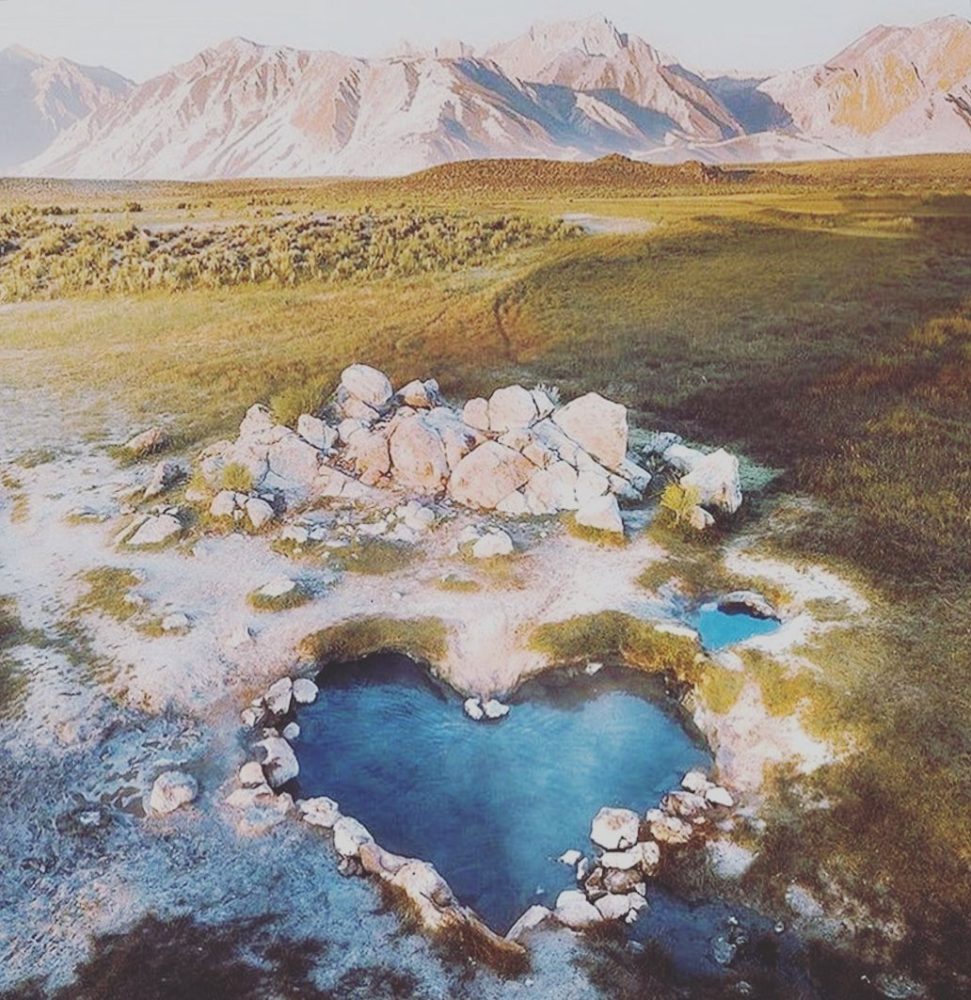 Wild Willy's is one of the most accessible natural hot springs in California. It's located just 13 miles outside the tourist town of Mammoth Lakes.
The Mammoth Lakes region has many beautiful undeveloped springs. Even to reach it you will drive bumpy and unpaved roads.
Wild Willy's Springs has two man-made pools with bubbling warm water. The coolest thing is one of the pools which is shaped like a little heart.
Wild Willy's has two sources with temperatures ranging from 95°F to 105°F degrees. The second source is hotter and accommodates only a few people, but is generally preferred by people.
If you want to visit, remember that the hot springs are not maintained, so bring a towel and pack your trash.
Address: Hwy 395 Benton Crossing Rd Mammoth Lakes, CA 93546
Willett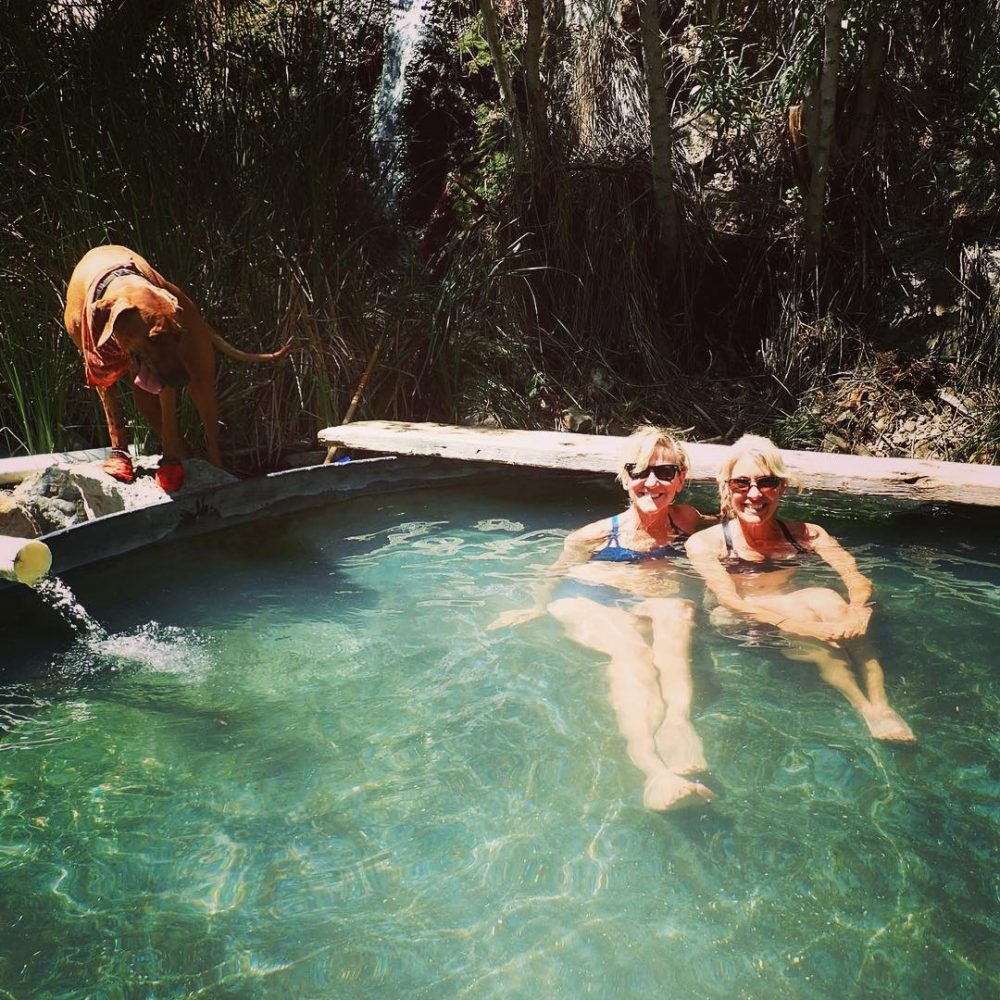 The location of Willet hot springs is in a village within the Sespe Wilderness and Los Padres National Fores. It is one of the hot springs that is a dream of climbers in California.
Because to visit it at least you have to be prepared to hike or camp before you can soak in the hot springs. An approximately 20-mile trailhead hike following Sespe Creek through the beautiful Southern California wilderness.
Luckily this trail offers plenty of shaded campsites, so you don't have to worry about that. The Sespe River Trail is very unique because it crosses the Sespe River which flows all year round.
Address:Los Padres Forest, California
Sespe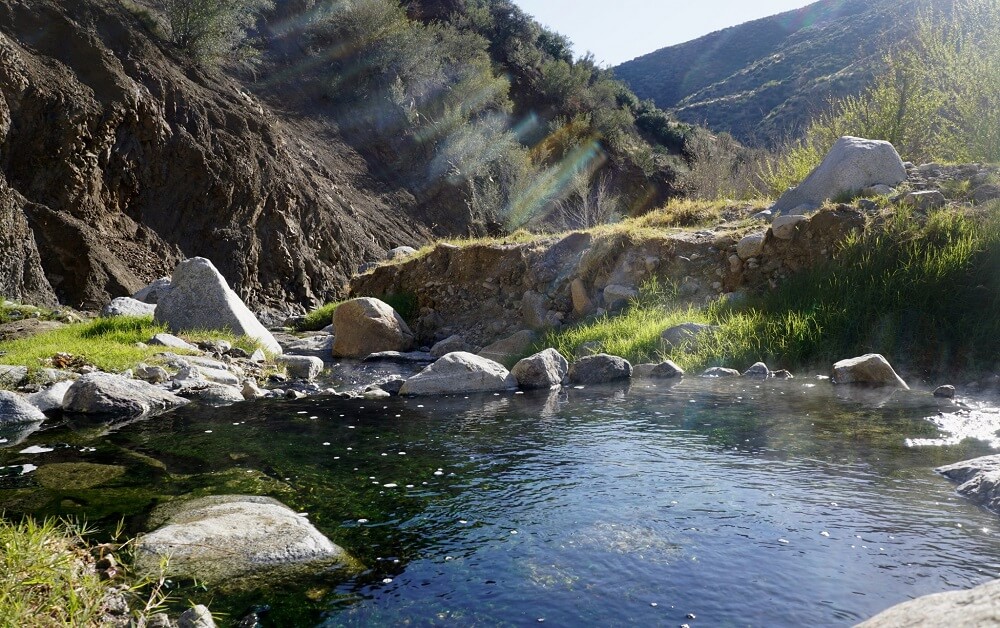 The location of Sespe Hot Springs is more remote, six miles ahead of Willet Hot Springs via Sespe Creek. This spring is like a gem isolated in the middle of the Sespe desert.
For Sespe Hot Spring requires a challenging journey to access it. The trip will take hours and flows are carefully planned.
There are three ways to access the springs on different paths. Each has a different distance.
The first is the Sespe River route with a distance of 16.8 km one way, this route is quite complicated. Second is the Johnson Ridge Trail which is 9.5 miles each way, and finally via the Alder Creek Trail which runs 7.5 miles one way.
Sespe Hot Springs has a source with a temperature of 130 degrees. While the water temperature in the natural pool is around 105 degrees, which is the ideal temperature for bathing.
Address: Los Padres Forest, California
Read also:
Whitmore Hot Springs
Whitmore is a non-commercial hot spring with a 6-lane, 25-meter outdoor heated pool. It is located near Mammoth Lake in the middle of the beautiful Owens Valley with spectacular views of the Sierra Nevada Mountains.
The hot springs are open in spring and summer and closed in winter. And it is said that this hot spring was formed due to volcanic activity more than 760,000 years ago.
Moreover, Whitmore is one of California's best kept secret hot springs. So you won't see many people when you visit this beautiful hot spring.
Address: 904 Benton Crossing Rd, Crowley Lake, CA 93546​
Glamis North Hot Springs Resort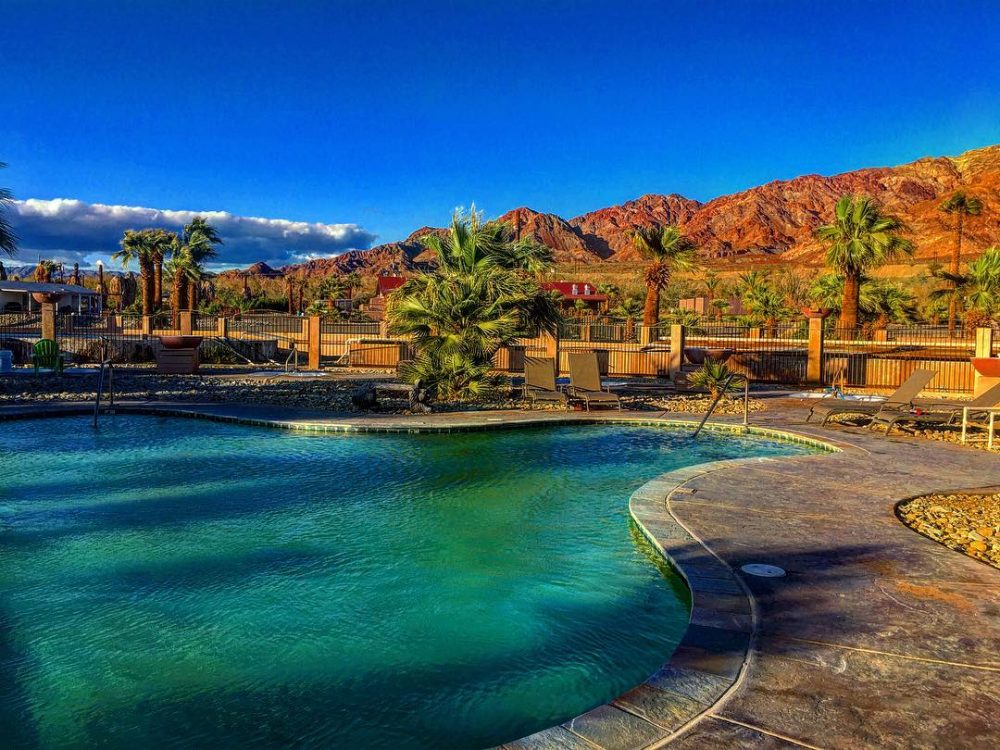 Glamis Hot Springs​ is an Oasis & Relaxation Destination in Southern California that offers a choice of 14 hot springs. Located adjacent to Glamis Sand Dunes and the Salton Sea, it also offers RV sites and cabin rentals.
The hot spring therapy pool here has a very hot source with a temperature of 160 degrees. However it will be cooled immediately and piped to all 16 immersion options.
The water in Glamis springs is very natural without chemicals. Because they have a flow system in their pool or therapy tub.
If you soak here you will not find the smell of chlorine and smell of sulfur. And remember that you must wear a bathing suit when soaking here.
Address: 10595 Hot Mineral Spa Rd, Niland, CA 92257​
You may also looking for:
Fountain of Youth Spa RV Resort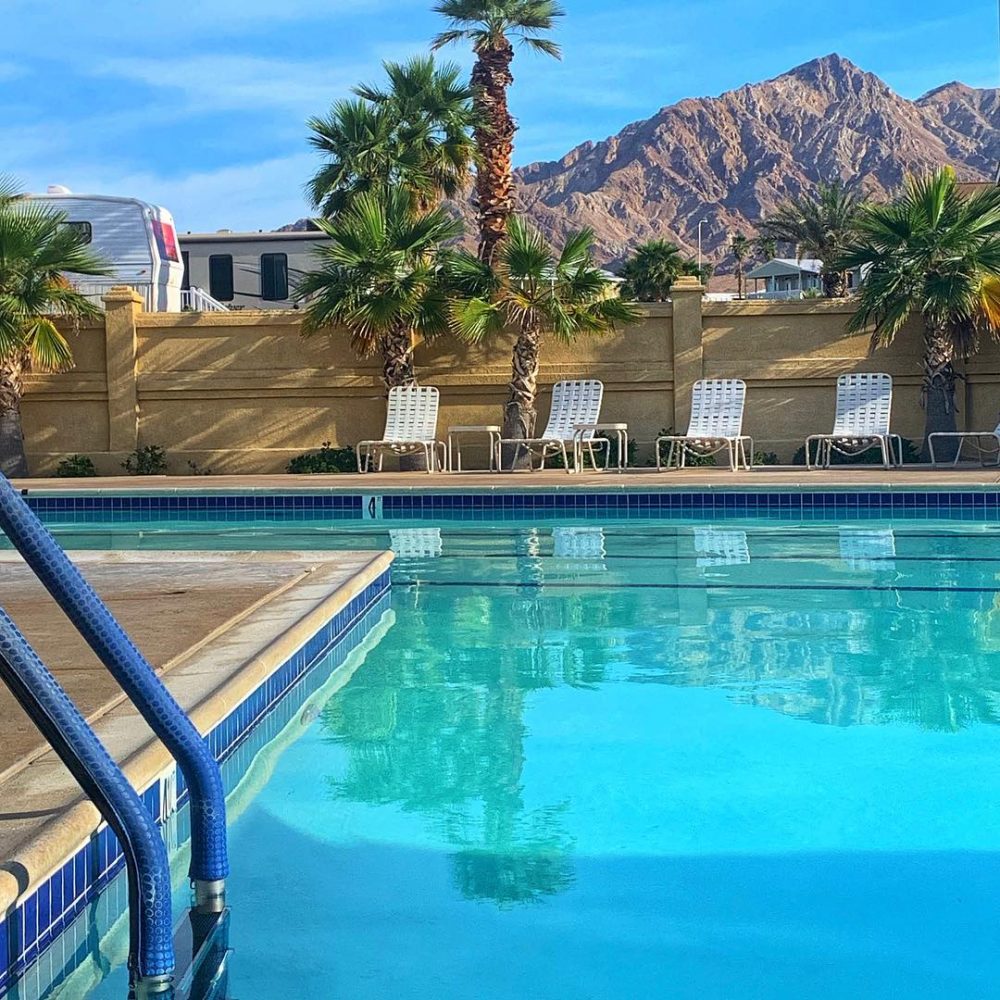 Fountain of Youth Spa​ RV Park is a family-owned hot springs resort that features a hot mineral water spa that is over 100 degrees. They also have two swimming pools (one saltwater) with temperatures in the 80's depending on the season.
This 90-acre resort sits along the Brown Mountains next to the Saline Sea in the Southern California desert. This RV park has a total of 1,000 RV sites and a long list of other amazing amenities.
This RV park is pet friendly and there is even a dog park on their property. The most important thing is to always wear your clothes when bathing or swimming here.
Address: 1500 Spa Rd, Niland, CA 92257​
Gaviota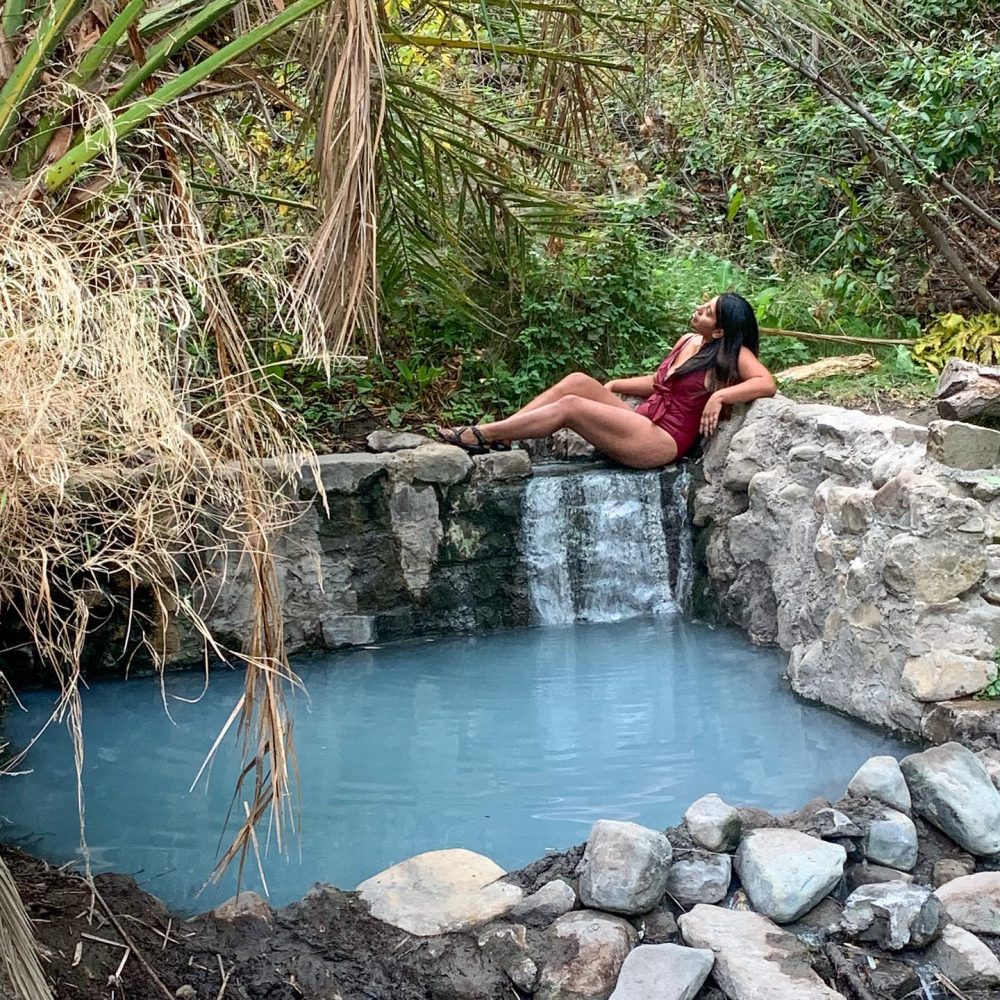 The location is only about 35 minutes drive from the city of Santa Barbara. Gaviota Hot Springs is also popular among locals as "Las Cruces Hot Springs".
The beauty of Gaviota Hot Springs is nestled among the trees, you'll find it after a peaceful walk of more than half a mile. The site consists of ribs of bubbling milk-blue pools, two of which have been shaped with the help of some cement walls but are still considered primitive hot springs.
With a consistent temperature of 95-100℉ providing steam for the best spa sensation among the lush greenery. Each pool can only accommodate about six people to soak, and clothing is still required.
To get to this oasis, there is a small parking fee of about $2 to park in the parking lot at the end of Gaviota Peak Street. Although there are plenty of shade trees along the trail, this trail is still recommended from fall to spring.
Address: Gaviota, California
Hot Springs in Northern California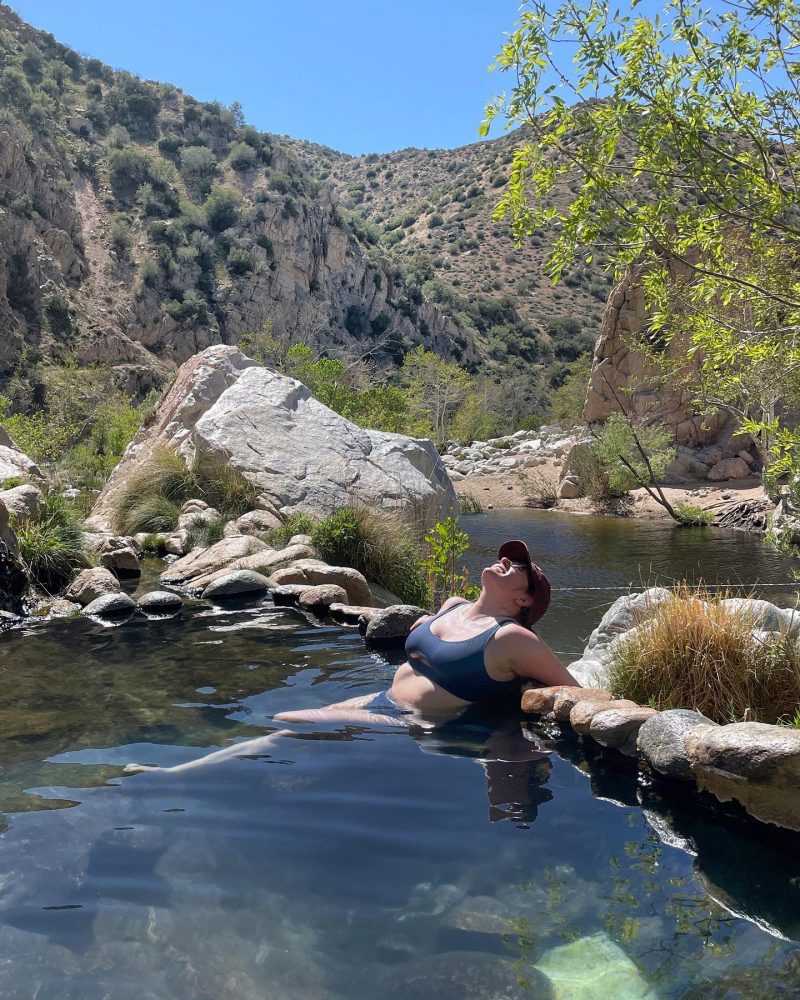 Northern California (colloquially known as NorCal) is the geographic area that comprises the northern part of the US state of California. The Northern California megaregion includes the state's northernmost 48 counties and is one of 11 megaregions in the United States.
Northern California also has a wide range of mountains and variations in elevation. Its natural area includes redwood forests, Yosemite Valley and parts of Lake Tahoe, Mount Shasta , and much of the Central Valley.
Indian Springs Calistoga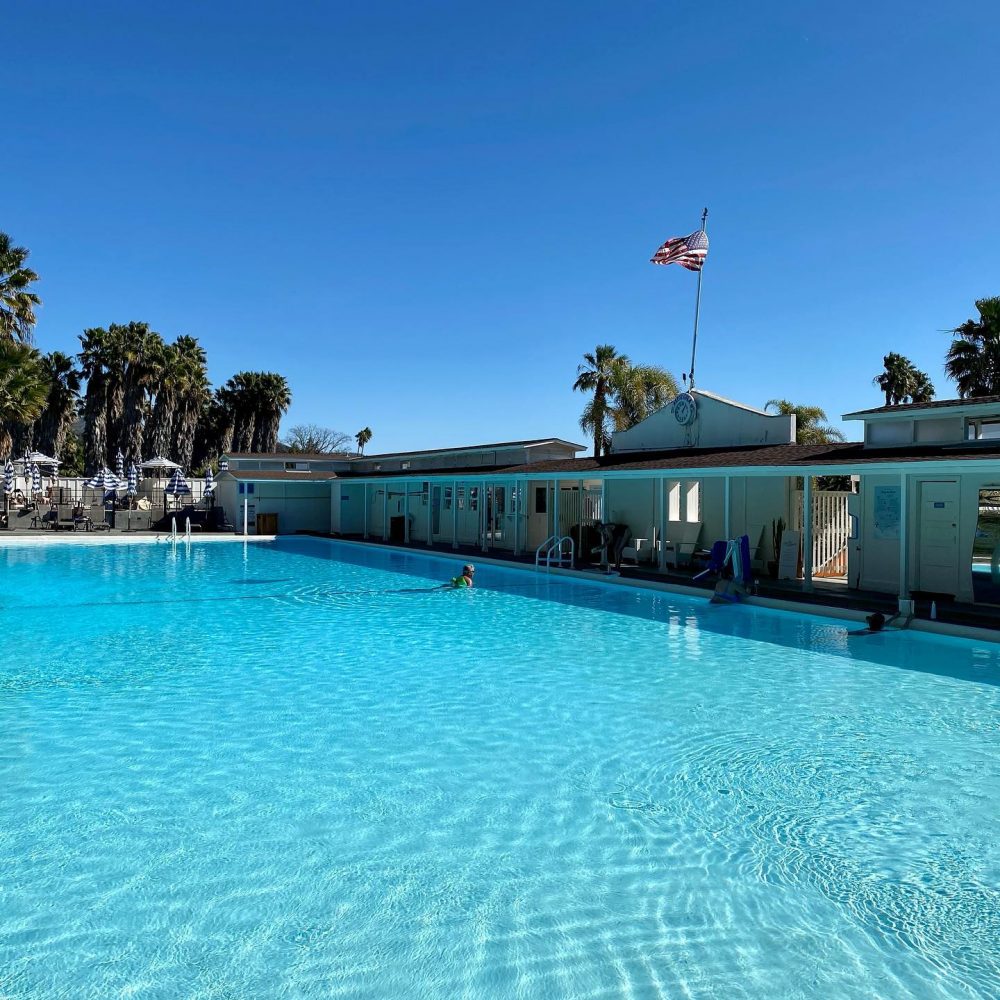 Indian Springs is California's premier historic resort and spa, at the northern end of the Napa Valley. This 17-hectare property is filled with trees, ponds and stunning hillside landscape.
This resort is blessed with rare and sustainable natural resources. The springs here drain mineral water from four thermal geysers and a special mud made of pure volcanic ash.
Indian Springs Calistoga is a family owned property managed for over 30 years. Until 2014, they expanded into previously untouched areas by adding several properties.
They added 75 new guest rooms, indoor and outdoor event spaces, a restaurant, Sam's Social Club, trails and gardens for access to the neighborhood. Now you can experience some of the top class facilities in one of California's upscale hot springs.
The main attraction is soaking in the spring water above the natural geysers that fill the Olympic-sized mineral pool. And There is also an adult only pool which is more intimate but you need a bathing suit when entering both.
What's even more unique is that the Spa offers a unique mud bath with nutrient-rich volcanic ash. If you are staying overnight they also have luxurious Mission Revival style bungalows dotted around the palm tree-lined property.
Address: 1712 Lincoln Ave, Calistoga, CA 94515, United States
Phone: +1 707-709-8139
Travertine Hot Springs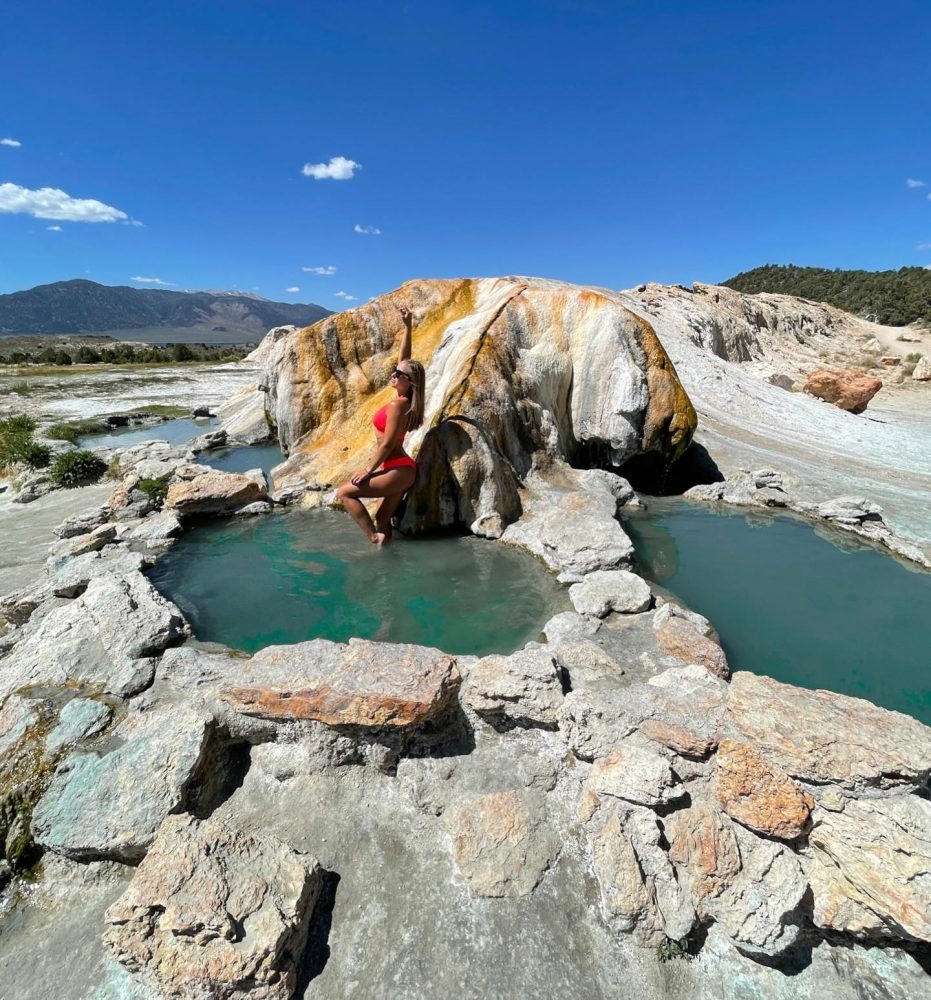 Travertine Hot Springs is one of the unique hot springs and there are only a few places in the world. It is a geothermally heated hot spring, originating from the deposition of carbonate minerals and forming terrestrial sedimentary rocks.
The location is in Bridgeport, California or about 90 miles north of Bishop, California. This hot spring is free of charge and features 3 rustic and primitive stone bottom tubs and a small cement tub.
The water temperature at the source is very hot around 120 degrees depending on the season. However, when it reaches the bottom of the rock it will drop about 98 degrees.
If you swim in Travertine you can enjoy stunning views of the eastern Sierra Nevada. The hot springs are also pet friendly, but must be tied up and not dogs in the hot springs.
Address: Bridgeport, California
Buckeye Hot Springs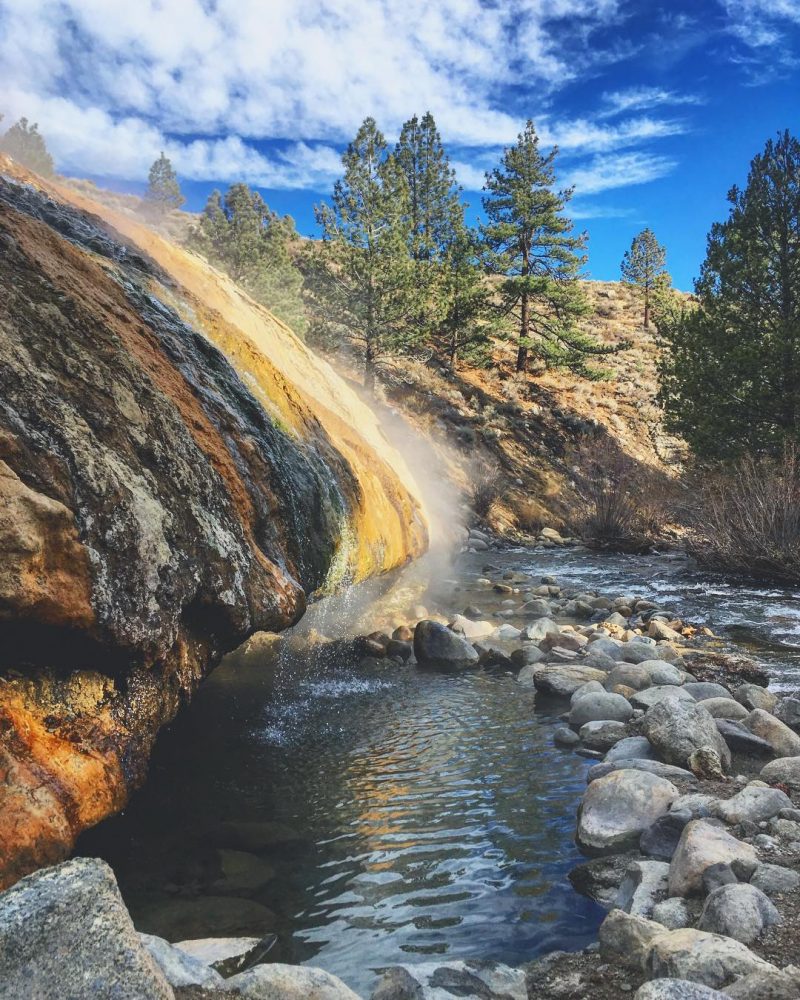 This rustic hot spring is located along Buckeye Creek in Bridgeport in the eastern Sierra in California. Buckeye Hot Springs offers 2 hot spring soaking areas with a source of 112 degrees.
Hot mineral water cascades down the hillside and plunges into the rock-walled pool from the spring above. Then this view like a warm waterfall with a roar and a serene riverside setting.
While not as popular as the nearby Travertine Hot Springs, the Buckeye Springs does have a lot of traffic. Clothing is optional so many visitors prefer to bathe naked here, while many others do not.
Access to the springs involves a fairly steep descent so you need to be careful and it's best to wear water shoes or sturdy sandals. To spend the night in the spring area, you can camp at Buckeye Campground.
Address: Bridgeport, California
Sierra Hot Springs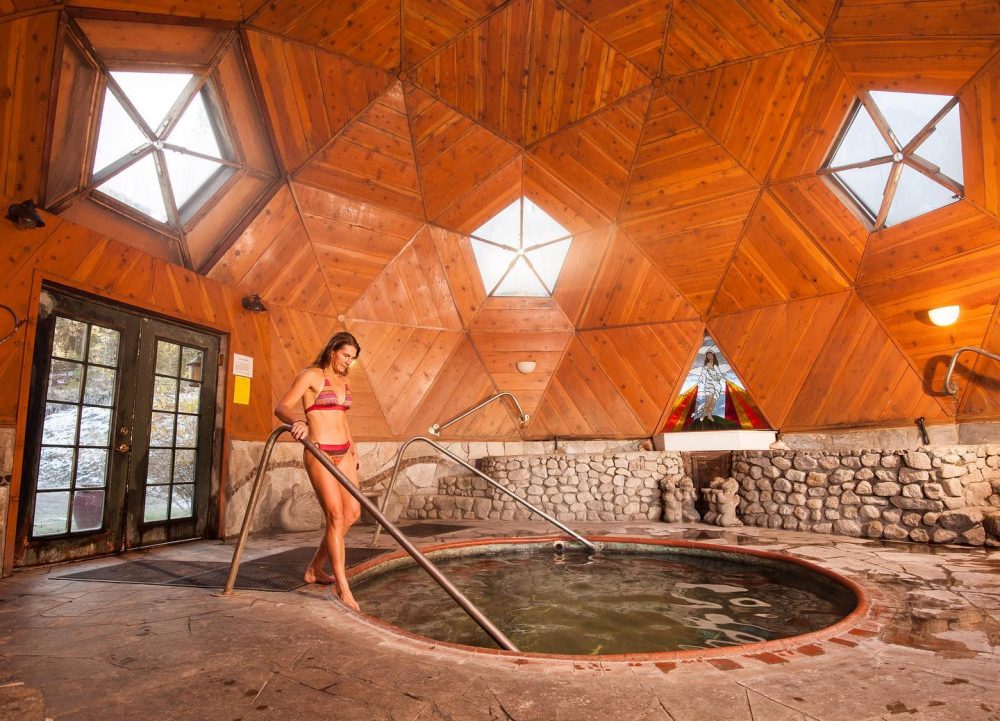 Sierra Hot Springs is a superb resort nestled in the Sierra Nevada National Forest. Its uniqueness is that it has three different hot spring areas.
The most famous is the meditation pool with a temperature of 102 degrees and the rule you must not speak while bathing. This pool is a tranquil and beautiful spring amidst the large pine trees of the Sierra Nevadas.
Next is the bathing area like an old bath with a temperature of 100 degrees. This spring is self-filling so you can always get fresh spring water.
Then, as the last hot spring area is the domed hot spring. The design is very interesting because apart from having a hot spring inside the dome they also have two cold springs to jump into.
This is a clothing optional resort, spa and massage available with advance reservation. And, these hot springs in northern California are not pet-friendly.
Address: 521 Campbell Hot Springs Road, Sierraville, CA 96126