Two things that really bother outdoor enthusiasts when doing activities are bugs and the bad weather. A screened gazebo is a perfect solution to protect you from mosquitoes, flies, and bees when you are outdoors.
Weather is also a factor that interferes with your pleasure when hosting a dinner or birthday party in your gazebo. A covered gazebo may be the right choice to keep rain and wind away when you want to enjoy the outdoors all season long.
Now many gazebo kit manufacturers offer screened gazebo packages that allow you to enjoy the outdoors even in bad weather.
Screened Gazebo Kits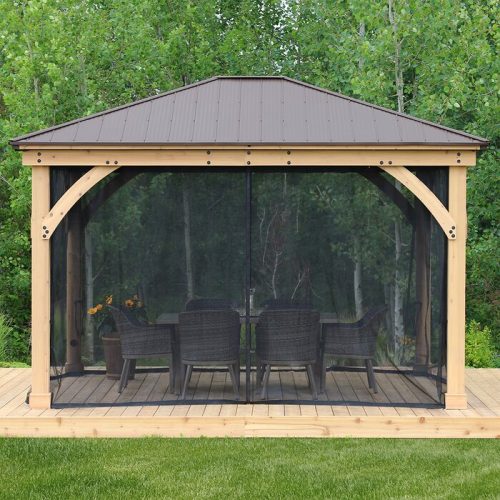 Gazebo kits allow you to build a gazebo quickly and easily. With a gazebo kit you can build your own dream gazebo without having to start from scratch.
As well as being available in a variety of shapes and sizes, these kits are also relatively easy to assemble. Some of the basic shape options are square, rectangle, hexagon, octagonal, or round. You can choose according to the landscape location or the specified space.
Read Also:
10 Outdoor Fire Pit Seating Ideas for an Impressive Backyard
Metal Gazebo Ideas Compilations for Exclusive Yard and Garden
Gazebo Kit Materials
Kits for gazebos don't come only in different shapes and sizes. They're also available in different materials that suit different aesthetics and budgets.
Wood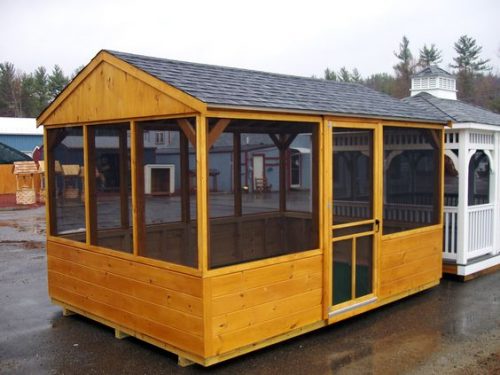 Wood gazebo kits are available for a wide range of budgets. The type of wood you choose decides the pricing and the quality.
Natural redwood is the most durable and expensive option. Cedar is slightly softer and less hardy, but it's a popular choice because it's so budget-friendly. Pressure-treated lumber is another option. All of the above are resistant to pests and decay.
Many traditional wood gazebos have knee-high railings around their perimeter, but you can also find more modern, open designs.
Metal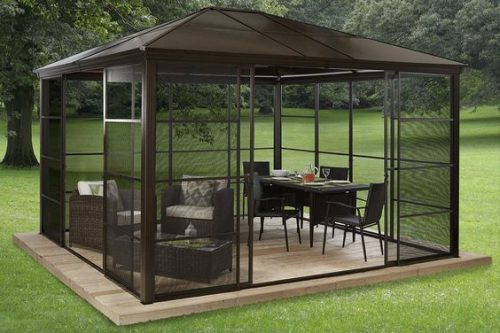 Metal gazebos often cost less than wood. This is because metal kits tend to have a simpler design, usually consisting of a metal frame with a cloth roof, shingles, or an aluminum roof.
Metal gazebo kits are usually made of stainless steel or aluminum. Both have high resistance to weather and require less maintenance.
Vinyl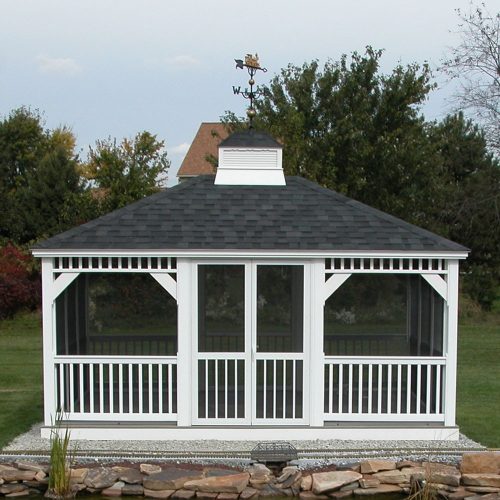 Although vinyl gazebos are rarely in demand because they are more expensive than wood or metal, they have many advantages. Vinyl gazebo fixtures come in many designs such as contemporary and traditional, also available in a variety of colors.
This is the most expensive gazebo kits option, yet easy to install, durable and also maintenance free. This is actually a great option when you have more funds. Because this vinyl kit doesn't require painting or rust protection like wood or metal.
Special Features on Screened Gazebo Kits
Different from the standard gazebo kit, the covered gazebo kit comes with several special features and add-ons to meet your purpose. Some of these features are generally included with a gazebo kit, while others are sold separately.
Screened Door
Screens in Floor
Extra Doors
VinylLite Windows
Tips to Build a Screened in Gazebo
There are various kinds of gazebo designs and styles, pay attention to the following so that you can easily screen in your gazebo after you build it:
Squares are always easier to screen than octagon designs
Screen panels are usually installed in vertical posts, so the number of vertical posts affects the number of panels you need. Square gazebos have a smaller number of vertical posts than octagonal gazebos. In other words, a square gazebo requires fewer screen panels.
Closed bottom panels are better than open railings
If your goal is to facilitate screening in your gazebo then an open fence is not a good option. We recommend that you choose a gazebo design with a closed lower panel to facilitate the process of adding a screen. Another option is a design with a tight grid between the top and bottom rails.
Don't forget to install the door
Although generally gazebo designs use a doorless design, you must remember the purpose of making this covered gazebo. You will lose your protection from insects and mosquitoes if you leave the door open without the door.
How to Screening in a Gazebo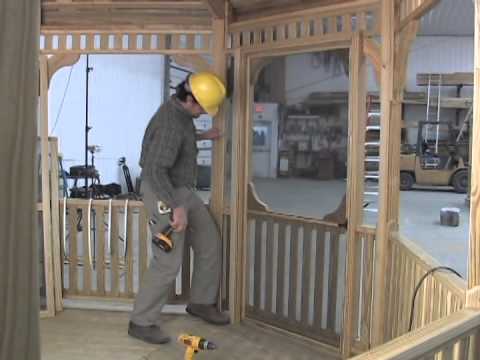 While not a difficult job, adding a screen to a gazebo requires precision and a few additional materials beyond the display kit. Some durable hardware such as staples, nails, and screws are required to hold the screen in place.
Before attaching your screen to the gazebo, you can attach the screen panel to the wooden frame via a staple gun or nail gun. Then attach the screen frame to the gazebo using screws.
This is the strongest way to keep your screen panel together and eliminate gaps. Then how do you install a screen on a gazebo that already has a solid half wall? The following are the basic steps:
Step 1 – Measure the Material
Place the screen material on the surface that you will be screening to check its size. Organize and measure your screening material in advance, leaving an extra one to two inches of screen that you can cut later.
Step 2 – Attach the Screen to Frame
Attach the screen to the wooden frame using a nail gun or staple gun. Several screen kits are included with the frame, or if not, you can make your own using the rest of the wood material from your gazebo.
Step 3 – Attach the Screen Panel to the Posts
Attach the screen panels to your vertical posts using screws. Use wood screws that are rust-resistant and don't require pre-drilling to ensure a tight connection. Once installed, don't forget to fasten all the frames in place with the same screws.
Step 4 – Add the Door
Adding the door is the final step. You can add a door to a screened gazebo with a door that is included with the gazebo kit or your own. However, we recommend adding a door is the last step you do. Because you don't want to have to keep opening and closing while you are working on the gazebo screen. Don't forget to choose and use rust-resistant hinges and hooks.
Screened Gazebo Designs and Ideas
Everyone has different preferences when it comes to their screened gazebo design ideas. Some build gazebos independently, while others are attached to a deck or patio.
The following is an example of a screened gazebo design for you to see. Some are square, rectangular to octagonal shapes which are very interesting to look at. They are built in a variety of materials, designs, colors, and styles.
Screened Gazebo Built on a Deck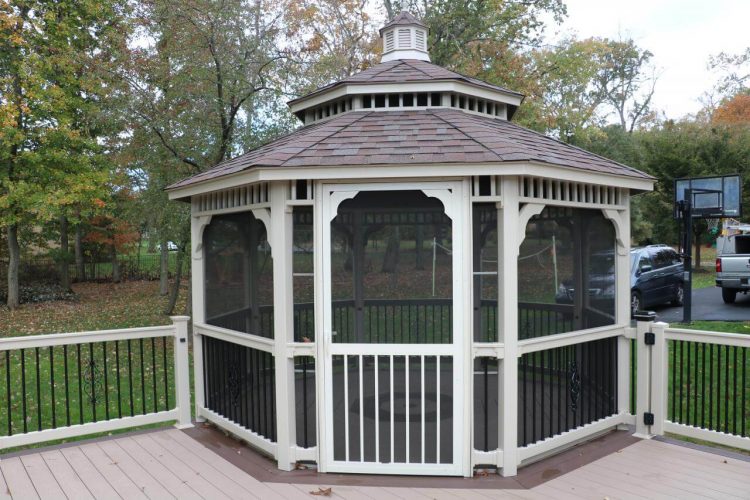 The gazebo built on this deck has a built-in bulkhead and a closed structure, making it safe from insects. This is an example of a gazebo design on a beautiful deck for relaxing without fear of being bitten by insects.
Poolside Screened Gazebo with Windows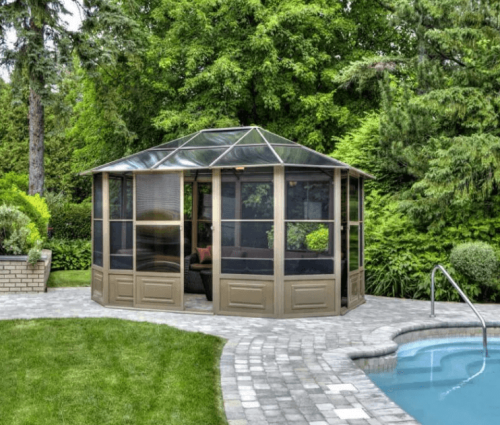 The swimming pool is one of the private spaces in your home. having a covered gazebo by the pool is a very smart idea.
You often want to sit and relax on the edge of the gazebo after swimming. With a gazebo that has window coverings and screen panels, you don't have to worry about insects.
Square Gazebo Hanging Over the Deck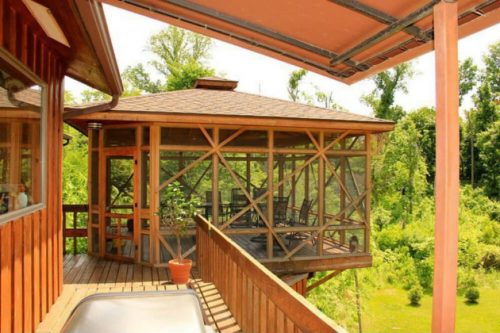 This gazebo hangs high above the ground and attaches to the deck. This gazebo is able to give you a visual of the landscaping around your yard that is beautiful when inside.
The screen wall is a safety function when you are in this gazebo room, because it hangs quite high above the ground.
A Square Design Screened Gazebo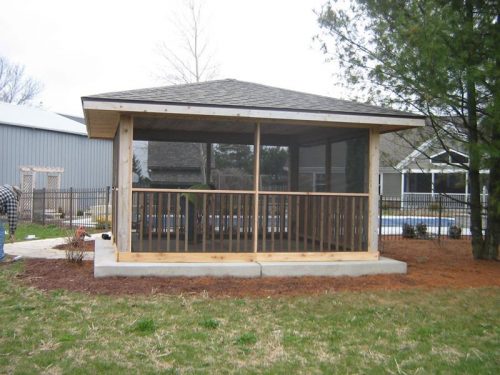 This gazebo takes on a simple square design which is built independently on the lawn. Its square shape allows you to have plenty of space inside to relax in the shade.
Metal Gazebo with Screen Curtain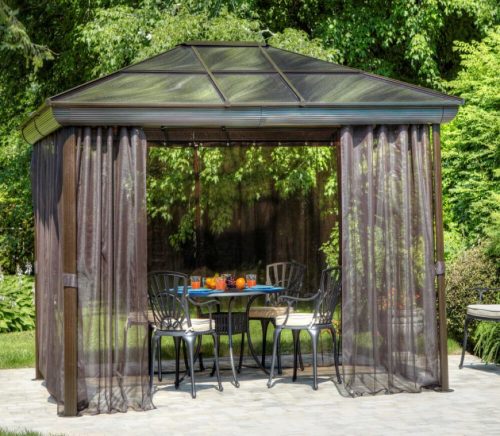 This metal gazebo has curtains on the rod as a screen that you can freely open and close. This allows you to use the screen during bad weather or at night. But you are also free to open it when you don't need it.
Screened Gazebo with Cloth Top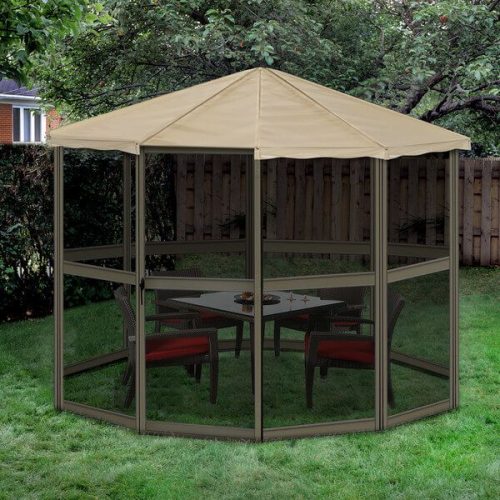 All sides of this gazebo are almost made of screen panels which are quite light and have a fabric roof. The gazebo model is perfect for an outdoor dining area.
Rectangular Screened Gazebo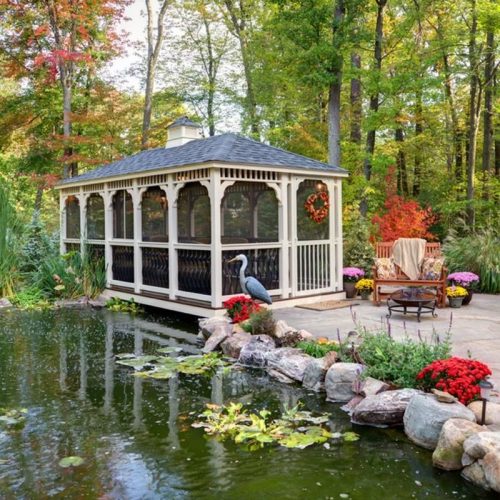 You may rarely encounter a rectangular dazebo design like this. It is a marvelous place to relax built on top of a pool. The atmosphere of the water will always provide calm when you are in this gazebo.
Octagonal Gazebo with Hardwood Roof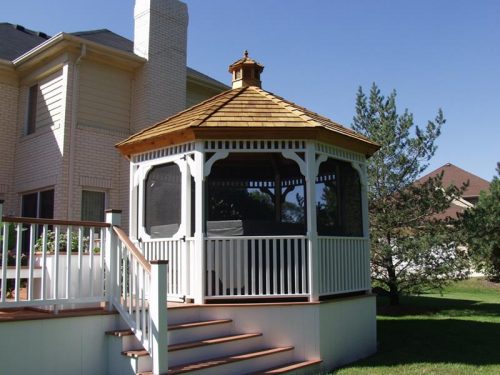 The shingle-style wooden roof of the gazebo blends perfectly with the white structure on the gazebo walls. Produces a great mix so this space has a great look.
Large Beautiful Design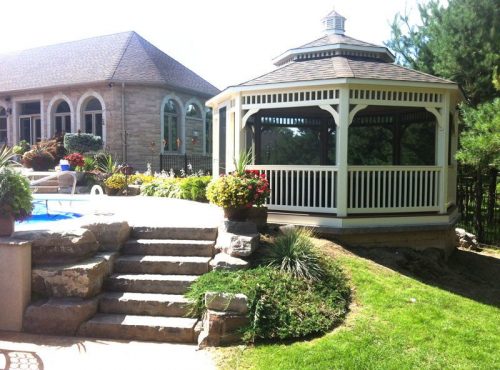 This gazebo design is an example of a large gazebo design and luxurious style. The choice of this design is to suit the beautiful scenery and the wide courtyard around it. Shingle roof design that gives a sturdy impression and adds an aesthetic element.